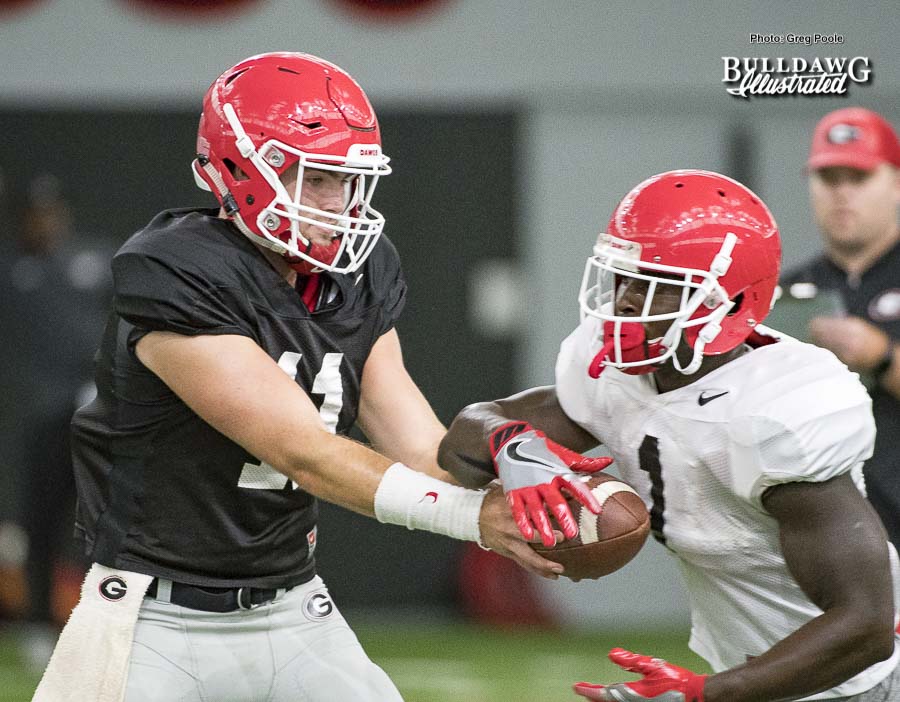 After practice on Wednesday, veteran running back, Sony Michel talked to the media about the upcoming Notre Dame game and freshman Jake Fromm. Michel complimented the quarterback for being a natural born leader and coming into Georgia this past spring ready to play. 

The more Michel talked about Fromm, the more the media seemed to know the young quarterback. Sony talked about how comfortable Jake is with checks at the line of scrimmage and the offense overall. Michel mentioned that Fromm just needs to trust himself and the other players around him to know the job will get done.


"Jake's already comfortable with making checks," Michel said. "He's been comfortable since the day he got here with seeing and trusting his eyes. If he sees safety rotations, he's going to check it. I think he's very comfortable with making those call and he's just got to trust himself and trust us to know that whatever he calls were right behind him."


Michel said that Fromm knows his role and that he doesn't seem like a freshman quarterback. The offense cannot look at him as a freshman, but as the starting quarterback because that is his role.


"Freshman, sophomore, it doesn't matter. If you're on the field your on the field playing for Georgia," Michel stated. "We're one team. were not looking at him as a freshman quarterback, we got to help him. He knows his role and we know our role."


The media asked him how long Fromm has been comfortable with the offense. Sony didn't hesitate to say that he had no setbacks when he came in and that Fromm was comfortable from day one. Michel mentioned multiple times how big of a leader the young gun slinger already is and that as long as he knows the plays while he's out there he will be just fine.


"OH. He's very comfortable and he came out there and there were no setbacks," Michel mentioned. "He came out there and did what he did from day one in practice and camp. You know he was very comfortable back there and I'm sure it will be the same way Saturday. I mean he's been doing this since day one he got here. He got here in the spring and he got spring ball under his belt. He's very comfortable with the offense we run. As long as he knows the plays while he's out there he will be okay."


Fromm makes his first collegiate start on Saturday in South Bend, Indiana against the Notre Dame Fighting Irish. A big road test for the freshman, but veteran Michel believes he's ready and that it's just another game.


Check out Sony Michel's full interview:




Check out the Jake Fromm Gallery Below:



Recent Articles by Savannah Leigh Richardson


[pt_view id="8722077nva"]