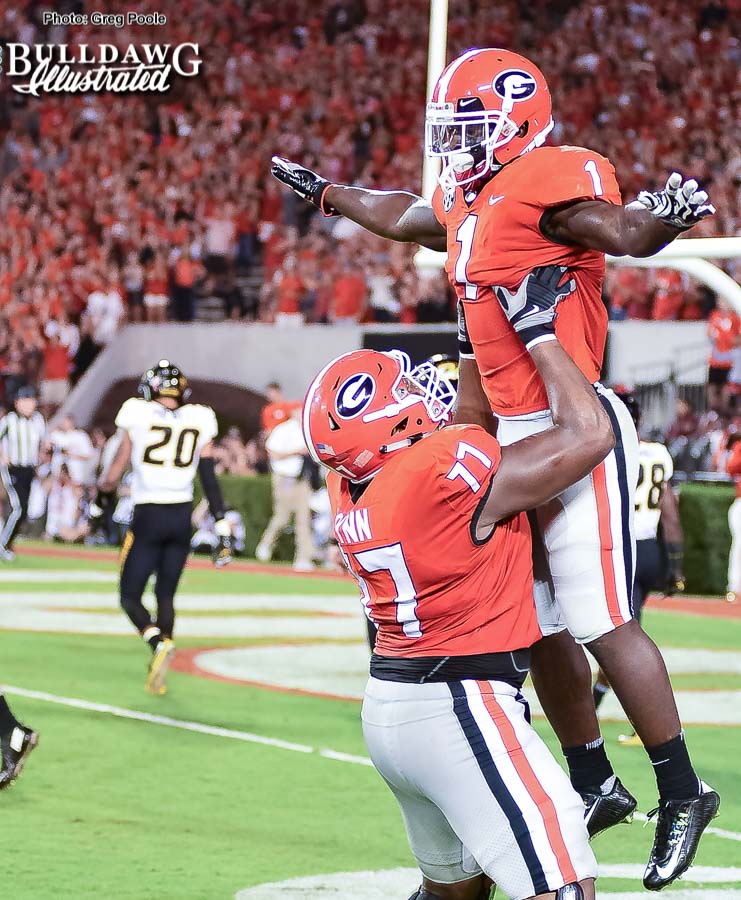 Sony Michel talked to the media on Wednesday after practice as the Bulldogs prepare to face Florida on Saturday. The senior tailback talked about despite not being able to run the ball well against the Gators last year, it isn't motivation for this year's game. Michel states that Georgia will run the ball because 'that's what they do.' Sony also shares his thoughts on Nick Chubb, D'Andre Swift, and Charlie Woerner hurdling defenders during the Missouri game a couple of weeks ago.

Michel stated that being a running back is all about having instincts. Especially in open field situations, and having to decide should I hurdle this guy or not. During the Missouri game, three Georgia players hurdled defenders. Michel says in those times it is based on an instinct of "do I want to jump or not."  He mentions that he tries to not do it as often, but if that's the only way the play will happen then he will do it.


I would say running the ball is all instincts," Michel states. "It's something you just have to do. like when I'm running the ball, I'm thinking to jump or not to jump. What if I jump, I might flip. It's something I try not to do often. That's something that just happens… then it'll happen."


Out of the three hurdles in the game, Michel mentioned that the hurdles from Nick Chubb and Charlie Woerner surprised him because no one expects them to do that.


Chubb and Charlie surprised me. No one expects Chubb to jump and no one expects Charlie to jump. And they both jumped so I give both them credit," Michel says.


However, when it comes to D'Andre Swift, Michel says you can expect anything from him.


He's a swift guy. You can expect anything from him so it's pretty cool to see those guys go out there and play ball," Michel says.


Michel talked about how in the SEC it's about who can run and who can stop the run the best. He made the comment after someone pointed out that various Georgia/Florida games came down to who can run the ball better. Michel states running the ball is part of the game plan and they're going into this game with the mindset of running.


I think that's a big stat for SEC play in general," Michel states.They always say, Whoever can run the ball the best can stop the run the best in the game. That's our focus. Our defense is going to try and stop the run and we're going to try and run the ball. That's what we are going into this game it's our game plan."


It seems Georgia plans on doing what they do best, and that's run. With the help of the three-headed monster of Chubb, Michel, and Swift, this Florida defense will have a hard time deciding who to stop.


For Sony Michel's full interview check out the SoundCloud and YouTube links below!










Recent Articles by Savannah Leigh Richardson


[pt_view id="8722077nva"]