[su_spacer size="20″]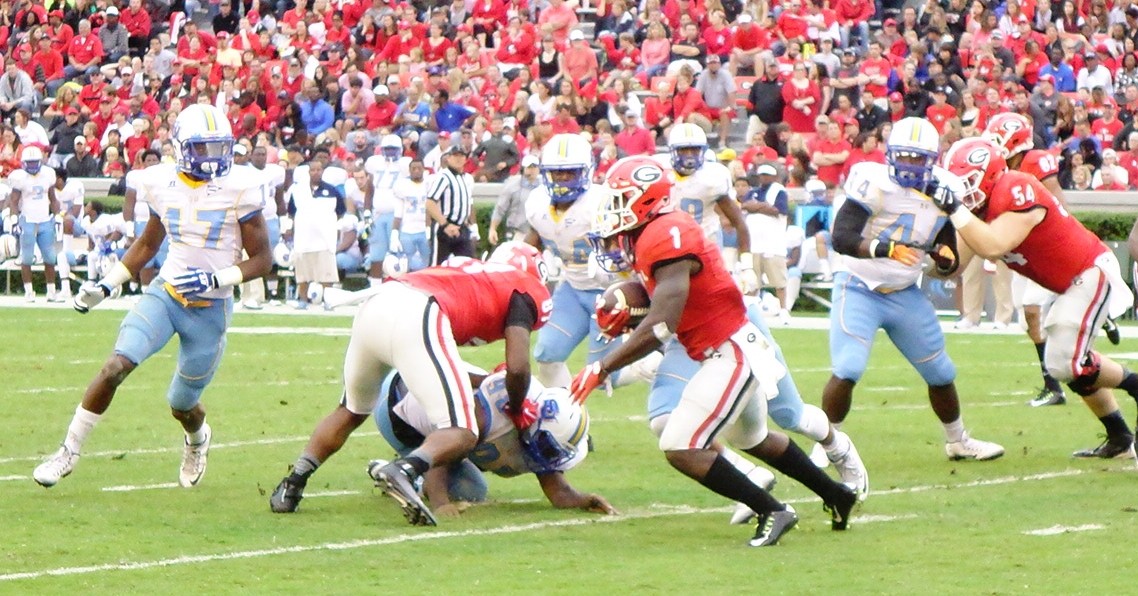 [su_spacer size="20″] While the focus on Georgia's tailbacks maybe Nick Chubb rushing for his 12th 100 yard plus game and on the verge of breaking Herschel Walker's consecutive hundred yard rushing game streak school record, Sony Michel is making a case that he is the left hook for Georgia if Chubb is the right handed haymaker. UGA may have one of the best one-two punches in college football right now at tailback with number 27 and number 1.
[su_spacer size="40″] The sophomore running back talked with the media after Georgia's 48-6 victory where he rushed for 75 yards on just 6 carries including a 58 yard touchdown scamper. Sony also had another rushing TD for a total of two to go along with 1 reception for 7 yards, but Sony says they can play better.
[su_spacer size="40″]
We can be so much better. There's always room for improvement. Every week we go into practice with a mindset of getting better every day, throughout the week. As long as you keep getting better, you will see better improvement.
[su_spacer size="40″] Chubb is consistently Chubb from game to game. He has been so much so now for 12 straight games it is easy to take him for granted at times. Sony seems to surprise me every week; whether it his physicality this year dragging or bowling over defenders to his ability to turn a short 3 or 5 yard pass into a 50 yard touchdown.
[su_spacer size="40″] But if you asked the average Georgia fan sitting next to you at half-time today, they might have been wearing a scowl on their face and not from the rainy weather either. The Georgia offense, especially the running game seemed to have been stymied by what appeared to be an over-matched defensive front seven of the FCS Southern University Jaguars. Not to take away anything from Georgia's opponent today from Baton Rouge because they certainly played with a lot of heart, effort and spunk, especially on defense during that first half.
[su_spacer size="40″] So what changed from the first half to the second half?
[su_spacer size="40″]
Coming off of half-time . . . we want to finish strong. That's our motto. Finish the drill here at Georgia. We wanted to play some Georgia football.
[su_spacer size="40″] While Sony did not give us any tidbits from what was said in the locker room between players and coaches during half-time, whatever was spoken, preached or yelled worked because the Georgia Bulldawgs that came out in the second half played much better than the first half Bulldawgs.
[su_spacer size="40″] One player that may have had a big part of the turn around and getting the players focused back on the task at hand was quarterback Greyson Lambert.
[su_spacer size="40″]
He's been the leader that we need on this team to let us know what we're doing wrong and what we're doing right and just keeping his composure during the football game.
[su_spacer size="40″] So after putting away the Jaguars and getting their fourth win of the season, when does the team turn its attention towards Alabama, the Bulldawgs next opponent?
[su_spacer size="40″]
We focus on Alabama within 24 hours. Tomorrow.
[su_spacer size="40″] It does cross one's mind on whether or not Georgia was looking ahead during the first half. That they may not have taken Southern U as seriously as they should have . . . at least the offensive line appeared to be going through the motions. Of course, it is impossible to know for sure without being able to read the players' minds. Either way, the team took care of business and won by 6 touchdowns.
[su_spacer size="40″] Now comes Georgia's biggest test of the season to date and dare I say, the biggest test they may face all season long in their 12 game schedule. And the Bulldawgs need Chubb and Michel to be better, to be at their best.
[su_spacer size="40″]
Sony Michel postgame interview – Southern U
[su_spacer size="80″]