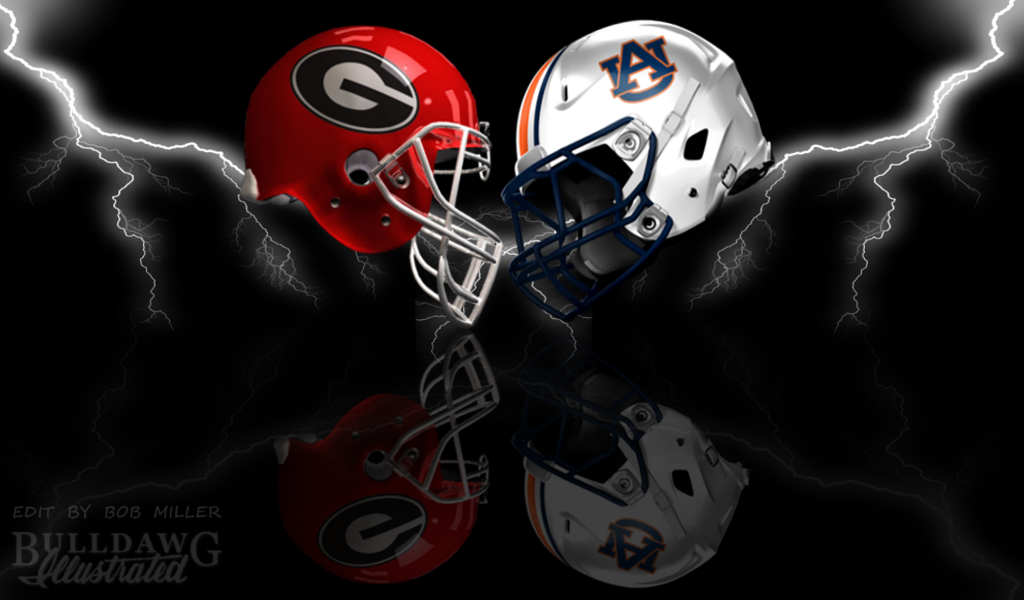 The Georgia football team has one of their toughest games yet against the No. 10 Auburn Tigers as they look to go in double digits in wins for their tenth victory of the year.


Here is what the Bulldawg Illustrated staff believes you will see happen in the game.


Vance Leavy – Georgia 31, Auburn 21

Earlier this week, I paid for a lunch and the total was $31.21. I said to myself that sounds like the final score of this game. My biggest question was/is who gets the nod with the 31 points? Before the season started, I predicted that Georgia's only blemishes in the regular season would be Notre Dame and Auburn. Obviously, I'm so glad I was wrong on the Irish prediction. The crowd will be absolutely crazy when the Dawgs and Tigers go to the 4th quarter deadlocked at 21-21. Thankfully, our Spike Squad defense takes one to the house in the final frame, and "Rodrigo the Great" finishes Auburn off with a late field goal.


Jeff Dantzler – Georgia 24, Auburn 11

This is the best team Georgia has played yet. If Auburn wins out, the Tigers are in the playoff. The Bulldogs can still make their dreams come true, even if things go Auburn's way. But a win over Auburn would be enormous. Shades of '02, but in an unconventional way of getting there.


Murray Poole – Georgia 24, Auburn 21

This ought to be a good one and it very much reminds me of the great 1971 meeting in Athens when both teams came in unbeaten with Auburn ranked No. 6 in the nation and Georgia No. 7. Only the No. 1 Bulldogs are undefeated in this one but it's still a battle of top 10-ranked teams and the stakes seem equally as high. While the Tigers, behind eventual Heisman Trophy winner Pat Sullivan, won that '71 meeting by 35-20, here's a 24-21 vote for Georgia to prevail this time. I can't see the Bulldogs defense, good as it is, holding the explosive Tigers to 17 points or less but, neither will Auburn hold Georgia to less than three touchdowns. Rodrigo Blankenship boots the winning field goal in a thriller.


Graham Groseclose – Georgia 28, Auburn 17

Auburn and their stingy defense will give its best shot at playing spoiler for the SEC Championship bound and College Playoff Number 1 Georgia Bulldogs. After a back and forth battle through the first half, Georgia will continue its streak of not relinquishing a third-quarter touchdown. Georgia separates itself from its rival and comes out with a resounding win.


ImYourHuckleberry – Georgia 23, Auburn 20

This game is going to be an all-out slugfest for 60 minutes. Auburn will come out with incredible emotion and Jordan-Hare will be rocking. The Dawgs weather the early storm the senior leadership proves vital in the 2nd Half. Dawgs play disciplined and determined football and that is good enough to pull out a victory.


Bob Miller – Georgia 23, Auburn 19

There have been a lot of great games in the Deep South's Oldest Rivalry and this 121st meeting between Georgia and Auburn could be an epic SEC four-quarter battle and be counted as one. So many times the underdog has upset the favorite in this series to either ruin a conference championship or a national championship run. Hopefully, this will not be the case on Saturday, and the No. 1 ranked Bulldogs will prevail. And I do think they will do so.


Ella Dorsey – Georgia 27, Auburn 24

This is going to be a damn good game. Both teams are very evenly matched, Georgia has a slight edge on the ground. For the Dawgs to win this game, they will need to keep constant pressure on Stidham, cover well in the secondary, and avoid any turnovers. All of these things as well as controlling the clock and momentum of the game will give us a close win in the 4th quarter.


Greg Poole – Georgia 20, Auburn ??(not enough)

Auburn and their crowd will be jacked for this game, however, folks shouldn't discount the value of UGA's experience at Notre Dame. Even with the large Dawg contingent, it was a hostile atmosphere that the team overcame while fielding an inexperienced quarterback and the young offensive line. Both the quarterback and the line have grown up since that trip up north. Look for hard-fought battle with Georgia winning because of its edge in depth, talent, and coaching. Anything over 10 points wins it for Georgia. I say the Dawgs score 20.


Han Vance – Georgia 30, Auburn 24

Georgia's depth will show in this game where way more may be at stake than a rivalry win.


Chuck McConnell – Georgia 24, Auburn 17

Saturday will be an absolute battle between two evenly matched teams. The outcome of this game will probably be defined by who dominates the trenches. But like with any close game, special teams and QB play could make or break. I give Georgia the slight edge due to experience and leadership.


Savannah Richardson – Georgia 35, Auburn 28

Georgia overcomes Auburn in the fourth Quarter and shuts Stidham down. 4 sacks at least from the D and Jake Fromm throws 2 TD passes. Chubb debuts in Auburn and he breaks Bo Jackson's record and then some.


Michael Pope – Georgia 31, Auburn 20

Nick Chubb has a big day for the Bulldogs in his first-ever showing in Jordan-Hare. The Bulldogs defense has some breakdowns, but overall a solid performance from this group along with great pass rush leads to victory number 10.


The Bulldawg Illustrated staff seems to trust the Bulldogs to get it done but what do you think? Please put your score prediction in the comments section.



---
Recent Articles by Michael Pope


[pt_view id="b8629e37y8″]