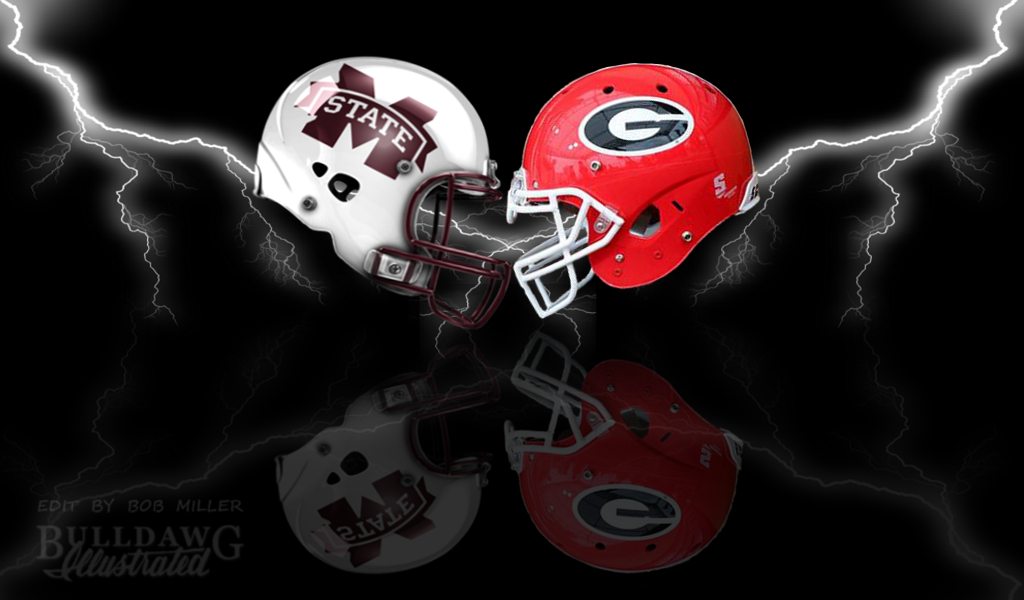 It's Bulldogs against Bulldogs as Georgia will open up their SEC play against Mississippi State in a top 25 matchup in Athens.



This game should prove to be one of Georgia's biggest tests and the staff seems to think that this game could come down to the last possession.


Jeff Dantzler – Georgia 15, Mississippi State 13


I think it will be a great game, an old-fashioned defensive, kicking game, and field position struggle. Big place will make the difference, I think Georgia has just one more, and Georgia wins 15-13


Murray Poole – Georgia 21, Mississippi State 17

Like the Notre Dame game, I'm expecting this one to be tightly contested all the way with the lead likely swinging back and forth. With both defenses stingy against the run, I can't see this game evolving into an offensive shootout. Looking for Georgia's defense to be just a tad better than the other Bulldogs, I'm calling it UGA by these scant four points!


Chuck McConnell – Georgia 24, Mississippi State 17

It will be difficult for MSU to duplicate the near flawless performance we saw last week in Starkville against LSU. Home crowd, defense, and special teams all favor Georgia. Expect to see Chaney and company open up the passing game some to keep the MSU defense honest. Georgia's defense should be exceptional against the run once again, forcing Nick Fitzgerald to rely on the passing game more than they would prefer.


Bob Miller – Georgia 24, Mississippi State 21

I think this contest could very much resemble the Notre Dame game, the Dawgs in the red and black will win it with defense and special teams, but it is going to be a 4-quarter battle. Don't be surprised if Rodrigo Blankenship is the hero again at the end of the game.


Vance Leavy – Georgia 24, Mississippi State 21

Look for Georgia's defense and special teams to be the difference in this game. Thinking a Pick 6 or a fumble recovery for TD and either a punt or kickoff for a TD. Fromm and the Georgia offense improves another week by committing no turnovers versus the nasty Maroon D.


ImYourHuckleberry – Georgia 23, Mississippi State 17

Saturday night we find out if the Dawgs in Red & Black are man enough! Georgia will be patient and stick with the run. Although they won't have success on the ground early, it will set up big play action passes in the second half. The UGA defense dominates the trenches and plays like a bunch of savages, earning the title of Junkyard Dawgs.


Ella Dorsey – Georgia 24, Mississippi State 20

Homefield advantage gives us the slight edge. It'll be an even match-up defensively, but Fitzgerald's dual-option will be shut down by our front seven. Chubb and Sony combine for 3 TDs bringing us a 4th quarter win. GO DAWGS!


Greg Poole – Georgia 24, Mississippi State 20

Georgia begins the SEC grind with an unusually tough Mississippi State squad, fresh off a victory over LSU. This week we will find out if the 2nd edition of Kirby's Dawgs has the talent and depth to show this SEC West contender who is top dog. I'm betting the real Dawgs get it done


Han Vance – Georgia 34, Mississippi State 24

Fitzgerald won't get enough help to overcome an emerging GEORGIA offense. Look for Nauta and Ridley to reappear, with Wims and Godwin catching big passes. Chubb gets 100+ again; Swift chips in.


Graham Groseclose – Georgia 20, Mississippi State 13

Can UGA neutralize Nick Fitzgerald and Jeffrey Simmons? I think our DL is fully capable of containing Fitzgerald and making him beat us with his arm. Simmons is going to cause some trouble for the interior of our OL. At the end of the day, we out-talent them at almost every position and should beat a very good Mississippi State team.


Michael Pope – Georgia 31, Mississippi State 17

I think the Georgia offense will continue to build on their success from last week and will have a great day on the ground spreading the ground attack workload between Nick Chubb, Sony Michel, and D'Andre Swift. I think Kirby Smart's defense will have success in stopping Mississippi State's rushing attack and keeping Nick Fitzgerald in the pocket, which will give Lorenzo Carter and Davin Bellamy plenty of opportunities for sacks and they should force a few turnovers as well.


The staff seems pretty bullish on Georgia to come out of their tough Top 25 matchup in SEC play with a win, so what do you think? Please put your score predictions in the comments section!




---
Recent Articles by Michael Pope


[pt_view id="b8629e37y8″]