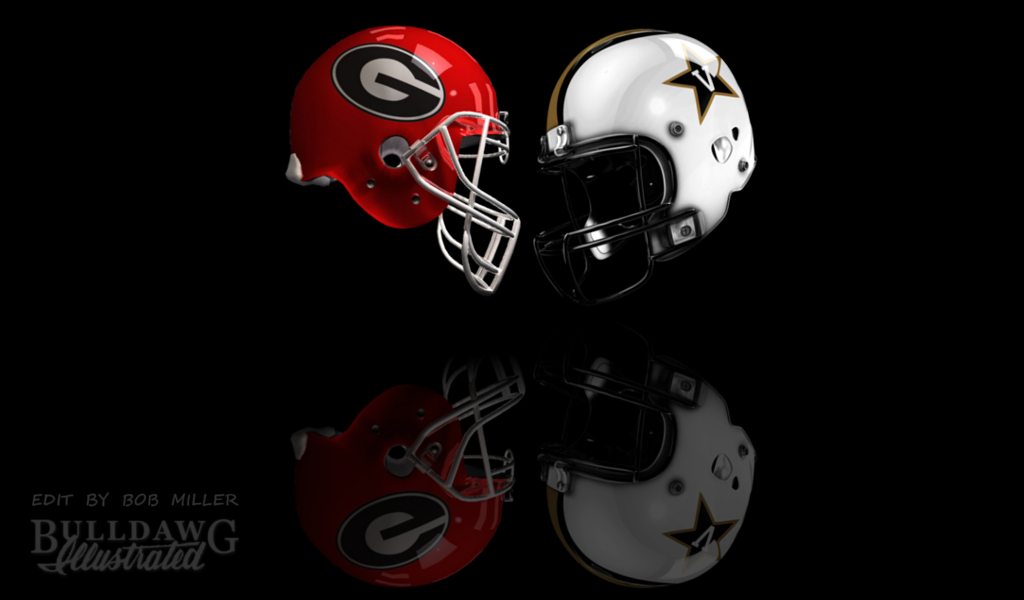 The Bulldogs are riding high after their 41-0 drubbing of Tennessee last week and they look to add another win to the record to start off 6-0 as they head to Nashville to take on the Commodores of Vanderbilt.


The staff seems to be favoring the newly top five Bulldogs, but Vanderbilt will not make it easy for this Georgia team.


Murray Poole – Georgia 35, Vanderbilt 10

The Bulldogs certainly can't be caught looking ahead to the East Division showdown in Jacksonville, and going by their five performances to date, I don't think they will be. Although the Georgia defense surrenders a touchdown for the first time in three games, to the Kyle Shurmur-led Vandy passing attack, I'm picking the Dawgs to go to 6-0 with a 35-10 pasting of the 'Dores.


Vance Leavy – Georgia 27, Vanderbilt 17

What's that coming down the track? A big Georgia D that's red and black. It won't be easy in Nashville on Saturday, but look for the Dawgs to finally pull away in the 4th quarter.


Chuck McConnell – Georgia 31, Vanderbilt 13

UGA continues its dominance on the defensive side of the ball. Vandy will need multiple special teams errors or turnovers from Georgia to make a game of it. The Bulldog offense hasn't faced much adversity the past few weeks and should continue to have success on the ground with a sprinkling of downfield passing.


Bob Miller – Georgia 31, Vanderbilt 17

I think Georgia wins, but they are little dinged up on defense and that coupled with the play of Commodore pigskin thrower Kyle Shurmur, I think this one might be close in the first half for a little while. But then the Dawgs pull away with superior talent and depth.


Han Vance – Georgia 30, Vanderbilt 10

Eason plays at least 1/4 of the blowout in Nashville, where our running backs grind out 30 points, while Vandy scores the near average we have yielded this season. Maybe an early field goal and late TD.


Greg Poole – Georgia 31, Vanderbilt 17

The Dawgs will complete the first half of the season undefeated, but Vandy will be the closest game since Notre Dame. I expect the first half to be close with the Red and Black pulling away after intermission Look for Eason to get playing time as the staff tries to be sure they have the best option(s) for the WLOCP.


ImYourHuckleberry – Georgia 44, Vanderbilt 6

These sleepy 11:00 A.M. central time kickoffs always worry me – especially when facing an inferior opponent. However, Vanderbilt is reeling after consecutive demolitions at the hands of Alabama and Florida while the Dawgs arrive in Nashville riding high. It will be a scrimmage-like atmosphere and I expect the Dawgs to treat this game as such by taking control of the game early, crushing Vandy's will and allowing both Fromm and Eason to play a little catch with the receivers.


Graham Groseclose – Georgia 24, Vanderbilt 10

I think Georgia wins this one, but struggles a bit on offense as they get both Fromm and Eason playing time. Vandy's pass defense stats look good, but that may be more to do with how atrocious their run defense has been so far. Shurmur may be the best pure passer we have faced so far, but it won't help as our defense smothers Vandy. Dawgs win this one convincingly and are Tennessee state champs.


Jeff Dantzler – Georgia 26, Vanderbilt 24

This one figures to be very tough. It's a morning kick, and the atmosphere will be sleepy compared to what Georgia has played in front of, particularly the last two weeks. Suddenly the Dogs are thin on the front seven and I worry about a lot of the things Vandy can do with motion. They hit five big pass plays and scored 24 at Florida. When's the last time the Bulldogs hung 24 on the Gators? 2011. The offense must play its best game and Georgia needs a N.O.T. Tight.


Savannah Richardson – Georgia 48, Vanderbilt 3

Georgia does it yet again. After the devastating loss to Vandy last season, this defense is out for revenge. I look for Roquan Smith and Lorenzo Carter to put pressure on Kyle Shurmur and force some turnovers. Dawgs win big in Nashville and keep on chopping to the next opponent. It's a business trip guys with an 11 AM meeting.


Michael Pope – Georgia 38, Vanderbilt 10

With a new starter at inside linebacker, the Bulldogs defense allows a couple scores early to the best passing quarterback they have faced yet in Kyle Shurmur but quickly shut down the Vanderbilt offense. The Georgia's stout running back group has a huge day against a Vanderbilt defense which ranks 107th in the country against the run. Fromm and Eason split time in this game allowing Smart and co. to keep their options open at the position. The Bulldogs outside linebackers also have a nice day pressuring Shurmur and get a few sacks while also forcing a few interceptions, which leads to the team's sixth straight win.


The staff is very high on Georgia, what do you think? Please put your score prediction in the comments area.




---
Recent Articles by Michael Pope


[pt_view id="b8629e37y8″]