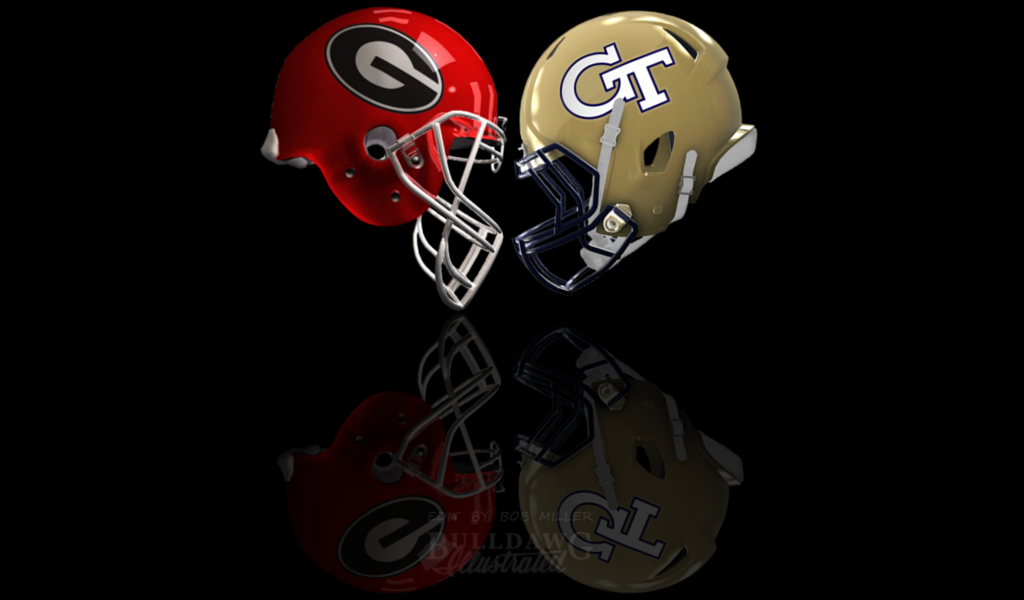 The BI staff gives their predictions as the Georgia Bulldogs will look to end their season on a high note and defeat their in-state rivals the Georgia Tech Yellow Jackets on the road in the ATL at Bobby Dodd Stadium.


Vance Leavy – Georgia 38, Georgia Tech 24

Kirby Smart will certainly use yesterday's shocking Pitt victory over Miami to remind his guys that the underdog is full capable of winning any given college football game. The fact Tech hasn't won at home since 1999 is absolutely frightening. Nonetheless, Chubb and company are coming to HotLanta for a High Noon feast as the Dawgs eventually wear out the Jackets 38-24.


Jeff Dantzler – Georgia 33, Georgia Tech 31

Its the biggest game of them all. And the toughest. Must find a way.


Murray Poole – Georgia 37, Georgia Tech 17

Remembering the ripped hedges while knowing they must swat the Jackets to keep their college playoff hopes alive, the Bulldogs parlay a powerful run game and triple option-slowing defense to wreck Tech again at Bobby Dodd Stadium by 37-17.


ImYourHuckleberry – Georgia 38, Georgia Tech 14

Old school college football will take place in Atlanta with two run-first teams battling it out. The Dawgs are bigger, stronger and faster and when that has been the case this year the Dawgs have rolled. UGA turns that wreck of a stadium on North Avenue into Sanford west. Dawgs roll!


Bob Miller – Georgia 38, Georgia Tech 24

The 112th Clean Old-Fashioned Hate will be a slugfest between two teams who like to RTDB; all be it, via two different styles of offenses. Bobby Dodd Stadium is where Kirby's Dawgs put win number 11 on the season with a 38-24 victory over the North Avenue Trades School and bring back the Governors Cup to Butts-Mehre and UGA.


Hamilton Culpepper – Georgia 45, Georgia Tech 20

This will be a great one for our seniors. On the defensive side of the ball, Lorenzo Carter and Davin Bellamy will light it up. They will take care of the triple option business. Chubb and Michel will enter Atlanta with a sense of greediness so they can reclaim the Governor's Cup.


Chuck McConnell – Georgia 42, Georgia Tech 20

Expect a Yellow Jacket team to give its best effort in a game that they desperately need for bowl eligibility. The Bulldog run game is too much to overcome though and UGA pulls away in the second half. Georgia has had huge success on the ground against mediocre defenses the entire season and there is no reason to believe things will be different at Bobby Dodd.


Michael Pope – Georgia 38, Georgia Tech 10


This game last year saw the Yellow Jackets tearing apart the Bulldogs famed hedges in Sanford stadium and that did not sit well with running back Nick Chubb, who was a junior at the time. Chubb said that when he saw the Yellow Jackets plant their flag in Sanford, he knew he was coming back so I think he is determined to make them pay for their actions. I believe Michel and Chubb go for 200+ combined rushing yards and the Bulldogs defense keeps their opponents triple option in check. The Bulldogs have spent more time practicing and preparing for this style of offense and it will pay off with their 11th victory of the year.


The Bulldawg Illustrated staff seems confident in the Bulldogs, but what do you think? Put your score prediction in the comments section.

---
Recent Articles by Michael Pope


[pt_view id="b8629e37y8″]