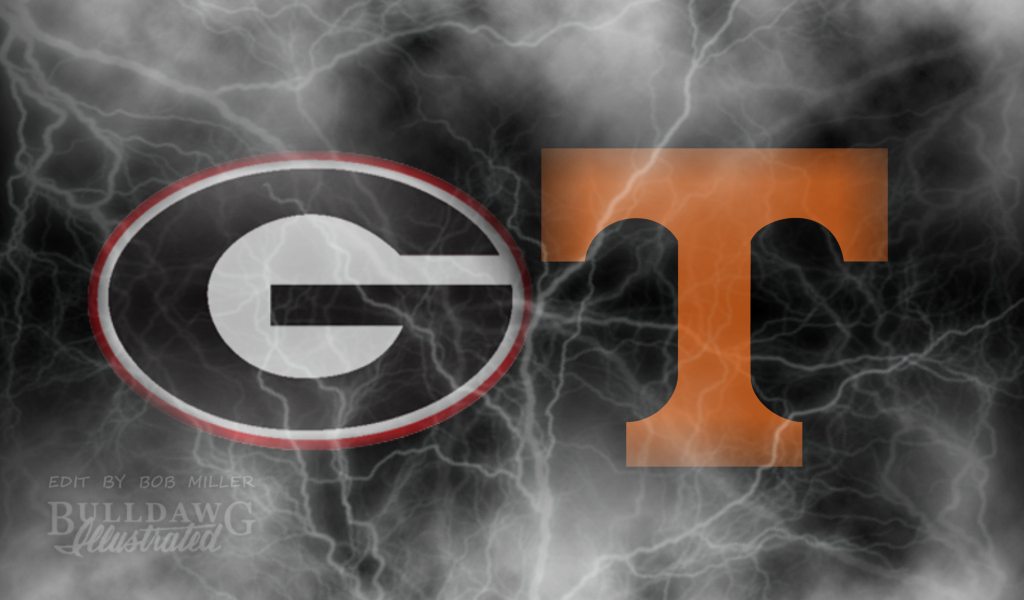 The Bulldogs may be ranked much higher than the Volunteers, but this rivalry always proves to be a huge test and they cannot overlook this Tennessee team.



The staff seems to be confident in this Georgia team which is coming off an impressive win over No. 17 Mississippi State.


Murray Poole – Georgia 31, Tennessee 17

On the road in the SEC, it's going to be difficult for the Bulldogs to match their nearly flawless showing against Mississippi State but Georgia knows what's at stake each week now in its hoped-for trek to the SEC championship game. With all the discord in Knoxville these days, I'm expecting the Vols to come out fighting but with the painful memory of the Hail Mary in mind, the Dawgs climb to 5-zip with a two-touchdown win at Neyland.


Graham Groseclose – Georgia 24, Tennessee 21

Most seem to be expecting a big win by UGA here, but this one will be close. Georgia gets a Tennessee team that will be fighting for their coach and doesn't appear to have a lot to lose. Everything about this game screams trap. If Georgia manages a blowout, I may begin to drink the Kool-Aid.


Vance Leavy – Georgia 42, Tennessee 17

NO, THEY DIDN'T! … Originally, I thought this would be another barnburner, but the Vol faithful from Rocky Top done messed up with their classless signs about Nick Chubb's knee injury. Dawgs cram it down the Vols throat 42-17.


Greg Poole – Georgia 37, Tennessee 10

I have picked the winner in the first four games, but my picks have been conservative in terms of UGA's margin of victory (except Notre Dame, of course). This week I'm going away from my trend and picking Georgia in a blowout. Tennessee seems to have too many injuries and, I think, Kirby will have his Dawgs ready to play.


Bob Miller – Georgia 28, Tennessee 17

The boys and girls in Vegas have the Bulldogs winning by 7 here, and I don't think they are too far off. Georgia has not beat the Volunteers by double digits up in Knoxville since 2005. But the Dogs have a legit championship caliber defense and Tennessee is very one-dimensional on offense rushing the ball, all-be-it a dangerous runner in junior running back John Kelly. Dogs get sweet, sweet revenge and Chubb dances all over Rocky Top 28-17.


Savannah Richardson – Georgia 42, Tennessee 17

I think this is where Georgia serves up a good ole slice of revenge pie and makes yet another statement. Chubb rushes for at least 100 yards and the Defense holds Kelly for under 100 yards. Georgia is cool calm and collected and they will grab that Dub in Knoxville. Keep Chopping and that's just what the defense will do and I foresee 2-4 sacks.


I'mYourHuckleberry – Georgia 30, Tennessee 13

Ladies and Gentlemen this Dawg defense is the real deal and playmakers are emerging on the offensive of the ball. This game is the Vols season so they will come out swinging. Jake Fromm struggles in his first SEC road test but the defense scores a TD and the Dawgs pull away late.


Han Vance – Georgia 27, Tennessee 17

This is the game Nick Chubb circled, after getting one carry in each of last two meetings between East rivals. He goes off in a big 27-17 road win.


Ella Dorsey – Georgia 27, Tennessee 17

After Chubb getting hurt & us blowing that huge lead in 2015, and then the last second Hail Mary in 2016, we want revenge against this Tennessee football team. Butch is on the hottest hot seat and they'll come to play their best game, but our running back core will get the job done. John Kelly will have a game too, but it won't be enough to keep up with our offense that's clicking on all cylinders.


Chuck McConnell – Georgia 23, Tennessee 17

The Volunteers' backs are against the wall with a less than stellar start to the 2017 season. Georgia will get their best effort to date but it won't be enough. Neyland Stadium will be a raucous environment unfamiliar to many of our significant contributors, but we weather the storm and come out of week five still perfect on the season.


Michael Pope – Georgia 45, Tennessee 17

Tennessee is breaking out everything they possibly can to get the fanbase excited for the game including their Smokey Gray Jerseys and the checkerboard crowd, but these gimmicks will only take the team so far. Tennessee sports the worst rush defense in the SEC as they give up over 200 yards per game and I think the Bulldogs will exploit that. I feel putting 17 points for the Volunteers is a bit generous because of how this Georgia defense has been playing, but I believe they get in a couple scores before Kirby Smart's defense completely takes it over. The Bulldogs should have a great day rushing the ball and they should walk out of Neyland Stadium 5-0.


This staff seems pretty high on the Bulldogs, but what do you think? Please put your score prediction in the comments.



---
Recent Articles by Michael Pope


[pt_view id="b8629e37y8″]