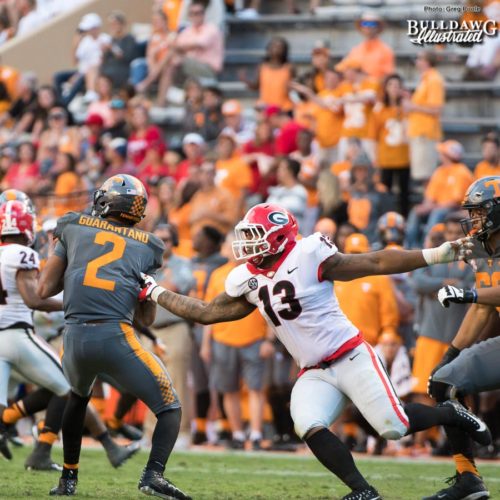 Amazing, amazing!


That's about all you can say about what this Georgia defense has accomplished over these last two games and, for that matter, the entire 2017 season to date.


Since holding Notre Dame without a touchdown in the second half and then allowing Samford two harmless scores in a runaway 42-14 win, the Bulldogs have surrendered a meager 3 points — that's right, 3 points — in blowout victories over Mississippi State and Tennessee.


This past Saturday at Neyland Stadium in Knoxville, Georgia went the 31-3 win over the Maroon Bulldogs one better by blanking the Volunteers by 41-0.


It was the first time since 1994 Tennessee had been shut out and it was the Bulldogs' second largest margin of victory in the series and biggest in Knoxville. The only greater margin of victory was 44-0 in 1981 in Athens.


And again, the Bulldog defense was complemented once more by an offensive unit that overcame a somewhat slow start and simply took it to the Tennessee defense the rest of the game, building a 24-0 halftime lead and then continuing to keep the pedal on the gas in the second half as Kirby Smart emptied his bench in the final quarter.


As one can imagine, in such complete domination as the Bulldogs displayed Saturday, the weekly Stats That Matter look awful sweet to the Bulldawg Nation as 5-0 Georgia (2-0 SEC) now turns to Vanderbilt this coming Saturday in Nashville.

PLAYS OF 20 PLUS YARDS, OFFENSE AND DEFENSE

In the first half, Jake Fromm completed a 25-yard pass to Javon Wims and on the Bulldogs' second touchdown drive, Nick Chubb and D'Andre Swift reeled off runs of 23 and 22 yards, respectively. In the second half, Sony Michel added insult to injury for the Vols by ripping off a 21-yard touchdown run and Elijah Holyfield rambled 32 yards on a fourth-quarter run. Tennessee's only 20-yards plus gain came via a 44-yard pass from Quinten Dormady to tailback John Kelly, who was stripped of the ball by Aaron Davis at the end of the play with J.R. Reed recovering for the Bulldogs.

UNTIMELY MISTAKES
(TURNOVERS, PENALTIES, CLOCK MANAGEMENT MISCUES, ETC)

Fromm, on an errant throw, was picked off at the Bulldogs' 27 by Nigel Warrior but, again, the Vols turned it right back over on a Dormady fumble, recovered by Lorenzo Carter. Georgia did have six penalties for 65 yards but the way both the defense and offense were humming along, these walkoffs didn't damage the Bulldogs one iota on this night.

SPECIAL TEAMS WINS VS. MISCUES

Rod Blankenship first got the Bulldogs on the board with a 38-yard field goal. And Cameron Nizialek had contrasting punts in the first half, one going only 27 yards and the other booming for 59 yards. That 59-yard kick aided a rare off night for Nizialek as he averaged just 35.2 yards on five punts, though he did kick the Vols dead three times inside the 20. Blankenship had touchbacks on five of his seven kickoffs so again, the Bulldog kick coverage unit wasn't taxed at all.

MISSED TACKLES

The hard-running Kelly broke away from a few first hits by the Georgia defenders but, very few! After all, the SEC's leading rusher could manage only 44 yards on 16 carries against the swarming Bulldogs.

TURNOVERS (GAINED/LOST)

The Bulldog defense had three takeaways from the Vols in the opening half, Tyrique McGhee picking off Dormady on Tennessee's first play from scrimmage, Carter pouncing on the Vol fumble and J.R. Reed intercepting Dormady on a deflected pass by Deandre Baker and returning the ball to the UT 26, which led to a 4-yard touchdown keeper by Fromm. In the second half, Georgia forced its fourth turnover of the game when, as mentioned, Davis stripped Kelly after his long reception run and Reed recovered. Georgia's lone turnover came on the first play of the second quarter when Fromm was picked off by Warrior.

RED ZONE (OFFENSE/DEFENSE)

Georgia kept its perfect scoring streak inside the red zone going by converting all six times, with four touchdowns and two field goals. Again, showing the talent of this UGA defense, the Volunteer offense never advanced inside the Bulldog 20-yard line the game long.

THIRD DOWN CONVERSIONS

Georgia's offense again did well here, converting on 9-of-16 third-down attempts. Tennessee … not so much as the Bulldogs allowed the Vols to notch a lone first down, out of 12 third-down tries.

RUN/PASS ATTEMPTS (TOTAL PLAYS)

Just like the final score, total domination in this area as well for the Bulldogs. With Chubb running for 109 yards and Michel adding 64 yards, the Bulldogs ran the ball 55 times for 294 yards. They passed it 17 times with Fromm completing 7-of-15 attempts for 84 yards including a 12-yard TD to Javon Wims. Fromm also scored twice, on runs of 9 and 4 yards. D'Andre Swift threw one incomplete halfback pass and Jacob Eason, seeing his first action since the season opener when he took over for Fromm with just less than nine minutes left in the game, just missed hitting on a short touchdown pass. So that's 378 total yards for Georgia on 72 snaps. Tennessee, meantime, was stuffed for 62 yards on 29 carries and to 80 yards in 23 passing attempts, making for just 142 yards gained on the day against Georgia.



---
Recent Articles by Murray Poole


[pt_view id="2fb799183g"]