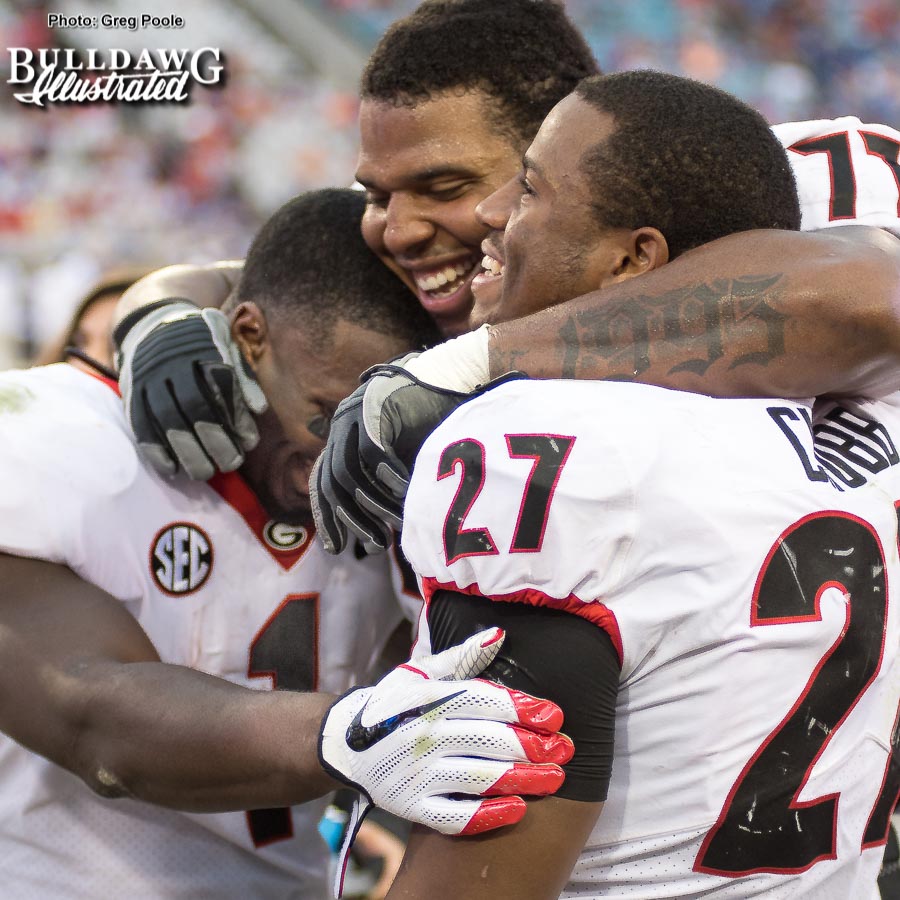 JACKSONVILLE, Fla. – After having to leave EverBank Field here the past three years with their heads hanging, this one, this 42-7 rout of the hated Florida Gators, was especially sweet to the Georgia Bulldogs and all their legions of red and black-clad fans.

The undefeated Bulldogs (8-0, 5-0 SEC), surely to be ranked second in the land this week (following No. 2 Penn State's one-point loss to Ohio State), simply dominated the now 3-4 Gators on both sides of the ball. Georgia erupted for 21 points in the first quarter then built its lead to 42-0 in the second half before the Bulldogs' second-unit defense surrendered Florida's lone touchdown with just under three minutes left in the game.
As Georgia makes ready for South Carolina's invasion on Saturday, these Stats That Matter continue to illustrate why the 2017 Bulldogs have stormed past all eight opponents to date and appear dead serious on winding up at Atlanta's new Mercedes-Benz Stadium on Dec. 2 in the SEC Championship Game.

PLAYS OF 20 PLUS YARDS, OFFENSE AND DEFENSE

Not nearly as many in this category as those 11 20-yard plus plays Georgia put up against Missouri but, plenty enough to ignite the runaway win over the Gators. On the Bulldogs' first touchdown drive, freshman sensation D'Andre Swift pulled in a screen pass from Jake Fromm and made a brilliant 39-yard run to set up a 6-yard scoring run by Nick Chubb. Sony Michel, the Bulldogs' offensive star of the game, jolted the Gator defense with touchdown runs of 74 and 45 yards, Chubb had a 22-yard run, Fromm and Swift hooked up on another 27-yard pass, and fifth-string tailback Elijah Holyfield put the icing on the Bulldogs' cake with a final 39-yard scoring jaunt.

UNTIMELY MISTAKES
(TURNOVERS, PENALTIES, CLOCK MANAGEMENT MISCUES, ETC)

Fromm, while completing four of his just seven attempted passes for 101 yards and a 17-yard scoring pass to Javon Wims, did throw an interception early in the third quarter when his pass sailed way over the head of his intended receiver and was picked off by Duke Dawson. Georgia was assessed seven penalties for 40 yards and that included three nagging delay-of-game penalties plus one illegal substitution infraction.

SPECIAL TEAMS WINS VS. MISCUES

The Bulldogs again rendered outstanding kick coverage and graduate punter Cameron Nizialek averaged 46.5 yards on his four punts. Rodrigo Blankenship wasn't called on for any field goal attempts, what with the Bulldogs ringing up six touchdowns, both from long and short range.

MISSED TACKLES

Maybe Georgia's second-team defense whiffed on some tackles when Florida backup quarterback Malik Zaire led the Gators on their only scoring drive in the waning minutes but, otherwise, the Bulldogs' starters were swarming the Gator running backs and also making life miserable for quarterback Feleipe Franks the entire afternoon, as evidenced by Florida's mere 249 yards of total offense.

TURNOVERS (GAINED/LOST)

The Bulldogs turned the ball over just that one time, on Fromm's interception, while the Gators had one fumble, which J.R. Reed scored on from three yards out, and also one interception, which was fashioned by Dominique Sanders … the 15th pick of what could be a record-breaking career.

RED ZONE (OFFENSE/DEFENSE)

The Bulldogs stayed perfect for the year by scoring touchdowns on both their excursions inside the Florida 20 while the Gators went 1-of-2 on touchdowns after reaching the red zone. The difference was, the Gators didn't tally any long-range scores, like the Bulldogs did all day.

THIRD-DOWN CONVERSIONS

Not so good here as Georgia went only 3-of-8 on third-down conversions but then, when you're chalking up touchdowns on plays of 74, 45, 39 and 17 yards, you don't have many third-down opportunities. The Gators were a terrible 4-of-15 in this department against the attacking Bulldog defense.

RUN/PASS ATTEMPTS (TOTAL PLAYS)

The efficient Bulldogs rolled up 393 yards running and passing on just 42 plays while the Gators, as mentioned, were limited to 249 yards on a whopping 66 plays.



---
Recent Articles by Murray Poole


[pt_view id="2fb799183g"]