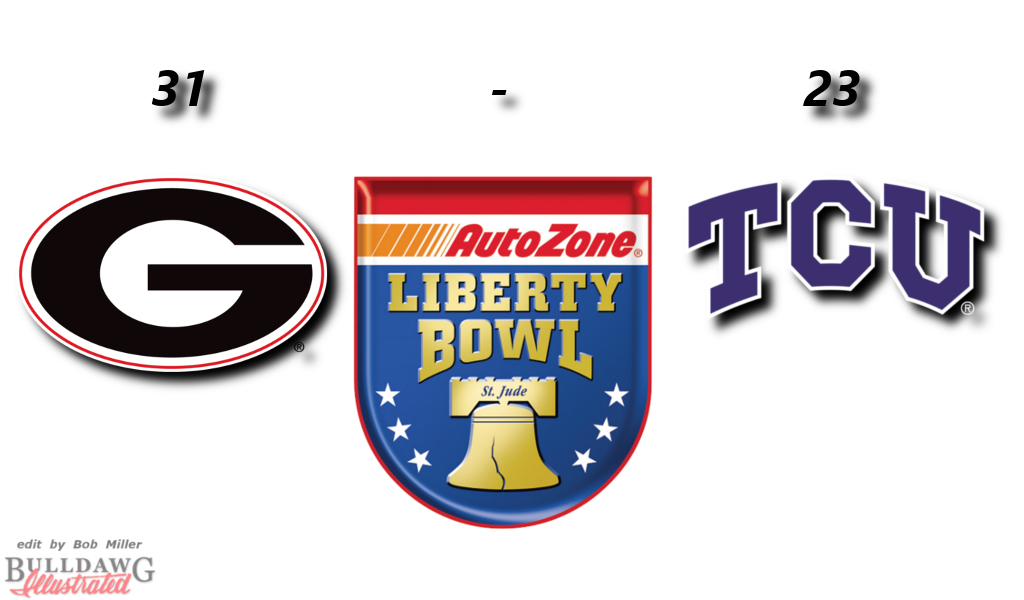 Clearly, the STATS THAT MATTER in Georgia's 31-23 Liberty Bowl victory over the TCU Horned Frogs on Friday in Memphis revolved all around this: Running the Football!
Showing no signs of being able to do that in the first half, when the Bulldogs fell behind the Frogs 16-14, Georgia's offensive line began moving people in the final two quarters and the result was 248 yards net rushing for the game, with the dynamic junior running duo of Nick Chubb and Sony Michel romping for 142 yards and 87 yards, respectively. Mind you, the Bulldogs had run for a meager 49 yards at halftime, before finally giving Chubb and Michel some room to breathe — and run — in the second half.
With his bowl output, Chubb finished with 1,130 yards on the season and with now 3,424 career yards, he has surpassed Todd Gurley on the all-time UGA rushing list and is second only to the 5,259 yards compiled by Bulldog legend Herschel Walker.
But, clearly, this was a team win for these Bulldogs. Sophomore defensive tackle Trenton Thompson earned both the bowl overall MVP and defensive award by recording three sacks (Liberty Bowl record), eight total tackles and 3.5 tackles for loss. Outside junior linebacker Lorenzo Carter forced two TCU fumbles, sophomore linebacker Roquan Smith matched his career-high with 13 tackles and junior receiver Isaiah McKenzie went over the 100-yard receiving mark for the third time this season with 103 yards on four catches, including a Jacob Eason career-long 77-yard pass. And Michel, with his rushing effort plus two touchdowns, was named the bowl most outstanding offensive player.
Overall, it was a sweet victory for first-year mentor Kirby Smart and his assistant staff, enabling the Bulldogs to finish 8-5 and take a little of the sting out of the bitter regular-season ending loss to the Yellow Jackets.
Now, for one final time in the 2016 season, let's look at the Stats That Matter, the numbers that allowed Georgia to subdue Big 12 foe Texas Christian and thus move into the New Year with a feel-good vibe.
PLAYS OF 20-PLUS YARDS (Offense and Defense)
The Bulldogs got a 77-yard pass-and-run play from Jacob Eason to Isaiah McKenzie to set up their first touchdown; Michel pulled in a short pass from Eason and had a dazzling 33-yard scoring run; Chubb reeled off a 48-yard run in the second half, to the TCU 7-yard line and enabling the Bulldogs to control the ball and clock in the late going, Michel dashed another 20 yards and Chubb tacked on a final 27-yard scamper. The Frogs got a 20-yard run from Kyle Hicks in the loss plus a 45-yard run from quarterback Kenny Hill.
UNTIMELY MISTAKES
An Eason fumble, as he was attempting to pass and belted from the blindside, led to the Horned Frogs' first touchdown. Trenton Thompson, while winning the game MVP award with his stellar defensive performance, was slapped for a face mask infraction on that same TCU drive. Lorenzo Carter, who twice stripped Frog backs of the football, was once tagged for a late out-of-bounds hit. And the Bulldogs were hampered at times by a couple of false starts and a 5-men-in-the-backfield call. It could have been costly but, fortunately for the Bulldogs, didn't turn out that way when with still 9:49 left in the opening half, Smart used up his third and final timeout while wanting a review of an incompleted TCU double pass, to see if the ball had been thrown forward or not.
SPECIAL TEAMS WINS VS. MISCUES
In winning this football game, the Bulldogs overcame shaky kick coverage, as the kickoff team allowed the Frogs' ace returner, KaVontae Turpin, to haul back one kick 50 yards and then allowed him to bring another out to the TCU 44-yard line. Brice Ramsey averaged only 34.8 yards on five punts but made one of the biggest plays of the game when he ran 11 yards for a first-down on a fake field goal attempt from the Horned Frogs' 21-yard line.
MISSED TACKLES
The Georgia defense especially stepped up in the second half when they limited TCU's offense to a single touchdown but in the opening half, the Bulldogs allowed Frog quarterback Hill to bounce away for several first down runs after they seemingly had him trapped behind the line of scrimmage.
YARDS AFTER CONTACT
In the first half, Chubb and Michel didn't notch many extra yards after the initial hits but in the second half the Georgia tailbacks became their usual tackle-breaking selves, continually running through Horned Frog defenders for big yardage.
TURNOVERS (Gained/Lost)
Lorenzo Carter caused both of the TCU fumbles, which were recovered by Aaron Davis and Dominique Sanders. Georgia lost only one fumble, when quarterback Eason was hit from his blindside while attempting to pass.
RED ZONE (Offense, Defense)
The Bulldogs, in this victory, scored all four times when going inside the TCU 20-yard line with three of those excursions resulting in touchdowns. TCU was 4-of-6 inside the red zone, also cashing three touchdowns in the process.
THIRD DOWN CONVERSIONS
The Bulldogs converted on seven of their 14 third-down opportunities and were 1-of-1 on fourth-down chances. The Frogs went 6-of-14 on their third-down tries.
RUN/PASS ATTEMPTS (Total Plays)
Georgia had 65 total plays in the win, running the ball 44 times for 248 yards and passing it 21 times with Eason completing 12 of those for 164 yards … making for a total offense figure of 412 yards. TCU had 67 total plays with 39 attempts rushing for 175 yards and 28 passes, completing 18, for 146 yards. Thus, the Georgia defense held the Frogs to just 321 yards of total offense on the afternoon.