UGA is not alone in the new era of players electing to not play in bowl games, but Dawgs certainly have some of the most notable and talented players choosing not to play in the Sugar Bowl. Lance McCurly did a great piece on some of the Dawgs to watch in large part to those guys not suiting up.
Jake Fromm has a 54.9% completion rate and 7.1 YPA when using the targets that UGA will have in the Sugar Bowl. The passing success rate is an encouraging 55.1%. Everyone knows that Lawrence Cager was Jake's favorite target, Dominick Blaylock was having a great year. He had the highest completion percentage of catchable targets at 90% and was only behind D'Andre Swift for yards after contact.
Filtering the "players that are here" we can see that UGA has lots of talent thanks to incredible recruiting. In addition to seeing the depth on the offensive line, here are some stats of those players.
Zamir White
Zamir has gotten the most carries behind Swift and Brian Herrien and has made the most of them. White got duties not just in mop-up roles but spelled the leading rushers during conference games.
60 carries for 316 yards (5.3 YPA) and 2 TDs
2 receptions on 4 targets and 20 yards receiving.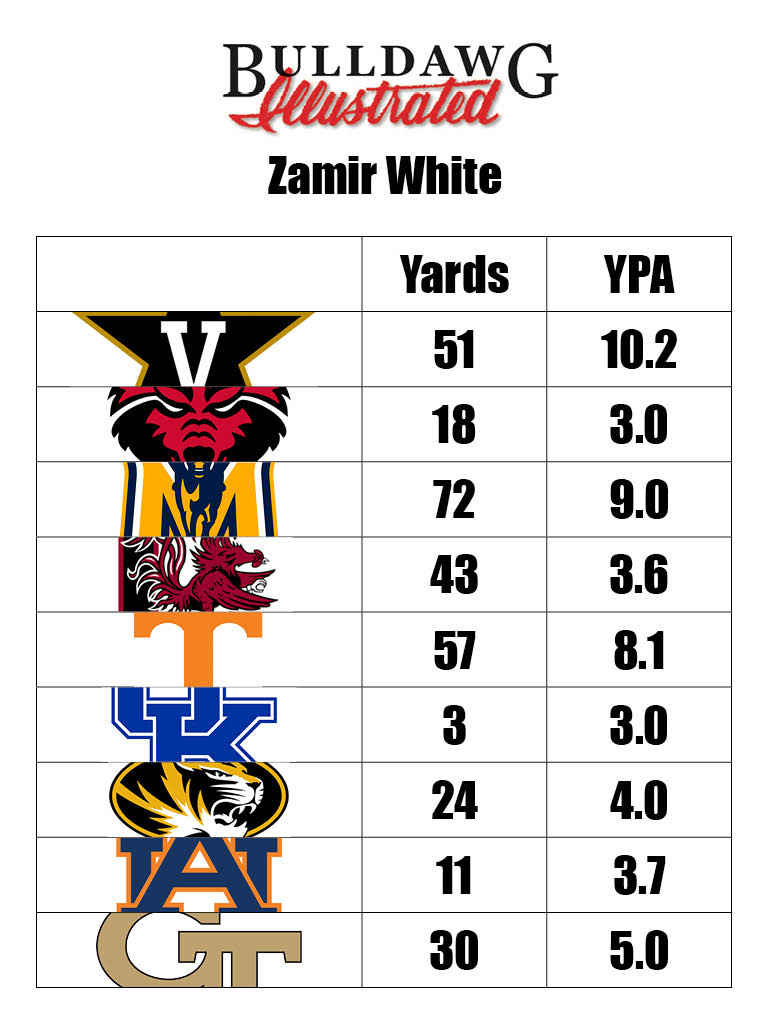 James Cook
Dawgs often expected to see more of Cook with his versatility. UGA's rushing attack was largely up the middle and did not lend to Cook's strengths. He rushed 28 times, with a 6.3 YPA and two TDs. James also caught 16 of 16 targets for 132 yards and 64 yards after contact.
Here is Cook converting on third down out of an empty set against Carolina
James with an electric run on an end-around in the Arkansas State game.
Cook attacks the wide side of the field with an outside zone run to score UGA's second TD of the season.
Kenny McIntosh
The true freshman only played in 3 games and could be in line to get touches against the Bears. McIntosh has 19 carries for 148 yards on the season. But, only saw action in the Ark St, Murray St, and GT games. His season highlight has to be the 62-yard rushing TD against the Red Wolves.
UGA's offense will be under a microscope for the Sugar Bowl. Fans and critics will judge not only the play calling but also the playmakers that UGA has recruited these last few classes. Maybe UGA can show some creativity and get these young Dawgs a chance to shine.