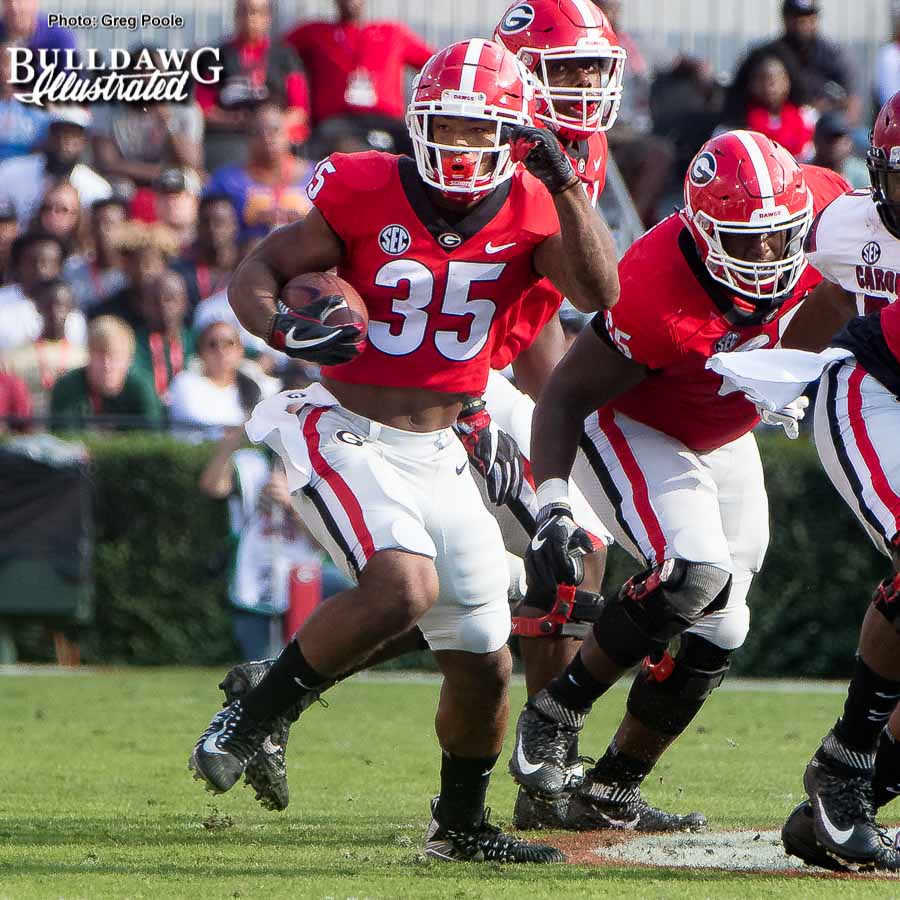 In the end, following Georgia's hard-fought 24-10 win over South Carolina Saturday night at Sanford Stadium, everything turned out well for the top-ranked Bulldogs.
Georgia not only ran its unbeaten record up to 9-0 and 6-0 in the SEC but with the Ole Miss Rebels upending Kentucky, the Bulldogs became SEC East Division champs for the first time since the 2012 season and will be making a trip to the conference championship game on Dec. 2 in Atlanta's Mercedes-Benz Stadium.

Sure, the Bulldogs had their six-game streak of beating teams by at least 25 points snapped but, then, ask top 10-ranked teams Ohio State and Penn State if they would have been happy with relatively close wins; both the Buckeyes and Nittany Lions crashed on Saturday and several other highly-ranked squads such as No. 3 Notre Dame and No. 4 Clemson had battles to the wire before winning.
As the Bulldogs prepare to travel to Auburn on Saturday for a 3:30 p.m. kickoff on CBS, here's the Stats That Matter, which produced the 14-point win over Will Muschamp's Gamecocks.

PLAYS OF 20 PLUS YARDS, OFFENSE AND DEFENSE

In the first half, the Bulldogs got 22 and 21-yard pass completions from Jake Fromm to Terry Godwin; unfortunately, Godwin fumbled the ball away at the SC 4 at the end of his second reception. Nick Chubb also reeled off a 26-yard run. The second half saw Fromm hitting Mecole Hardman with a 20-yard touchdown strike and Chubb adding another 27-yard run. South Carolina quarterback Jake Bentley hurt the Bulldog secondary with his many underneath throws and completed four passes for 20 yards or more, with three of those completions going to stellar junior tight end Hayden Hurst.

UNTIMELY MISTAKES
(TURNOVERS, PENALTIES, CLOCK MANAGEMENT MISCUES, ETC)

The Bulldogs had two costly block-in-the-back penalties in the early going, one by tight end Charlie Woerner, the other by freshman Ameer Speed. And Godwin's fumble inside the Gamecock 10 stopped Georgia's scoring bid although after the defense forced a Carolina punt, the Bulldogs came back and marched 69 yards for their first touchdown, an 8-yard tackle-breaking run by Sony Michel. In the second half, safety Jarvis Wilson was whistled for holding on a Gamecock fake punt attempt that failed and the Bulldogs' J.R. Reed was tagged for a personal foul on a late hit … miscues that likely prevented the Bulldogs from putting more points on the scoreboard.

SPECIAL TEAMS WINS VS. MISCUES

Another good night for the Bulldog special team units. Although the kickoff team couldn't recover a surprising onside kick to start the game, the Georgia defense didn't allow the Gamecocks to score after South Carolina fell on the kick at midfield. Rod Blankenship had three touchbacks on his kickoffs after that and on the lone kick that the Gamecocks returned out of their own end zone, the Georgia kick coverage team smothered SC returner Rashad Fenton at his own 13-yard line. Blankenship converted all three of his PAT kicks and was true on his only field goal attempt, from just 20 yards out with 6:36 left in the game. Cameron Nizialek averaged 46.7 yards on his three punts including one kick that was downed inside the Carolina 1-yard line.

MISSED TACKLES

The Georgia defenders were sure tackling the game long against the SC running backs, limiting the Gamecocks to a mere 43 yards net rushing on 17 carries. The problem was 6-5, 250-pound tight end Hayden Hurst continually getting open in the Georgia secondary as he snared seven of Bentley's passes for 93 yards. The Gamecocks' Bryan Edwards also had seven receptions for 62 yards, including the visitors' only touchdown.

TURNOVERS (GAINED/LOST)

J. R. Reed picked off a Bentley pass with four seconds left in the first half, which snapped Bentley's streak of 152 consecutive passes without an interception. And then near game's end, senior corner Malkom Parrish salted the game away for Georgia by also picking off Bentley. The Bulldogs' lone turnover came on Godwin's fumble at the SC 4-yard line after pulling in a 21-yard pass from Fromm, who didn't throw any interceptions while completing 16-of-22 passing attempts for 196 yards and two touchdowns.

RED ZONE (OFFENSE/DEFENSE)

Georgia's perfect season (31 straight times) of scoring inside the red zone was halted but the Bulldogs still got points on four of their five excursions inside the South Carolina 20 … with the three touchdowns and one field goal. The Gamecocks got their lone touchdown and field goal in their only two trips inside the red zone.

THIRD-DOWN CONVERSIONS

It seemed like more but the Gamecocks could convert on only four of their 12 third-down chances while the Bulldogs again were pretty good here, cashing first downs on eight of 13 third-down tries.

RUN/PASS ATTEMPTS (TOTAL PLAYS)

When you examine this area, it seems as if the Bulldogs should have tallied more than 24 points. That's because Georgia ran 75 plays for a total of 438 yards while the Gamecocks had just 53 snaps and were limited to 270 total yards by the Bulldogs' defense.