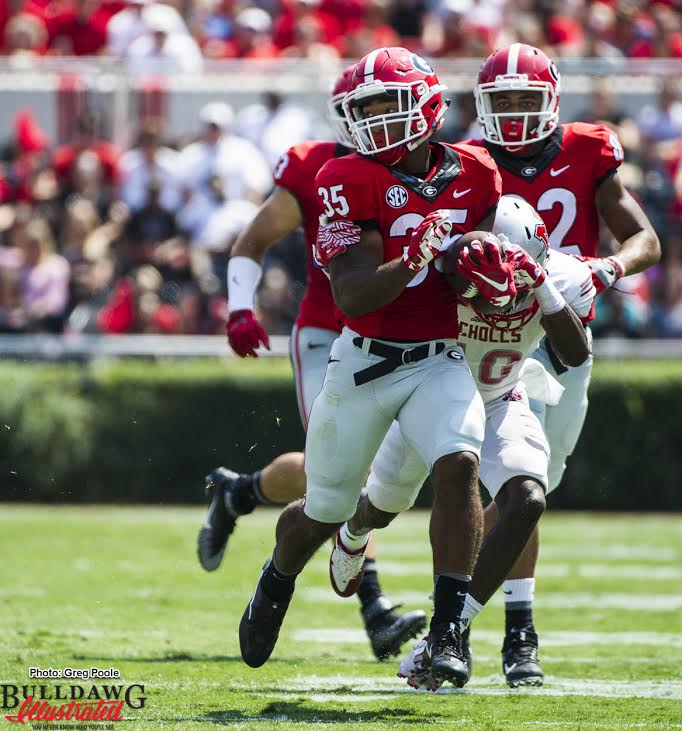 Every Georgia football fan now well knows the agonizing details of how the Bulldogs almost got the shock of their lives from lowly FCS member Nicholls State, this past Saturday in the home opener at Sanford Stadium.
And, without question, there's no way Georgia can have a similar showing to the 26-24 win over the Colonels and expect to emerge victorious the next two weekends on the road against SEC foes Missouri and Ole Miss.
But, bottom line, Kirby Smart's first Bulldog team stands at 2-0 as it makes ready for the trip to Columbia, Mo. this coming Saturday evening.
And hopefully, this time next week, these STATS THAT MATTER will be much more appealing than they are today, as we reflect on what went wrong against a 50-point underdog that still had Georgia sweating bullets until the game's final moments.
Plays of 20 plus yards (offense/defense)
Making his first start, ballyhooed freshman quarterback Jacob Eason had a 36-yard pass to Terry Godwin on the Bulldogs' opening touchdown drive and later connected with Charlie Woerner on a 29-yard completion. Freshman Brian Herrien reeled off a 22-yard run in the first half, about the only decent gainer for a sluggish Georgia rushing attack. In the third quarter, Eason hooked up with McKenzie on a 66-yard touchdown pass and run and McKenzie also reeled off a 55-yard punt return to set up a William Ham field goal. The Georgia defense allowed the Colonels only one play of 20 yards, Chase Fourcade's 20-yard TD strike to Jarrell Rogers that gave Nicholls a 14-13 lead with 6:48 left in the third quarter.
Untimely mistakes (turnovers, penalties, clock management miscues, etc)
The Bulldogs' running game was stymied greatly by junior guard Dyshon Sims' two holding penalties in the first half. Shattle Fenteng was also tagged with a 15-yard interference penalty on a fair catch by the Nicholls punt returner. And then there were the costly turnovers by Georgia. Nick Chubb, who would be held to 80 yards on 20 carries by the Colonels, coughed the ball up at the Georgia 30 in the waning minutes of the first half, which enabled Nicholls to pull within 10-7 at intermission. Then McKenzie sort of negated his earlier heroics by fumbling away a Colonel punt at the Bulldogs' 9-yard line, which led to a Nicholls touchdown and chopped Georgia's lead to 26-24 with 3:42 left in the game. Then McKenzie also fumbled the ensuing kickoff out of bounds at the UGA 7, making for some tense moments before a 9-yard pass from Greyson Lambert to Michael Chigbu and several Chubb first down runs effectively put the game away for Georgia. Eason also suffered a costly interception on a tipped pass that Nicholls DB Jeff Hall returned 91 yards to set up a field goal that made the score 26-17 at the time.
Special teams wins vs. miscues
The Bulldogs got the 55-yard punt return by McKenzie, some nice punting from freshman Marshall Long who averaged right at 48 yards on three punts and four touchback kickoffs into the end zone by Rodrigo Blankenship, something he couldn't manage in the opener in the Georgia Dome. Ham made two-of-three field goals, for 23 and 26 yards, while missing only a long 52-yard attempt. And the Bulldogs' kick coverage teams were very good, not allowing the Colonels any sizable returns. As mentioned, there were the two McKenzie miscues on Nicholls kicks that, fortunately, didn't cost Georgia the football game.
Missed Tackles
And unfortunately, there were a bit too many in this category as at times the Georgia defenders allowed the Colonel running backs and quarterback Fourcade to pull away from the initial hits and convert drive-sustaining first downs.
Yards after contact
Often, Chubb and Sony Michel, who was making his return from his broken arm sustained in early July, were met by two or three tacklers at the line of scrimmage. With the Bulldogs offensive line struggling mightily to create space against the pumped Nicholls defense, this was a bad day for Georgia's running attack. Still, Chubb got yards after contact, particularly in the waning minutes when the Bulldogs needed to kill clock to hold on for the win.
Turnovers (gained/lost)
Juwuan Briscoe and Dominique Sanders picked off Colonel passes in the opening half and Lorenzo Carter had his 24-yard touchdown run on a fumble by Nicholls backup quarterback Devin Powell, when Powell was blindsided on a pass attempt by Georgia DB Aaron Davis. The Bulldogs lost two fumbles and Eason had the one tipped pass interception near the Nicholls goal line that Hall hauled back 91 yards.
Red Zone (offense/defense)
The Bulldogs got points on three of their four excursions inside the 20-yard line while the Colonels, showing their success this day, scored on all four of their trips inside the red zone.
Third down conversions
This category, most of all, reflects Georgia's inconsistency and frustration on offense against a Nicholls defensive unit that, truth be told, the Bulldogs should have manhandled. Georgia was a dismal 5-of-13 on third down conversions. The Colonels were even worse with a 6-of-16 third-down conversion rate.
Run/pass attempts (total plays)
The Bulldogs ran 62 total plays. They ran the ball 39 times for just 167 yards and completed 13-of-23 pass attempts for 206 yards. Eason was 11-of-20 in his first start at quarterback, for 204 yards including the touchdown pass to McKenzie and the fourth-quarter interception.