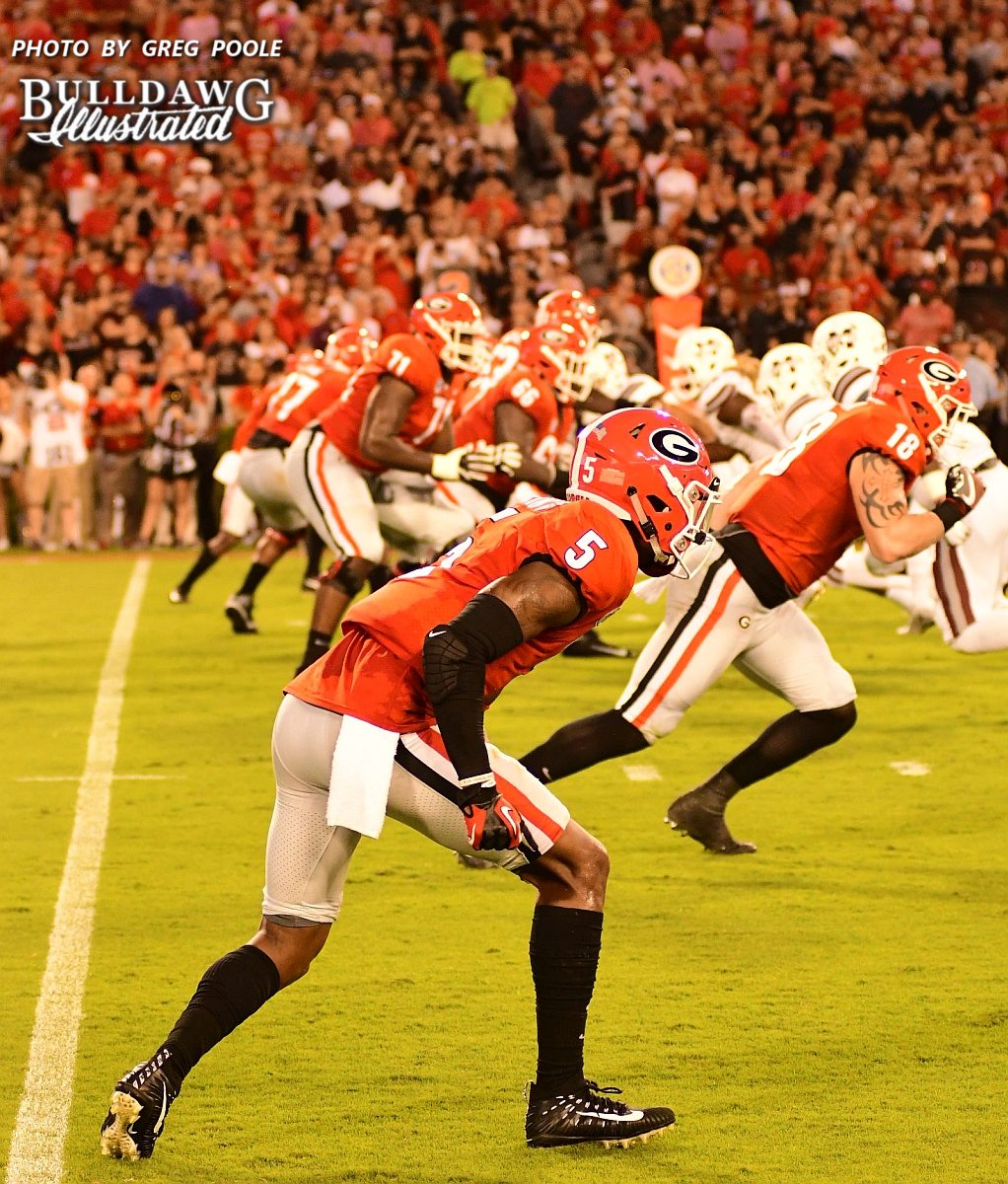 A look back at what decided the game last week between Georgia and Mississippi State.


WOW! We could simply throw out one line in this space today and that would be all you need to know about the Southeastern Conference football matchup that was held this past Saturday night at Sanford Stadium.


Georgia 31, Mississippi State 3!


But because it was such a sweet night for UGA fans everywhere, the weekly Stats That Matter are all the more appetizing to review. Indeed, they readily illustrate the enormity of the Georgia Bulldogs' total domination of the then 17th- ranked and unbeaten Maroon Bulldogs on the evening of Sept. 23, 2017.

PLAYS OF 20 PLUS YARDS, OFFENSE AND DEFENSE

Georgia's very first play from scrimmage and Boom! … a 59-yard touchdown bomb from Jake Fromm, who took a lateral from Nick Chubb, to a wide-open Terry Godwin. Fromm then also had another 21-yard pass to Godwin plus a 27-yard strike to Javon Wims while going a perfect 8-for-8 for 160 yards in the first half. In the second half, as the Bulldogs proceeded to outscore Mississippi State by 17-0, the offensive fireworks continued with freshman D'Andre Swift ripping off a 20-yard run, Chubb adding a 28-yard touchdown jaunt out of the Wild Dawg formation and Fromm hooking up with tight end Isaac Nauta (remember him?) on a 41-yard scoring pass. Meanwhile, the Bulldog defense only allowed the Maroon Bulldogs two plays of more than 20 yards, a Fitzgerald pass of 21 yards to tight end Jordan Thomas and then a late 39- yard run by backup tailback Nick Gibson in the final quarter when the game's outcome had long since been decided.

UNTIMELY MISTAKES
(TURNOVERS, PENALTIES, CLOCK MANAGEMENT MISCUES, ETC)

Oh sure, it wasn't the perfect game for Georgia, as head coach Kirby Smart pointed out in his post-game remarks, but it was darn pretty close to that. Fromm, connecting on 9-of-12 of his pass attempts, didn't throw an interception and the Bulldogs' lone turnover came when Swift pulled in a pass over the middle in the second quarter and was separated from the ball when tackled at the State 38-yard line. The big screen replay seemed to indicate Swift's knee was already on the ground when the ball came out but, on review, the fumble was allowed to stand … a call that brought continuous boos from the home fans. Overall, it was another good game for the Bulldogs in avoiding penalties. The Bulldogs committed only four infractions for 35 yards.

SPECIAL TEAMS WINS VS. MISCUES

Another very productive night for Georgia'sspecial teams as Rodrigo Blankenship again was perfect with his kickoffs, getting touchbacks on all six boots. Blankenship also matched his career longest field goal with a 49-yard kick at the end of the third quarter … the Bulldogs' final points of the night. And punter Cameron Nizialek also enjoyed another big night, kicking four times for a 45.5 average including punts of 46 and 53 yards.

MISSED TACKLES

This gang-tackling UGA defense, in completely shutting down MSU quarterback Nick Fitzgerald and State's leading rusher, Aeris Williams, seldom misses tackles in one-on-one opportunities. The Bulldogs stuffed the Starkville Bulldogs' runs both up the middle and on the perimeter the game long.

TURNOVERS (GAINED/LOST)

As mentioned, the Bulldogs had only the lost fumble by Swift while, at long last, the Georgia secondary came up with its first interceptions of the young season, when Deandre Baker and Dominique Sanders picked off Fitzgerald on consecutive MSU possessions in the third quarter, the interceptions leading to the Fromm- to-Nauta touchdown pass and Blankenship's 49-yard field goal.

RED ZONE (OFFENSE/DEFENSE)

Striking from long range on most of its touchdowns, Georgia was 1-of-1 scoring inside the red zone. Chubb's 7-yard touchdown in the first quarter. State could convert only its lone 26-yard field goal on its three trips inside the Bulldogs' 20.

THIRD DOWN CONVERSIONS

Georgia was only so-so here, converting on five of 11 third-down opportunities but this category was all but irrelevant on this night when the Bulldogs quickly struck from long range for its touchdowns. The UGA defense limited MSU to a 6-of-16 success rate on its third down conversions.

RUN/PASS ATTEMPTS (TOTAL PLAYS)

Again, total domination for the Georgia Bulldogs in this area as the home team ran 54 plays for a total of 404 yards while Mississippi State ran 70 plays for just 280 combined yards. The Bulldogs mixed the run and pass perfectly with the Chubb (81 on 15 carries) led running game going for 203 yards and Fromm throwing for 201 yards. Fitzgerald was limited to 47 yards rushing and 83 passing by the Bulldogs and tailback Williams was snuffed also, with just 24 yards on 11 tries.



---
Recent Articles by Murray Poole


[pt_view id="2fb799183g"]