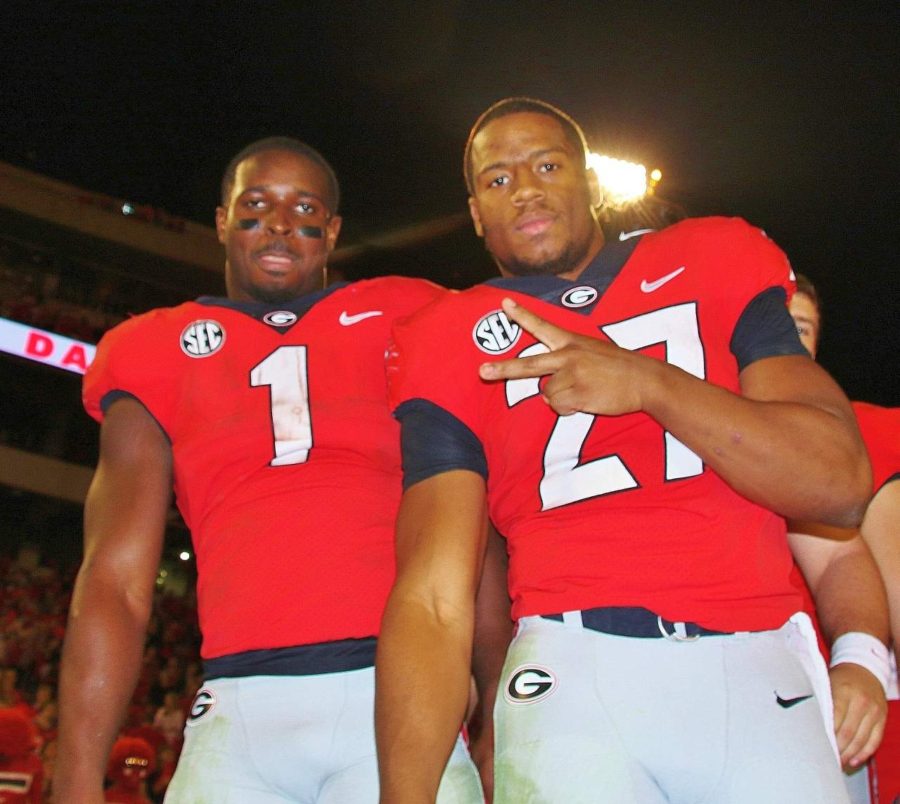 "Georgia's a very physical team, it's very well-coached, and they played like a No. 1 team in the country tonight. Chubb and Michel are exceptional backs, they really are. They're real physical, and they keep you off balance. Dynamic play-makers outside, really strong, and really good. I have a lot of respect for those two."
That was Kentucky head coach Mark Stoops talking about his Wildcats' 42-13 pasting by the 7th-ranked Georgia Bulldogs this past Saturday at Sanford Stadium and Stoops was dead on about the way Kirby Smart's now 10-1 Bulldogs played in rebounding from the awful loss at Auburn the week before. And he was also dead on about the performance of Georgia's terrific senior tailback duo of Nick Chubb and Sony Michel, in the final game of their career between the hallowed hedges.

Chubb and Michel literally ran the Cats' defense into the ground, combining for 238 yards rushing and five touchdowns with Chubb notching 151 yards on 15 carries including TD runs of 8 and 55 yards and Michel adding 87 yards on 12 carries including scoring runs of 37, 8 and 4 yards. And too, the Georgia defense wasn't too shabby either, limiting Kentucky to one touchdown, two field goals, and just 262 yards total offense.
So as the Bulldogs make ready for Saturday's noon kickoff against state rival Georgia Tech at Bobby Dodd Stadium, these weekly Stats That Matter are back in good shape for Georgia … the way they were in the Bulldogs' first nine games before the uncharacteristic showing at Auburn.

PLAYS OF 20 PLUS YARDS, OFFENSE AND DEFENSE

In the first half, the Bulldogs notched four plays that gained 20 yards or more: A 21-yard run by Jake Fromm, a 20-yard pass from Fromm to Javon Wims, a 27-yard touchdown strike from Fromm to Wims and a splendid 37-yard touchdown jaunt by Michel. In the second half, there was more of same as Georgia finished with eight plays that made this category … a 21-yard run by Chubb, Chubb's 55-yard touchdown run, a 25-yard run by D'Andre Swift and a 30-yard dash by Brian Herrien. The Cats had only one long gainer all night, a 45-yard pass from Stephen Johnson to Blake Bone.

UNTIMELY MISTAKES
(TURNOVERS, PENALTIES, CLOCK MANAGEMENT MISCUES, ETC)

Fromm, who threw for 123 yards, was picked off early in the game by Kentucky outside linebacker Josh Allen and that interception led to a Wildcat 37-yard field goal. But like at Auburn, seven penalties for 59 yards were nagging. Face mask penalties on both Deandre Baker and D'Andre Walker, a holding call on tackle Andrew Thomas, another holding call on Lamont Gaillard, which was declined, a substitution infraction and a couple of false starts all could have been more costly in a closer football game.

SPECIAL TEAMS WINS VS. MISCUES

Good in this area once again as the Bulldogs, for the most part, covered kicks well and Mecole Hardman has two kickoff returns for 61 yards. Cameron Nizialek averaged 48 yards on just his two punts and Rodrigo Blankenship boomed four touchbacks out of his six kickoffs.

MISSED TACKLES

Kentucky's strong tailback, Benny Snell, pulled away from a number of first hits by the Bulldog defenders to run for first down yardage and finished with 94 yards on the night but, then, the Georgia defense continued to gang tackle better as the game went along, as evident by allowing the Cats just the one touchdown, a 1-yard run by Snell.

TURNOVERS (GAINED/LOST)

On a night when the Bulldogs ran for 381 yards, they didn't fumble the ball a single time. Only UGA turnover was the early pick thrown by Fromm. Kentucky didn't lose any fumbles either but Johnson had one of his passes intercepted by Bulldog senior DB Aaron Davis.

RED ZONE (OFFENSE/DEFENSE)

Both teams made the most of it after penetrating inside the other's 20-yard line, each going 3-for-3 in scoring. But, thing is, the Bulldogs got touchdowns on all of their red zone excursions while the Cats had to settle for two field goals and one touchdown.

THIRD-DOWN CONVERSIONS

Georgia was 4-of-8 this week at converting third-down chances while the Cats were successful on just four-of-13 attempts.

RUN/PASS ATTEMPTS (TOTAL PLAYS)

The Bulldogs ran 58 plays to compile 504 yards of offense while the Wildcats, in contrast, ran 60 plays and could muster only 262 yards against the stingy Georgia defense.



---
Recent Articles by Murray Poole


[pt_view id="2fb799183g"]