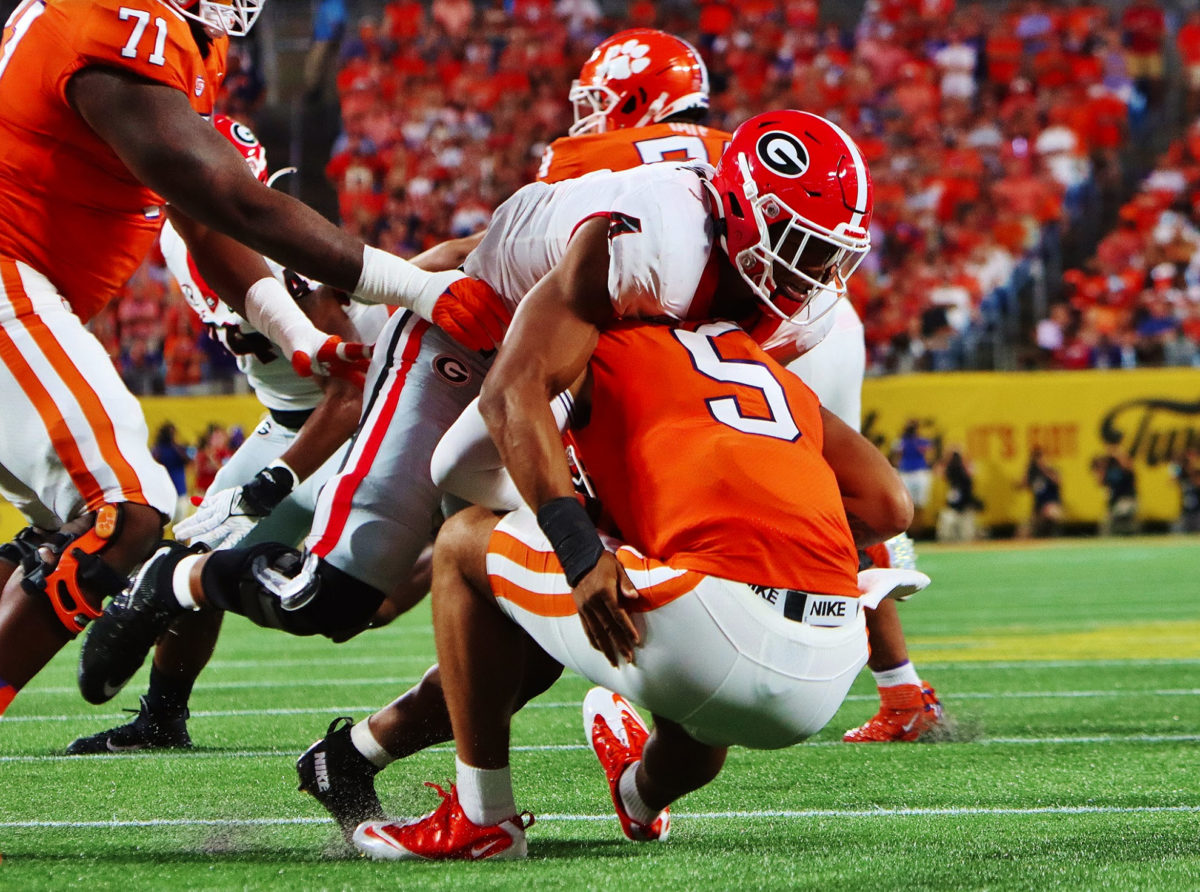 A look back at what decided the game between Georgia and Clemson
It was fantastic to watch the Bulldogs beat Clemson in the season opener. What a thrill is was to have football back with full crowds in the stands. Most pundits did not give Georgia a chance against Clemson. This was a big win for Georgia, both for the future of the program and building Georgia's resume for the College Football Playoff. Georgia's offense struggled at times, but with a major win on the belt, and CUSA team University of Alabama at Birmingham (UAB) on the schedule next week, Georgia's offense can work on their inefficiencies.
2
Only two rushing yards allowed by the Georgia defense in the entire game. Clemson had 23 rushing attempts and averaged 0.087 yards per attempt. The Georgia defense shut down any attempt by Clemson to have a ground game. DJ Uiagalelei was forced to have to beat Georgia in the air. He had some success with Joseph Ngata, but the one-dimensional attack prevented any surprises for the Georgia defense. As a result of constantly expecting Clemson to pass, Christopher Smith II was able to intercept and return the ball 74 yards for what would prove to be the gam winning pick-six touchdown.
7
Seven sacks by six different Georgia players, The Dawgs kept relentless pressure on DJ Uiagalelei, rendering his running ability inert. DJ seemed rattled and unprepared. This was the first game of his college career that had fans in the stands. He was protected by an inexperienced Clemson Tiger offensive line, who were not able to hold off Georgia's constant pressure. This was the first time since 2008 that Clemson allowed seven sacks in a game. The fact that six players recorded sacks highlights Georgia's talent on the defensive side of the ball.
10 for 94
The Georgia Bulldogs had 10 penalties, which resulted in 94 lost yards. These yards were not the only problem with these penalties, a few of the penalties happened in big moments that changed potential turnovers to a new set of downs for the Clemson offense. Penalties also affected the Georgia offense, which killed momentum at times, and gave the Bulldogs unfavorable field position in key moments. Part of the blame for the penalties can certainly be attributed to it being the first game of the season, and there is a lot of inexperience on the team. Expect penalties not to be a problem for Georgia moving forward.
9
Nine targets to starting true freshman tight end Brock Bowers. Bowers was the leading receiver against Clemson, targeted 30% of the time. He performed like a seasoned veteran. He had a catch percentage of 66.67% and gained an average of 7.71 yards per catch. It is very encouraging to see Todd Monken utilizing the tight ends. It will be exciting to see what Moken has in store for Darnell Washington when he returns from injury.
1
Clemson's office was only in the "red zone" 1 time, which only resulted in 3 points. Conversely, Georgia's offense was only in the "red zone" 1 time, and only resulted in 3 pts. The only touchdown in the game was scored defensively. Neither offense was able to be effective. Both offenses had flashes of cohesiveness, but never was able to get their engines started. Over the next week, we can expect Kirby Smart and Todd Monken to spend a lot of time on their offense. Georgia was successful on short yardage plays but were unable to attack further down field. This is not likely an issue with Georgia's receivers, but an issue with the experience and talent of Clemson's secondary that these receivers had to face.