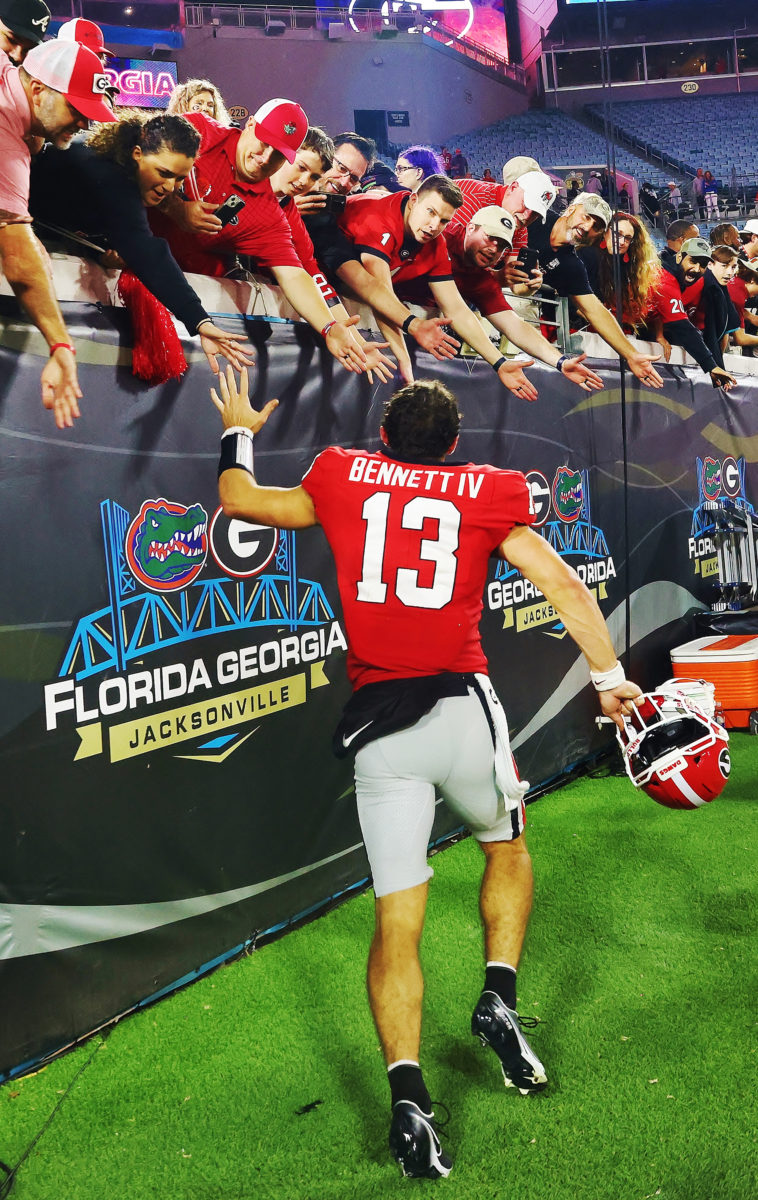 A look back at what decided the game between Georgia and Florida.
2.9
The Bulldogs held the Gators to just 2.9 yards per carry. The Gators entered the Georgia game leading the nation in yards per carry with a 6.36 average. In Jacksonville, Florida was held to 100 yards rushing on 34 carries. Georgia bullied Florida along the line of scrimmage and having Jalen Carter back certainly aided that effort. Florida has talented backs in Montrell Johnson and Trevor Etienne, along with a mammoth running quarterback who is difficult to bring down. If Georgia can hold Tennessee to a similar yards-per-carry average, the Dawgs will have an excellent shot at prevailing in its epic showdown this weekend.
154
Brock Bowers powered Georgia's passing game with a career-high 154 yards on five catches. The highlight was a spectacular juggling catch in route to a 72-yard touchdown. "That guy, he's one of the best players in the country now and probably one of the best in how many years, right?" Florida coach Billy Napier said. "He's a unique match-up player, and they do a good job, you know they got some other good ones out there too, it's not like you can just worry about him." Darnell Washington also had a big day, hauling in three catches for 47. Washington had a few uncharacteristic drops, but whenever he has the ball in his hands, good things usually happen. Georgia will look for similar production from Bowers and Washington against a Tennessee team that has been vulnerable against the pass.
555
Georgia compiled a series-record 555 yards of offense against a Florida defense that has been less than stellar despite having some NFL talent on that side of the ball. What is more remarkable about this record-setting offensive explosion is that Georgia accomplished it despite turning the ball over three times. Both Kenny McIntosh and Stetson Bennett responded with stellar play after their respective turnovers, with McIntosh setting the tone with some punishing runs helping Georgia pull away after Florida's third-quarter run. Georgia's offensive output has become so prolific that its 555 yards of total offensive seemed somewhat unnoteworthy. Georgia currently ranks second in the nation with an average of 527 yards per game. Unfortunately, Tennessee comes to Athens leading the country in offensive output with 571 yards per game and a nation-leading 46 offensive touchdowns.
78
Georgia gave up its most explosive play of the year when Florida's Xzavier Henderson caught a go route down the sidelines for a 78-yard touchdown. Safety Malaki Starks – who will likely be recognized as a Freshman All-American — uncharacteristically bit on the underneath route, allowing Henderson to get behind the defense and cruise for a long touchdown. This stat is potentially concerning given the high-flying passing attack Tennessee brings to Athens this weekend. The Vols will be looking to get behind Georgia's safeties, which cannot happen if the Dawgs are going to better the Vols and move toward another division title.
8.8
The number of yards per carry by Daijun Edwards. Edwards only carried the ball 12 times but generated 106 yards and two TDs. This performance follows a three TD game against Auburn where Edwards also carried the ball 12 times, generating 83 yards. Kenny McIntosh added 90 yards on 16 carries and Branson Robinson pitched in for another 35 yards. Robinson had a long run called back after a penalty or Georgia would have had more than its impressive 239 yards of rushing on the day.