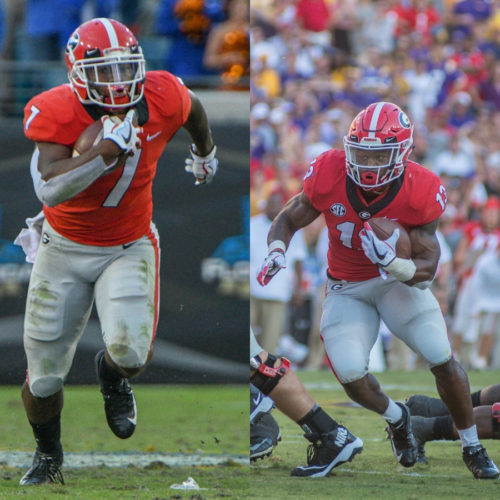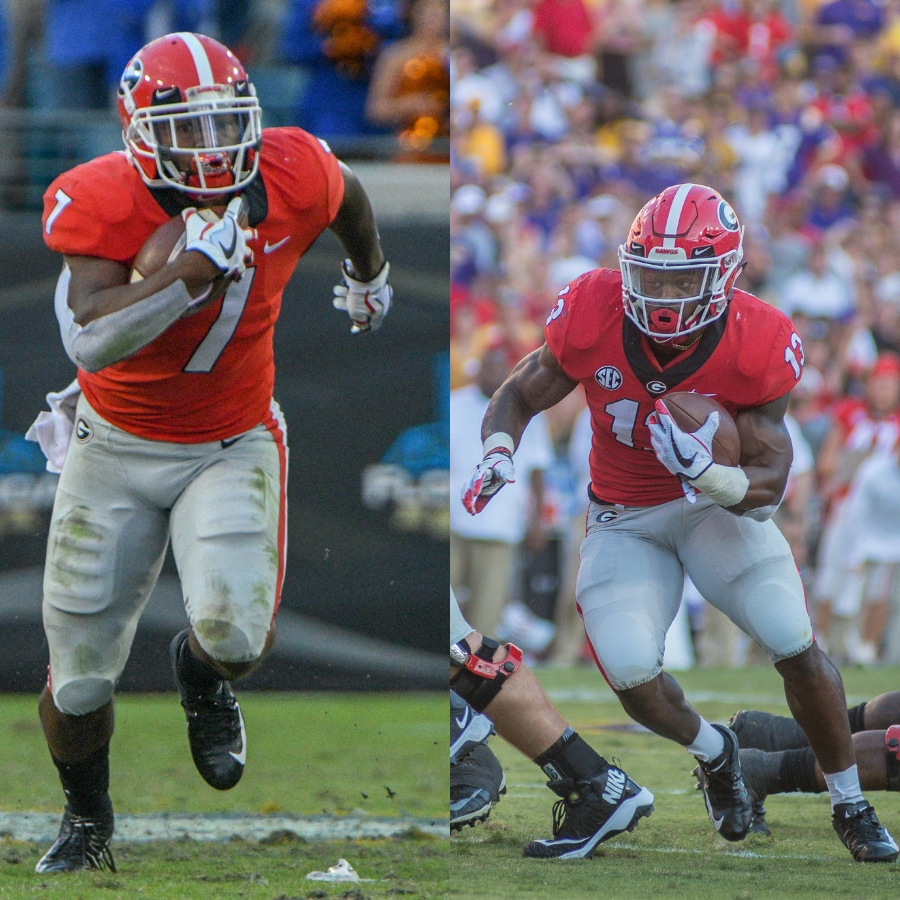 D'Andre Swift and Elijah Holyfield had big shoes to fill this season after Nick Chubb and Sony Michel went to the NFL. Instead of letting that expectation intimidate them, the two running backs proved their worth throughout the season. The two are on track to mimic what Chubb and Michel did.
Last season, Chubb and Michel each rushed for at least 1000 yards on the season. Michel rushed for 1,227 yards last year on 156 carries averaging 7.9 yards a carry and scored 16 touchdowns.  Chubb ran for 1,345 yards on 223 carries averaging 6.0 yards a carry and 15 scores.
The two made history during the Rose Bowl game last year as the duo became the all-time FBS leaders in career rushing yards by a pair of running back teammates. Both of them combined for 8,259 career yards.
Chubb had three 1,000 yard season and is number two on the SEC's all-time leading rushers. The one running back in front of him is Herschel Walker. He needed 490 yards to tie Walker and 491 to pass him. Chubb had three 1000 yard seasons during his career at Georgia. He joins Walker, Darren McFadden, and Alex Collins as the only running backs in the SEC to have 1,000 yards in three or more seasons.
He is first running back to get that close to the record, the closest after Chubb was Todd Gurley who racked up 3,285 career yards. If Chubb didn't get hurt, it would have been amazing to see the numbers he would have now.  As for Michel, he ranks No. 17 on the SEC list. However, if you look at Georgia's all-time leading rushers it goes, Walker, Chubb, Michel, Gurley, and Garrison Hearst.
History is what Chubb and Michel aimed for, and that's what they made during their time at Georgia. Now with both of them gone, Swift finally had his chance to shine. Holyfield wouldn't get that opportunity right away, but with an injury to freshman standout, Zamir White, the junior got the call-up to the majors. Neither running back disappointed.
Through 13 games, Swift has 1,037 yards on 155 carries averaging 6.7 yards each time he totes the rock. Holyfield isn't far behind him with 956 yards on 147 carries averaging 6.5 yards a carry. The junior needs 44 yards to have 1000 yards on the year.  This achievement would Georgia back-to-back years with two running backs going for 1000 yards each.  The first time in the history of the school.
Despite the two running backs having enormous shoes to fill, both of them haven't skipped a beat. Swift now has 1,655 career yards and 13 scores. As for Holyfield, he has 1,278 career yards and nine touchdowns. The two won't be Chubb and Michel, but they will be Swift and Holyfield that led Georgia to another SEC Championship game, and now the Bulldogs first appearance in the Sugar Bowl since 2008.
If Holyfield can get those 44 yards, history for them will be joining Chubb and Michel in a group of their own. The group where two running backs can rush for over 1,000 yards. Swift has an opportunity to make a substantial mark at Georgia and is already on track to switch up the record books as a sophomore. Holyfield could as well as the junior weighs his options to come back for his final season as a Bulldog or head to the NFL.
Regardless, this duo showed Georgia fans and other college football enthusiasts that the Bulldogs are RBU. It doesn't matter who totes the rock, Georgia will find a way to run the ball and be successful.
Swift and Holyfield each have the opportunity to improve their stats as Georgia faces Texas in the Allstate Sugar Bowl on January 1 at 8:45 p.m.