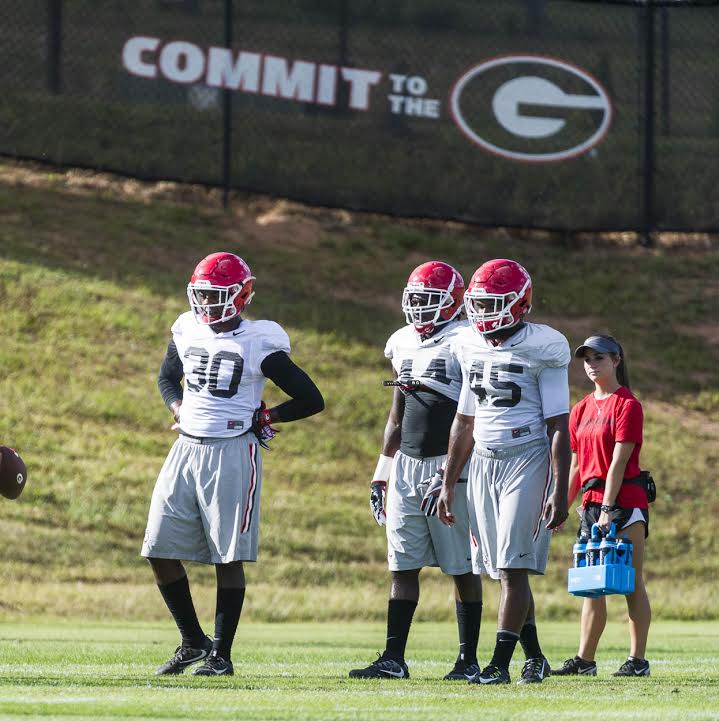 In his Tuesday press conference last week, Coach Kirby Smart announced that three players would be switching positions. Michael Barnett would be switching from defensive line to offensive line; Tae Crowder from running back to inside linebacker; and Shakenneth Williams from wide receiver to defensive back. A week later, and Coach Smart says while Tae Crowder isn't going to be starting anytime soon, he has been a "pleasant surprise."
Inside linebacker is a position that Georgia is thinner than it would like to be at currently. Back during fall camp in August, senior linebacker Tim Kimbrough announced he would be leaving the team and transferring. That left junior Reggie Carter and sophomore backers Natrez Patrick and Roquan Smith as the main experienced depth at inside linebacker for the 2016 season along with sophomore Juwan Taylor and senior Ryne Rankin, who has mainly played on special teams.
Not long after Kimbrough's departure, sophomore defensive back Rashad Roundtree moved over to inside linebacker, but he is likely a year away from contributing significant playing time at the position at 6 foot 1 and 204 lbs as he needs to add some bulk. So it is not surprising that Tae Crowder at 6 foot 2 and 230 pounds plus has been a "pleasant surprise" as he is athletic and moves well at that size, and while he may not be vying for a start soon, he very well likely could see playing time sooner at inside linebacker because of the lack of the depth than he was going to see at running back.
Looking ahead, Georgia doesn't have any inside linebackers currently committed to the class of 2017, but the Dawgs do have offers to Kenney Britt, Breon Dixon, Anthony Hines, Will Ignont, Nate McBride, Monty Rice, Tyler Taylor, and Leonard Warner. Out of those 8, Georgia stands a good chance of finishing with Nate McBride, who is one of the top inside linebackers for this recruiting class, Leonard Warner, and Monty Rice. The Bulldogs have not yet offered but have also targeted and looked at Aaron Malory, Quinton Miller, Mac Redmond, Brian Strozier Jr.