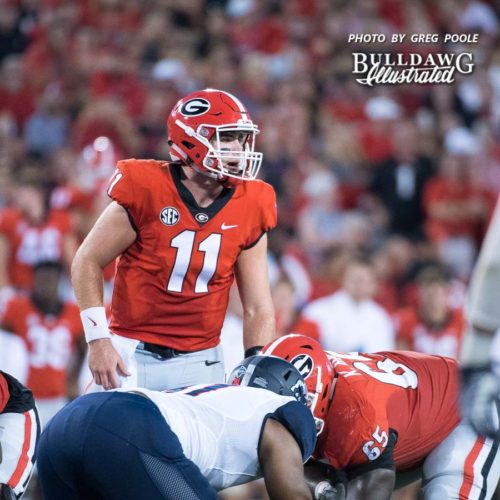 The media spoke with Jeb Blazevich and Terry Godwin on Monday afternoon and the two veteran players spoke highly of true freshman quarterback, Jake Fromm. Godwin and Blazevich praised the youngster for his work ethic and courageousness.

Senior tight end, Blazevich called Fromm an awesome guy and how bad he wants to be the leader of this team. He praised him for his consistency and the fact that he isn't afraid to take a chance.


"I'm so proud of him. He is an awesome guy and has a crazy, hard work ethic," Blazevich said. "He just wants to be the leader of this team and he isn't afraid to step up and do that. I think he's not afraid of taking chances and he's not afraid to put himself out there and he just gives it all he's got. He is getting his reads right and multiple checks at the line. It was a weird schedule last week with the hurricane affecting us but I think he did a good job at staying consistent."


Godwin continued with the praise for the Houston County gunslinger and complimented Fromm on his performance in Notre Dame and then to come home and start his first game at Samford Stadium.  Fromm's poise was what Godwin complimented the most and made sure the media noted it.


"Just for him to go out in Notre Dame in that type of environment and put on the show that he put on, that's amazing because he's a 18/19-year old kid," Godwin stated. "Being in an environment like that and being able to keep his poise in the pocket. To come home to Sanford Stadium for his first career start here, it was amazing for him to go out there and get that win for us."


Fromm's teammates had nothing but great things to say about the young quarterback. With Eason on the verge of being 100 percent, it will be interesting to see what will be next for Fromm.


Check out Jeb Blazevich's full interview below:




Check out Terry Godwin's full interview below:


Recent Articles by Savannah Leigh Richardson


[pt_view id="8722077nva"]