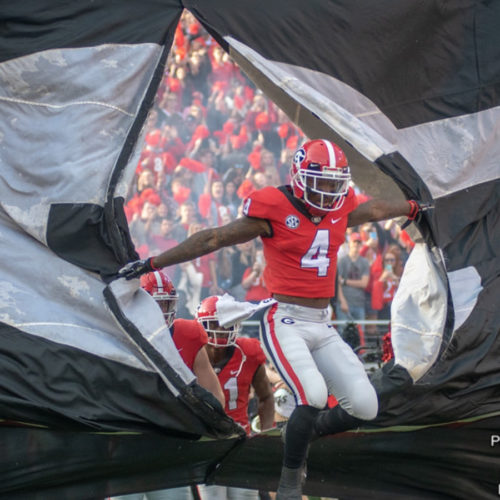 Dear Bulldawg Nation,
In the spirit of Thanksgiving and it being Senior Day, I wanted to write this and thank some special people for the best years of my life yet. Today is my final home game as a student of the University of Georgia, and like many of the football players, it'll likely be an emotional one.
Most of you congratulated me this past summer for graduating, well due to some personal issues, I had to come back for one final semester. I'm so blessed that Bulldawg Illustrated allowed me to come back for one more season.
This is the first year that I have gotten credentials to every game, and it has been amazing. I cannot thank Vance and Cheri Leavy and Greg Poole enough for all the knowledge and time they have dedicated to me.
Two years ago, when no one gave me a chance, Bulldawg Illustrated was there for me and allowed me to become one of their own. Now they let me live my dream every day. If you asked two years ago where I would be by the time I graduated from Georgia, it wouldn't be where I'm at now. I get to stand on the sidelines every week and get to document some of the best atmospheres in college football. I wouldn't trade the world for the opportunities I get on a daily basis.
Now it is my last home game as a student, and I'm not sure I can put into words on how I feel about it. However, there is a quote from Dr. Suess that many will find silly, but it is a perfect way to describe what the last two years have meant.
"Don't cry because it is over, smile because it happened."
Georgia football has been my happy place for as long as I can remember and if it weren't for Bulldawg Illustrated, I wouldn't have so many memories. Thank you Bulldawg Illustrated for taking a chance on me and allowing me to live out my dreams every day. Thank you Dawg nation for reading my articles and supporting me along the way. To all the Mama Dawgs that I've had the amazing opportunity to meet and grown to know, thank you for making me feel special. I love all of yall so much!
Finally, to my family, without your support, I wouldn't have been able to engulf myself into this as I have. You introduced me to my passion and taught me to always chase any goal I have. I'm blessed to have a family that loves me as much as you do.
As I walk through Sanford Stadium for the last time as a student, I'm sure it'll be bittersweet, but it'll all be worth it when we smash the bugs and head to Atlanta 11-1.
Thank you again for everything over the last two years. I cannot wait to see where the rest of this crazy journey of mine goes.
Go Dawgs,
Savannah Leigh