[su_spacer size="20″]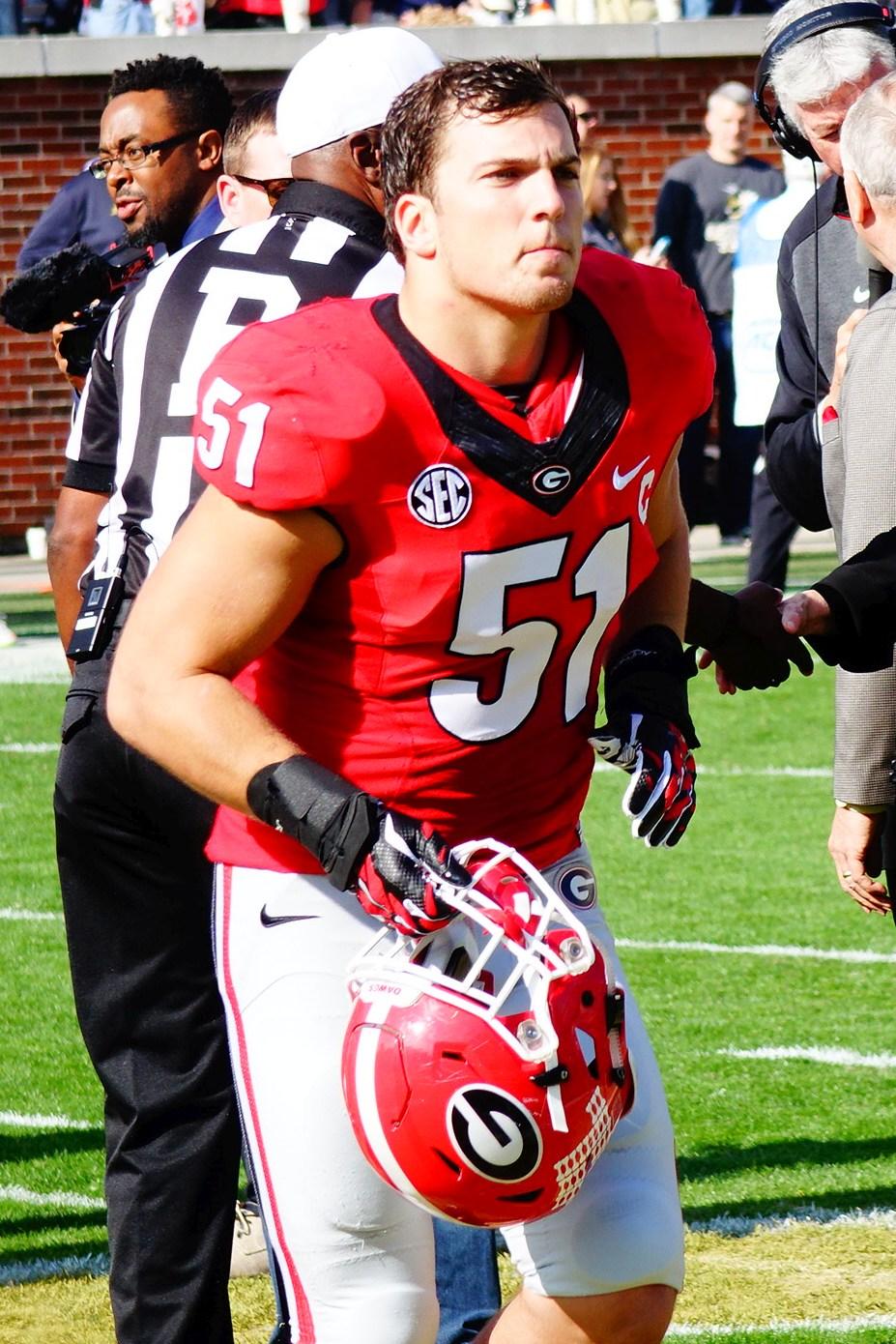 [su_spacer size="40″] ATLANTA – While Georgia's offense had trouble finding the end zone with consistency pretty much from the Tennessee loss on, there's no question the Bulldogs' defensive unit seemed to play much better in each and every game down the stretch of this 2015 season.
[su_spacer size="20″]
And after the Jeremy Pruitt-coached defense actually held Georgia Southern's offense to 10 points last week, the Georgia stop-em gang went that one better against another triple-option offense here Saturday, holding the rival Georgia Tech Yellow Jackets (3-9 final record) scoreless until only 3:24 was left in the game, enabling the Bulldogs to hold on to a 13-7 win.
Georgia's victory thus not only capped the regular season with a four-game win streak and left the Bulldogs at 9-3 while they await their bowl destination, but it also was Mark Richt's 13th win over the state rivals in his 15 years at the UGA helm and one that kept the Georgia coach unbeaten at Bobby Dodd stadium with an 8-0 record on the Yellow Jackets' turf.
When the Bulldogs marched 75 yards for a touchdown after receiving the opening kickoff, it appeared Georgia might be headed for a productive offensive day on Grant Field. But, as has been the case in recent outings, the Bulldogs then bogged down on a number of their excursions into Tech territory, and the only other points the rest of the contest came via field goals of 19 and 37 yards by Marshall Morgan in the second half.
So up 13-0 as the game ticked down to the final minutes, it appeared that, indeed, the Bulldogs were about to post their first shutout of Georgia Tech since way back in 1964, Vince Dooley's first season at Georgia. But after the Bulldogs had apparently stopped the Jackets on a fourth-and-seven situation at the Georgia 47, when Tech quarterback Justin Thomas' pass was off target, Bulldogs senior linebacker Jake Ganus – of all people – was slapped with an unsportsman-like penalty for simply crossing his arms to signal an incomplete pass. That moved the ball 15 yards to the Georgia 32 and, two plays later, Thomas hit Ricky Jeune with a 15-yard touchdown pass in the right corner of the end zone.
Thus, the Georgia shutout was gone but not the win as after the Jackets backed the Bulldogs up at their own 7-yard line on the ensuing kickoff after Georgia pulled everyone up close thinking Tech would try for the onside kick, quarterback Greyson Lambert hurled a 25-yard strike down the middle to tight end Jeb Blazevich to get the Bulldogs away from their own goal line. Georgia then drove all the way to the Tech 40 while eating up most of the remaining three minutes. When Collin Barber punted the ball back to the Jackets at their own 16-yard line, only 17 seconds were left. Thomas then attempted two desperation passes with his second throw being picked off by Georgia cornerback Malkom Parrish to end the ball game.
"We got that personal foul on me there at the end," said Ganus, who again led the Bulldogs in tackles with 12, eight solos and four assists. "I'll take the blame. I just signaled incomplete pass, didn't say a word and they threw the flag. But it had been chippy all game and I guess the refs finally wanted to throw a flag. There were almost some brawls and no flag got called. But it's over and we won, but that one was on me. I think we played lights out," said Ganus. "We played one of our best games, there's no doubt about that. We would give up one big play a drive but after they crossed the 50, we would stop them."
The Georgia defense not only limited the Jackets to the one late touchdown but also, checked the ground-gobbling Tech attack to just 194 yards net rushing, well below its 260-plus game average. And it was the first time since 2008 that the Yellow Jackets had been held scoreless in the first half. An interception by sophomore safety Dominick Sanders at the Georgia 1-yard line, which he returned out to the 23, kept Tech from scratching paydirt in the second quarter. With that pick, Sanders set a school record for interception return yards in a season following his team-leading fifth pick. His 22-yard return gave him 205 yards for the year, breaking the previous mark of 189 by Eli Maricich in 1948 on eight interceptions. Sanders has eight career interceptions for 269 yards and that yardage already ranks fourth in school history.
"It shows the amount of work we put in in the offseason," said senior outside linebacker Jordan Jenkins. "We saw how the previous season went where the offense had to bail us out of some games, and wanted to be a defense that didn't have to rely on the offense to help us win. We wanted to carry our own load and alleviate some pressure from the offense, and I think we did that at times throughout the season."
Sophomore tailback Sony Michel, who tallied Georgia's lone touchdown on a 35-yard scamper on the Bulldogs' first possession of the game, sailed over the 1,000-yard rushing mark for the season by running for 149 yards on 24 carries. He also reeled off another run of 33 yards as well as catching three passes from Lambert for 38 yards. Keith Marshall, on the opposite sidelines from his younger brother Marcus in this game, added 33 yards on just five carries, while Lambert enjoyed one of his better passing days, completing 18 of 25 attempts for 224 yards, again with no interceptions. And freshman Terry Godwin stepped up on the receiving end with eight catches for 78 yards.
"This team keeps fighting," said Michel. "That's who we are. We are going to keep fighting and finish the drill. That's one of our slogans and we are going to stick to it. Going into the bowl game we are going to try to finish strong."
Georgia coach Richt, in his post-game press conference, didn't sound like a coach who was going anywhere soon, saying his main goal at present was hitting the recruiting trail and keep together what may be one of the nation's top classes come February.
"It was a great victory," said Richt. "I'm proud of our players, first and foremost. It was a great team effort. Our coaches did a wonderful job. Our fan base showed up in big numbers. I want to give credit to Coach (Paul) Johnson and his team. They battled. Both teams battled well. It was kind of a typical game that we play. I guess it's nine out of 12, a touchdown or less. I know the last 12 games have been close. That's kind of how it goes, but you've got to keep persevering until the end, which we did."
Richt took the fifth when Bulldawg Illustrated asked what he thought on the unsportsman-like call on Ganus, which almost certainly nullified the defense's chance for the coveted shutout.
"That (Ganus's motion which drew the penalty) does signify incomplete pass, but it also signifies our punt safe – it was fourth and seven – on our sideline, just to make sure they don't go on the field if in fact they punt," he said. "I don't know that they would have punted, but you've got to get it communicated so you don't have 12 on the field or some kind of other mishap. We were out of timeouts. I guess 'no comment' is the best comment right now," said Richt.
Richt said he wasn't upset that the Jackets were able to make it close in the end.
"I'm not aggravated at all, I'm happy," he related. "Any victory is a great victory, especially when it's your in-state rival. I don't know when I'll get a chance to watch it (due to being busy with recruiting). I'll probably be a college football fan tonight and watch a lot of other coaches sweat it out. I can't get frustrated with what happened. I can only be happy that we won and be proud of our guys, not just today, but over the last month. It's been pretty neat."
When asked about his coaching future at UGA, Richt commented thusly: "The Lord is in charge of everything, and I'm fine with what he's got in store for me. I don't need clarity on anything right now," he said, adding he's just ready to work to cap off the Bulldogs' touted 2016 recruiting class.
Richt admitted the Bulldogs didn't reach their goals of winning an Eastern Division title and the subsequent SEC championship but was pleased how Georgia stayed together after suffering the 27-3 loss against Florida.
"We came up short of our goal to get to Atlanta and try to go beyond," he said. "We all know that. That's the standard here, to win the SEC. But when you also look at a team that was in the position we were in, everybody came together. It certainly could have gone one way or the other. It was that moment of truth where you ask, 'what are you going to do?' Lay down and die or lock arms and get after it. They did that."
[su_spacer size="120″]