[su_spacer size="20″]
[su_spacer size="40″] Everyone has a sports idol growing up, and if you grew up in Athens, Andy Johnson was probably yours. Andy has admirers all over Georgia and has touched many generations. I recently had the honor of talking with Andy (my idol as well) and discussing some amazing things about his life in sports. Andrew Sidney Johnson was born on October 18, 1952. He was born right here in Athens, Georgia. He grew up playing any and all sports. In fact my good friend and little league coach, David Barbe said, "Andy was known as the Mickey Mantle of Athens Little League. He was most impressive for hitting 15 or so home runs in one season in little league using a wooden bat."
[su_spacer size="20″]
According to Andy, "My favorite sport as a kid was the one I was playing at the time." He excelled in baseball, football, and basketball all through high school. He even ran track one year and his 440-relay team held the school record. He chose to drop out of basketball after high school because of his height. He was only six feet tall. He continued to baseball and played most of his college career; 1971, 72, and 73. He was drafted by the Baltimore Orioles, but signed with the Patriots.
[su_spacer size="40″] As you can tell, most successfully, Andy played football. He went to Georgia as a QB. Erk Russell told my friend Jeff Dantzler that Andy was the greatest quarterback he ever coached at Georgia. He threw for 341 yards in his sophomore year and rushed for 870. That year they went 11-1 with their only loss happening against Auburn.
[su_spacer size="40″] During that season the Dawgs beat tech in a last minute drive led by Andy. He said, "The Tech game was really cold because it was in November. It was in Atlanta and we were a little down from the week before when lost to Auburn. It was an awesome game we just came out on top. Both teams were driving up and down the field and we had the ball last which saved us from losing that game." I asked Andy what it meant to have such a huge season that year and he said, "11-1 was great and the whole team was crazy."
[su_spacer size="40″] Following this season, Andy was recognized as national sophomore of the year, he talked about this moment too. He said, "There were a lot of seniors on the team and us young guys just fell in line.
[su_spacer size="40″] I have to give the credit to the seniors; they did all the blocking and tackling we just ran right behind them."
[su_spacer size="40″] In 1973 he also led the team in a great drive to beat Tennessee. "First of all, Tennessee made a terrible mistake. All they had to do was punt the ball to us and we don't score. Instead they tried to fake the punt and we stopped them and got it around the 28. It was a bad choice on their part but it made it a whole lot easier for us. I had everybody fooled for about 30 years that it was a great fake when in fact it was a fumble and just bounced right back to me and I ran it in. I was as happy as I could be. We were certainly going to lose if something big didn't happen and fortunately it did. We won that day 35-31."
[su_spacer size="40″] Then, the New England Patriots drafted him in 1974 in round 5 as the 112th pick. He played running back for the Patriots. Chuck Fairbanks, one of his coaches with the Patriots and former head coach for Oklahoma called Johnson, "the best athlete he coached." In his career as running back, he rushed for 2,107 yards with 13 rushing touchdowns. Even as a RB he still had 1,807 receiving yards with nine receiving touchdowns.
[su_spacer size="40″] I asked him looking back who was it really cool to play with.
[su_spacer size="40″] He said, "John Hannah, he played for Alabama and with me on the Patriots. I also played with Jim Plunkett, who was a Heisman winner at Stanford. Then, we played Buffalo every year so I played against OJ Simpson. We also played Miami so I played some former Georgia players like Jake Scott and Bill Stanfill." Knowing the answer to this next question, I still had to ask, him to name his favorite NFL team. His answer was so fast that I could barely get the question out of my mouth; his answer was obviously, "The Patriots!"
[su_spacer size="40″] I asked him what is something people don't know about you? His answer was very interesting; "A friend of mine on the Patriots flew down to see me last week. We were talking and he told me that I held a record for the Patriots at one point as the highest rated passer besides the quarterback. I didn't even know that existed until this friend of mine told me about it.
[su_spacer size="40″] And I think I had only like nine passes as a running back in the NFL."
[su_spacer size="40″] Then, his last comment meant a lot to me and I have to share it with everyone. He said with all of his heart, "Teamwork. Simply teamwork. This is what will get you through life with your job and all of your sports. I will tell you it works with anything, all the way from little league baseball to pro football. It is not just one person and you have to realize this and take it in."
[su_spacer size="40″] I have got to say that hit me like a freight train. Andy Johnson was a great athlete but when he said this, I didn't think of him as an athlete, I thought of him as the nicest and most humble person I have ever spoken to.
[su_spacer size="40″] I have to wholeheartedly agree with Bulldog historian, Jeff Dantzler, who said, "Andy Johnson is without a doubt, one of the greatest athletes in University of Georgia and Athens history." But more importantly, to me, my friend Andy Johnson is one of the greatest men to come out of Athens.
[su_spacer size="40″]
Hamilton Culpepper is an 8th grader at Prince Avenue. He is a diehard Georgia fan and an aspiring sports announcer/writer.
[su_spacer size="40″]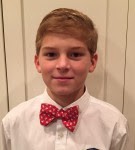 [su_spacer size="40″]
---
[su_spacer size="40″] Make sure to check out
Bulldawg Illustrated's
latest print edition:
Don't Jump Ship
, digital issue available for free online click
HERE
.
[su_spacer size="80″]