[su_spacer size="20″]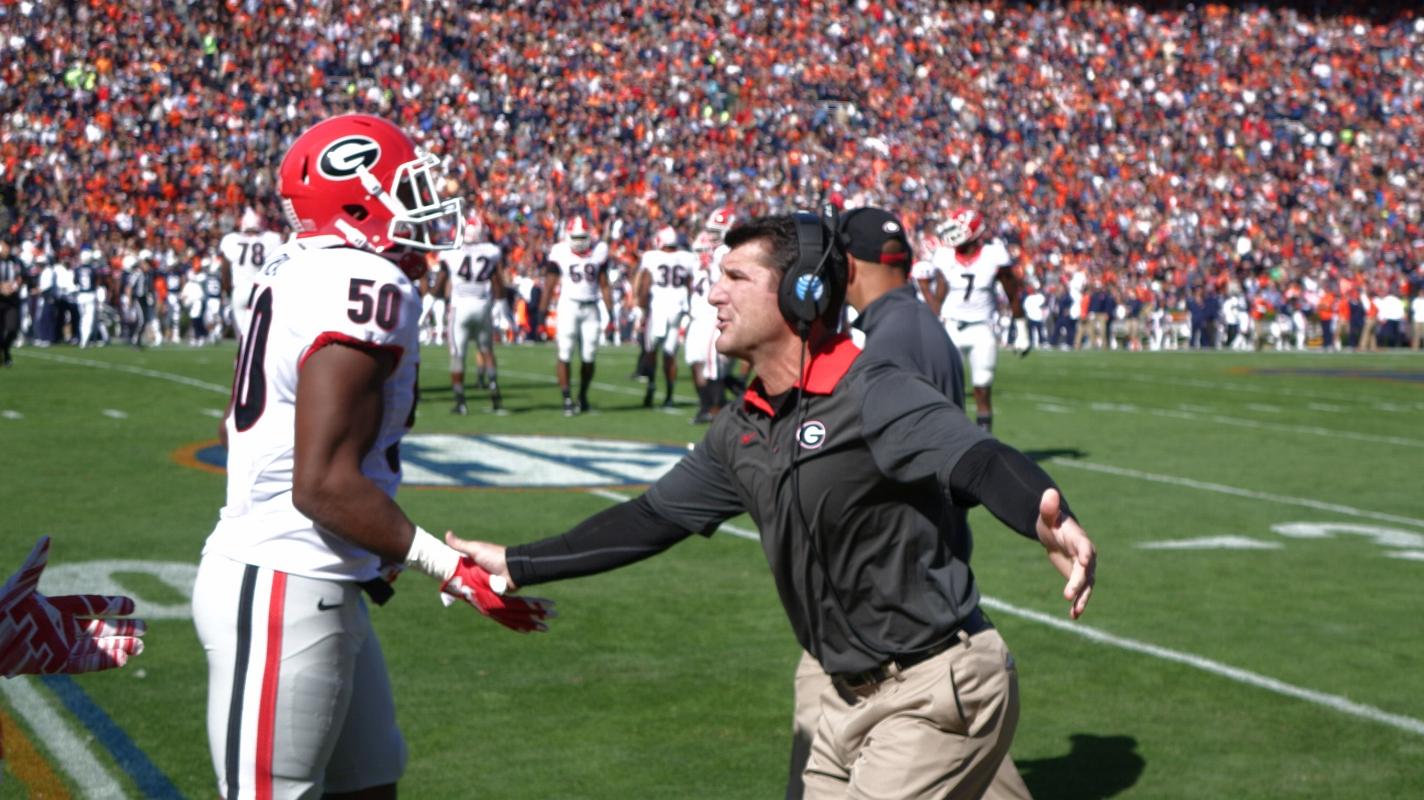 [su_spacer size="40″] You can bet your last dollar that Georgia Southern will be beyond amped up for this one. The Eagles won six national championships in Division 1-AA, now the Football Championship Subdivision. Two years ago, the Eagles beat Florida. A win over Georgia would be their crowning moment as a program that has been consistently outstanding, going back to the great Erk Russell.
[su_spacer size="40″]
1. Bring it
[su_spacer size="40″] The Eagles have a fantastic team. They are the defending Sun Belt Conference champions and sniffing a second straight crown. This will be the sixth meeting between the Bulldogs and Eagles, and this is without a doubt the most vulnerable Georgia team they would have faced. They smell it and will leave it all on the line. If Georgia comes into this not expecting every bit the challenge of Florida, Auburn or Tech, it will be a very painful night for the Bulldogs. Georgia must match the Eagles intensity.
[su_spacer size="40″]
2. Stop the fullback
[su_spacer size="40″] This is rule Number One when it comes to the triple option, whether it's the wishbone or flex- bone – originally called "The Hambone," the dynamic signal caller Tracy Ham. The offense was designed by Paul Johnson at the direction of the bare noggin master. If the fullback is cooking, then the rest of the offense will flourish. Georgia Southern once again has a tremendous one-two punch at quarterback and running back. Matt Breida has been a dynamo, running for at least 137 yards in every Eagle win. His high mark game was a 205 yard romp against Texas State. One of the nation's leading rushers, Breida is top flight, and continues the Eagles great tradition of runners.
[su_spacer size="40"]
3. Get physical at QB
[su_spacer size="40″] Kevin Ellison is an outstanding trigger man for the Eagles at QB. Georgia Southern doesn't throw very much, but because of the power of the running game, there is big play potential downfield. Ellison, when he doesn't give the ball to Breida, is a threat to run or pitch it. Or throw. Georgia's defense must make sure to literally limit the options, and consistently hit Ellison. Georgia, like just about any team out there, has had its struggles against running quarterbacks. Joshua Dobbs of Tennessee was in particular outstanding this season against the Bulldogs. Favian Upshaw is a capable backup who may see some action. The wingbacks have big play potential.
[su_spacer size="40″] But its Breida and Ellison who make the Eagles go.
[su_spacer size="40″]
4. Score, score, score
[su_spacer size="40″] You can bet Georgia Southern, a true expert with the option, will eat up yards and clock. The Bulldogs defense will have to be up to the challenge. But the pressure is going to be on the offense. In years past when the Bulldogs have faced Georgia Southern and most notably Johnson's triple option Tech teams, Georgia has had the offense to match score for score and put the pressure on inferior defenses. That has not been the case for this Bulldogs offense, which has had some mighty struggles this season. Georgia is going to have to turn things up big time. Sony Michel, Malcolm Mitchell, Terry Godwin, Brendan Douglas, Keith Marshall and crew will have to be on top of their game. The biggest key will be Georgia's struggling quarterbacks distributing them the football consistently, sound and steady.
[su_spacer size="40″]
5. Be ready
[su_spacer size="40″] In 2012, Georgia Southern had a long return off a Bulldogs field goal that was short – a la Auburn's "kick six" vs. Alabama in 2013. That's the type of play you can bet the Eagles have been saving up for this one. Whether it's a fake punt or field goal – and Georgia has certainly had a wide variety of special teams struggles this year – the Eagles figure to take a shot on special teams. The Bulldogs must be on guard for reverses – that includes the special teams too – and halfback passes. Most of all, Georgia must be ready and treat this game with the same importance the Eagles do. That goes for the red and black faithful too. Georgia Southern will have a lot of blue and white in Athens. They desperately want this one.
[su_spacer size="40"]
---
[su_spacer size="40″] Make sure to check out
Bulldawg Illustrated's
latest print edition:
Two Damn Good Dogs
, digital issue available for free online. CLICK
HERE
.
[su_spacer size="80″]