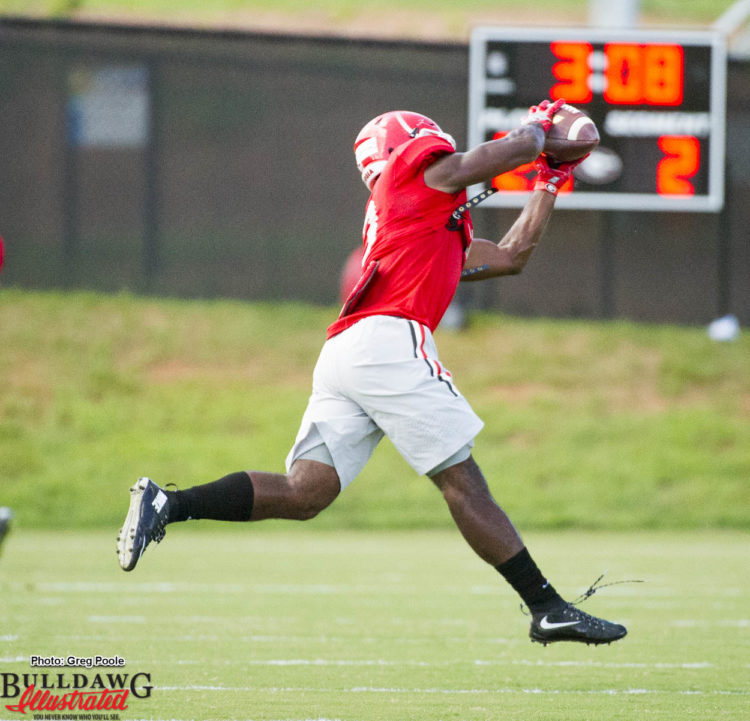 Kirby Smart and his coaching staff were demanding nothing less of perfection in practice today and these are my three takeaways from practice.
3. Smart and Rocker Getting After Guys
Coach Smart had a much different attitude from Monday as today he was getting after his secondary for sloppy technique and could easily be heard across the practice field.
Defensive line coach Tracy Rocker was not as loud but was demanding perfection from his guys or they would be required to run the drill again.
One such player, who ran through the same drill three times in a row, was John Atkins and Rocker was not pleased until he got it right.
These coaches understand that this upcoming game is crucial and a victory is needed to help boost the players back in the right direction.
2. Barnett Experiment Looks To Be Over
Michael Barnett was back again on the defensive line today, which seems to point to his time on the offensive line being over.
I believed that Barnett had a good chance at sticking on the offensive line because the defensive line seems to have good depth with how the freshman have been performing and the offensive line seems to have a greater need for depth.
It will be interesting to see if the Barnett offensive line experiment happens again in the future in the offseason.
1.Battered Bulldogs
The Bulldogs had a few players missing for either injuries or undisclosed reasons at practice today.
Daquan Hawkins-Muckle continues to be absent from practice due to an ankle sprain, which Smart said Monday would make him day-to-day for the week.
Dominick Sanders was in a black noncontact jersey today and that may have something to do with his knee injury that he got in the Florida game.
I also did not see Kirby Choates at practice today and have not heard why that may be.
Jayson Stanley was missing from practice today and he missed practice yesterday due to a mild infection.
Stanley should be available Saturday, but it seems the Bulldogs were preparing for him to be absent because Tyler Simmons was repping with what seemed to be the receivers that will travel to Kentucky.
It will be interesting to see if Simmons gets some snaps on the offense against Kentucky this weekend.