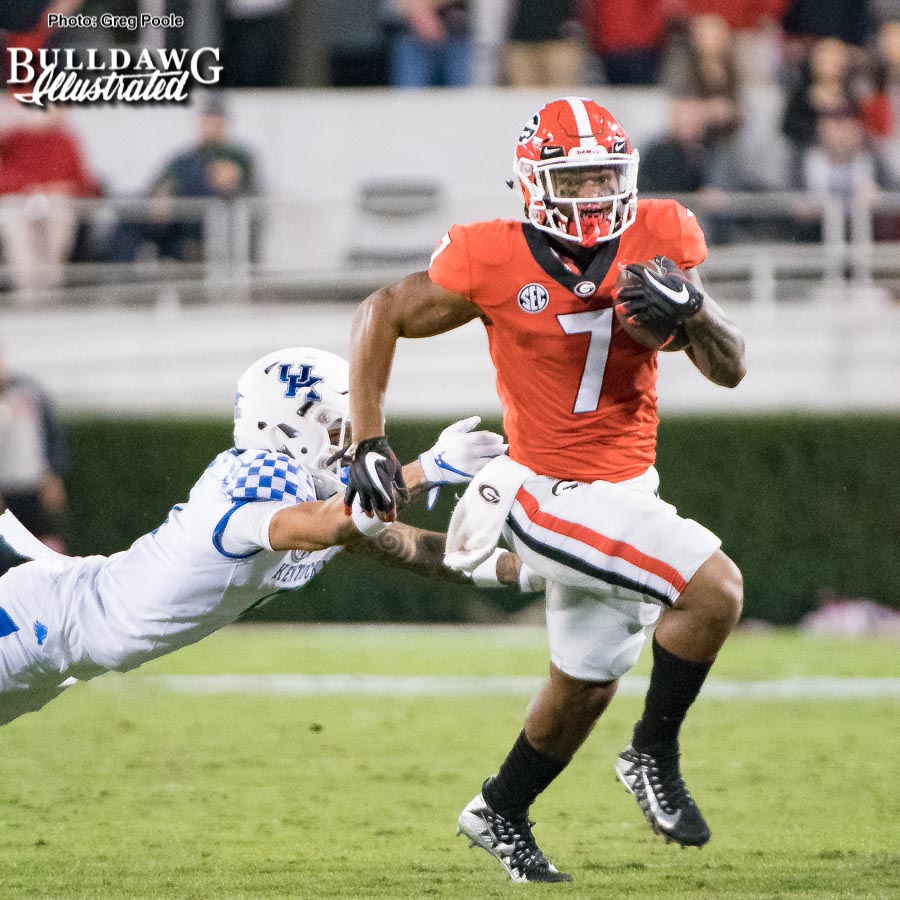 It's another huge Southeastern Conference showdown for Georgia, as the Bulldogs battle Kentucky in a game being billed as one of the biggest in the Bluegrass of the 21st century. This is another top-10 battle with the winner bound for Atlanta and the SEC Championship Game. These two have identical records and identical goals – win the SEC East and maintain the march towards a special season.


Most predicted the Dogs to be in this position, no one outside of Kentucky could imagine the Wildcats doing this.
Both fan bases are electric, with both programs coming off enormous victories.


Georgia had a tremendous bounce-back victory in a top-10 vs. top-10 match-up in Jacksonville, as the Bulldogs beat the Gators for a second straight season, posting a pair of knockout fourth-quarter touchdowns to prevail 36-17. The victory pushed Georgia to 7-1 and 5-1 in the Southeastern Conference, good for a first-place tie with the Wildcats.


Kentucky has been one of college football's biggest surprises in 2018. Led by a tremendous defense and superb, record-setting tailback Benny Snell, Kentucky is in the midst of its best season since a 10-1 record in 1977 (where they were ineligible to win the SEC). The latest victory came on one of the great comebacks in Wildcats history, as quarterback Terry Wilson led Kentucky on a last-minute drive and won on a last-second touchdown to stun Missouri 15-14 in Columbia, improving to 7-1 and 5-1.


The Wildcats season took off with an upset win over Florida in the second week of the year, breaking a 31-game losing streak to the Gators and marking their first win in Gainesville since 1979. Victories over Mississippi State and South Carolina further enhanced the Wildcats resume. The lone loss was a 20-14 heartbreaker at Texas A&M, but Kentucky has responded. The win in the wind and cold over Vandy followed by maybe the most memorable comeback win in Kentucky annals at Missouri have put Kentucky one win away from making the school's first-ever appearance in the SEC Championship Game.


For Georgia, the victory over Florida kept those championship dreams alive. The Bulldogs raced to a 6-0 start, winning every game by at least 14 points. But LSU roared to a 36-16 win over the Dogs in Baton Rouge, and there was a two week period to stew.


The Bulldogs responded in Jacksonville.


Now this one is even bigger.


The East is on the line.