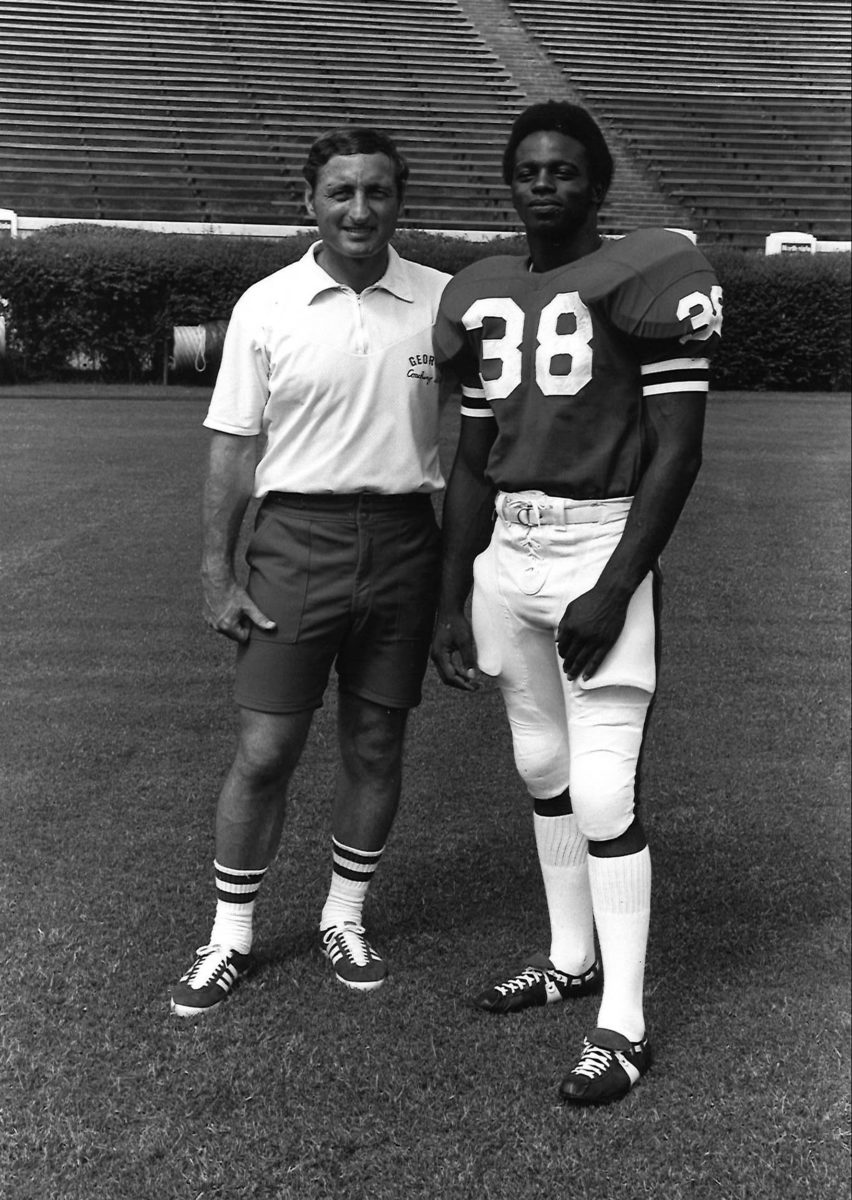 This Saturday is set to be an exciting one in Athens, with the No. 2 Georgia Bulldogs opening up conference play against South Carolina under the lights at Sanford Stadium.
There are plenty of storylines on the field. How will Georgia's defense continue its momentum? How will Shane Beamer coach his team in his return to Athens? Who will start at quarterback for both teams?
There is more to this game off of the field too, though. Before the game, the University of Georgia will honor the first five Black scholarship football players that played for the university under then-head coach Vince Dooley in 1971.
Chuck Kinnebrew, Horace King, Clarence Pope, Richard Appleby and Larry West all stepped onto campus together as freshmen and made history that will stand forever.
There will be a celebration of all five players, better known as "The First Five" on Dooley Field before the game, in addition to the unveiling of a monument in Reed Plaza, next to the stadium, to commemorate the historical 50th anniversary of an integrated football program.
"I applaud the university, especially the athletic department, for thinking in terms of lifting up something that is historical and something that has made a significant impact as far as UGA athletics is concerned," said Kinnebrew in a Zoom interview on Tuesday.
At the time, it was not celebrated by all. It was still the deep south in 1971, leading to racist displays and words being still shown and used towards these players. King described a hangman noose as well as a dixie flag out in front of him as one of the first memories he had on the UGA campus.
"That kind of says to me a little bit, but it wasn't anything new growing up there in Athens," said King.
Individual attempts to join the team had been made before 1971, but part of what made "The First Five" work was strength in numbers.
"Those other players making an attempt, I think since they was independent without a support system around them…I think Vince [Dooley] had seen and observed that process happening and that is why a group was brought in when we all showed up together," said King.
Fast forward to today and you will see that most of the players on the Georgia football roster are Black. However, according to Kinnebrew, it's important to see representation all throughout the program, not just with players. 
"Beyond [the players], if you look at the administration and if you look at the coaches, you'll see a significant change as far as representation is concerned," said Kinnebrew. "So, I recognize how impactful it is and I applaud Josh [Brooks] and the rest of the athletic department for doing the right thing as far as making sure that diversity, equity and inclusion is a part of the overall strategy as far as the athletic department is concerned."
Just on the football staff, Dell McGee, Cortez Hankton, Tray Scott and Jahmile Addae have all become integral parts of the Georgia culture and are a big reason why Georgia is the No. 2 team in the country. 
Nowadays, players have more social responsibility than ever before with the ongoing changes in society mixed with a 24/7 social media news cycle. Just in the last 18 months, Georgia players have become ambassadors for a safe and effective COVID-19 vaccine, have volunteered for the "Dawgs for Pups" program that helps local schools, and had to speak out against racial injustice.
"I would suggest that they strive towards finding their own uniqueness," said West on today's student-athletes. "Each one of the individuals were brought into this world. That is unique unto himself. If they can find that uniqueness and begin to walk down that pathway to realize that their being is there not just for themselves, but in order to help others."
It should be a special scene before the game when these five trailblazers in Georgia football history rightly get the recognition and honor that they deserve.
In addition, Georgia's Grady College of Journalism & Mass Communications has produced a documentary, titled "The First Five," on the arrival of the pioneers and their experiences as Bulldogs. The film and other information on The First Five will soon be available for viewing on the Georgia athletics website, at georgiadogs.com/pioneers, as well as on the Grady College YouTube channel, https://www.youtube.com/user/UGAGradyCollege.
For the full interview: