The 2022 National Championship was won by the end of the second half. Maybe even earlier. TCU clearly didn't have the talent to match, and it was blatantly obvious. The entire game the Horned Frogs only put up seven points, and that came off an accidental 60-yard bomb by Max Duggan, the only big play the Dawgs let up all night. TCU literally couldn't compete, which is a disappointing end for a team that's had a pretty cool ride in 2022, but it's always "Go Dawgs" around here.
Now keep in mind Georgia was favored in this game, but no one not even the players, thought the game was going to get this out of hand. Major credit goes out to both sides of the ball. Putting up 65 and holding the opposing team to seven is insane, but so much of this game was about Stetson Fleming Bennett IV and the impact he's had on this Georgia program.
You've heard his story a million times at this point, and his accent might sound normal, but the fact of the matter is it's one of the best stories to ever come out of college football, and we watched it end in the most spectacular way possible against the Horned Frogs. 305 passing yards. Four passing touchdowns. Two rushing touchdowns. Unreal numbers! But the fact of the matter is the Bulldog Nation has been living in an unreal era of Georgia football the past two years, and has Bennett to thank for that.
---
---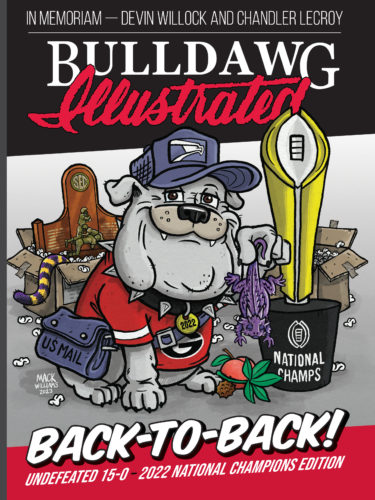 Get your 2022 Bulldawg Illustrated National Champions Edition now. Or get a back-to-back set, which includes both the 2021 and 2022 Bulldawg Illustrated National Champions Editions.
The mega-editions includes game, scene, fan, and final perspective content, plus over 150 fan photos from the games and the epic National Title campus celebrations in Athens.
Available in singles and 5-packs. All orders include sales tax and shipping.
Order 5 copies of 2022 National Champions Edition $70.00 – Click HERE
Order a single copy 2022 National Champions Edition $28.00 – Click HERE
Order 5 sets of both the 2021 and 2022 Nat. Champions Editions $99 – Click HERE
Order one set of both the 2021 and 2022 Nat. Champions Editions $50 – Click HERE
---
---
When asked about what watching Bennett taking his final snap for Georgia was like, offensive lineman Amarius Mims said, "It felt crazy, man. Nobody realizes how hard he works outside of just football, man." Mims even mentioned that he thinks Bennett's No. 13 should be retired.
This victory signifies the end of an era. The Mailman has delivered. Bennett's legacy is this upcoming Georgia dynasty. His name is going down in the books for sure. Maybe there'll be a statue coming sometime soon. Regardless, Bennett's contribution to this University, this city, this state, has to be recognized. And it will be soon enough.
Just sit back. Take it in. And breathe. These, these are the glory days.