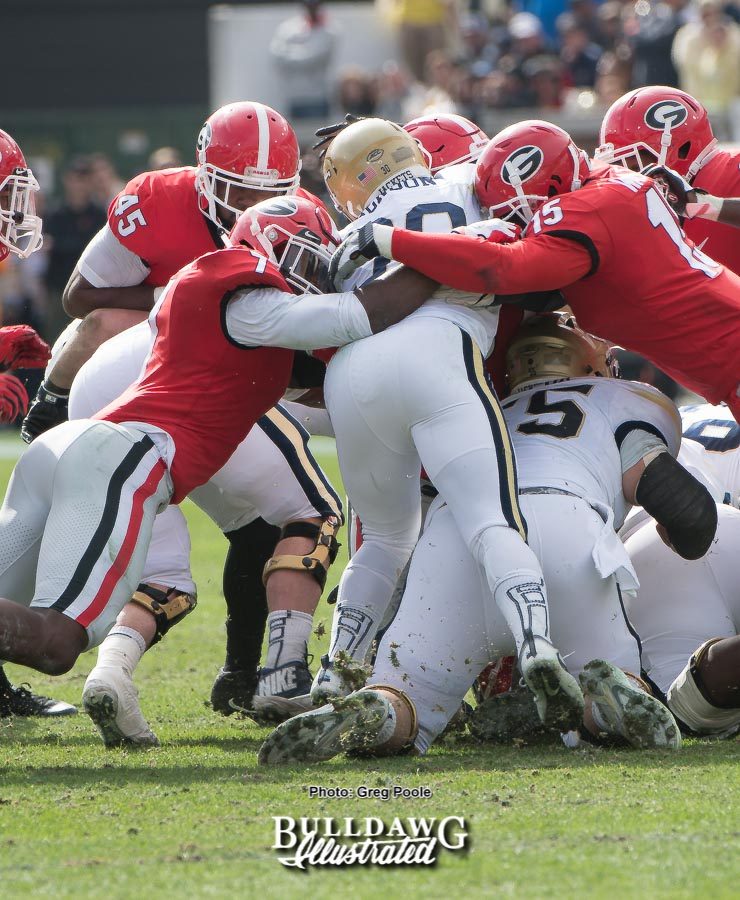 Going into Saturday, this is the 112th meeting between the Georgia Bulldogs and the Georgia Tech Yellow Jackets. Georgia leads the series 67-39-5, and hope to win another, but Georgia Tech hopes to spoil the Bulldogs College Football Playoff hopes with an upset.
Since 1995, the winner of "Clean, Old-Fashioned Hate" has been awarded the Governor's Cup Trophy. Since then, the Bulldogs are 18-6 in that stretch. Georgia has dominated recently, and ask if you some Georgia fans, they really don't see the annual game against the Yellow Jackets as a serious opponent.
Georgia inside linebacker Tae Crowder disagrees.
"It's Hate Week," Crowder said. "It doesn't matter what record they've got; it doesn't matter what record we've got. We're going to come out and play the best game we can. We talk with our helmets."
"You don't think it's important, then lose it, and then it will be really important," Georgia head coach Kirby Smart said. "I know the importance of this game, and I know the significance it has to so many of our fans, especially the crowd that may be older, that traditionally Georgia Tech was a national powerhouse year in, year out. It means so much to them."
The No. 4 Georgia Bulldogs enter Saturday as 29 point favorites over the Yellow Jackets. Even though Georgia's offense has been struggling, Georgia Tech has the 119th rush defense in the nation. Georgia has the 33rd best rushing offense, and if they can get the run game going early it might be hard for the Yellow Jacket's to stop it.
Georgia Tech's offense has been inefficient all season and going up against one of the best defense's in the nation it might be hard for them to score.
"I'm sure everyone on defense, everyone on offense, we all are going to come out with a chip on our shoulder," Crowder said. "Especially the guys who are about to play their last game against them. We don't want to go out with a loss."
When Georgia Tech beat Georgia in 2016 junior left tackle Andrew Thomas wasn't on the team, but he was there on a recruiting visit when it happened.
"That game still sticks with a lot of the guys," said Thomas. "I remember them being on the field after the game, putting pieces of the hedges in their mouth, stuff like that."
Thomas and a few other players have indicated this week that Georgia coaches have posted those pictures all over the locker room to act as reminders of that game.
"They just want us to remember," Thomas said. "We do."
Georgia takes on Georgia Tech on Saturday at noon on ABC.