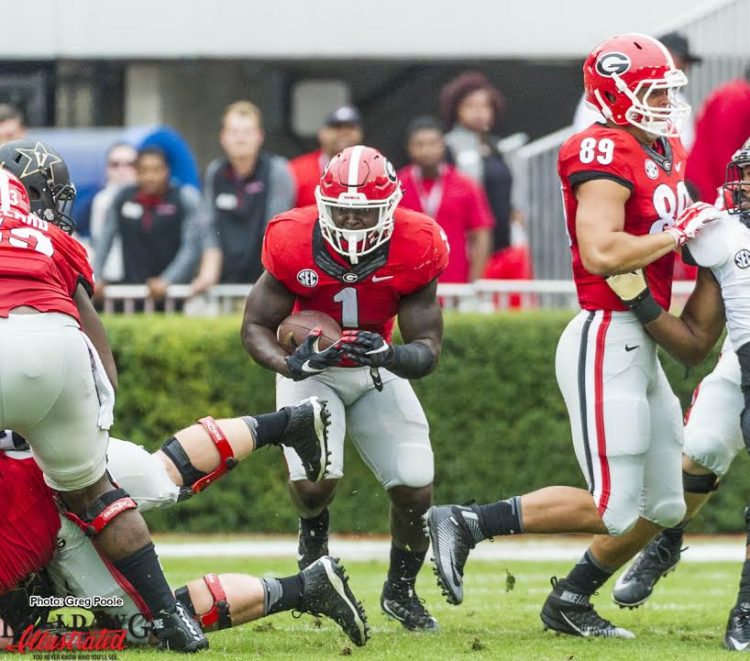 It is hard to find positives in a game with an outcome that this one had but the Bulldogs had a strong showing in some areas and have a ton of work to do in others.


Positives

Defense:

The Bulldogs played great overall defense today, but were put in very tough spots throughout the day. Holding the Commodores offense under 200 yards should be viewed as a positive, but Kirby did say that Vanderbilt should not have gained over 100 yards on the Bulldogs defense so there is clearly some improvements to be made. However, The Bulldogs performance on defense was definitely one of the highlights in this tough loss


Pass Rush:

The Bulldogs pass rush continued to build on their success from last week and did a great job of getting pressure on the quarterback. Lorenzo Carter continues to have be an effective pass rusher and kept his streak alive of three consecutive games with at least one sack. If Lorenzo Carter can keep it up, then perhaps offenses may have to put more focus on blocking him, which may open it up for other pass rushers to get pressure on the quarterback.


Rodrigo Blankenship:

Perhaps the Bulldogs have found their starting kicker for the remainder of the year. Blankenship had an excellent day in both field goal kicking and kick offs and his success really kept the Bulldogs in the game. Starting with Blankenship's success kicking field goals, his ability to go a perfect three for three was very important and encouraging for the whole team, because he gave the team a kicker they could trust in for this season. On kickoffs Blankenship did a great job of kicking the ball to the end zone and even made a key tackle on a kick off that prevented the Commodores from having two deep returns. Blankenship could play a large role in the Bulldogs success for the rest of the season.


Jacob Eason:

Jacob Eason made very few mistakes today and improved immensely after his performance at South Carolina that will definitely be seen as one of his career worst games. However, Eason was much more effective today and finished the day 27 for 40 with 346 yards and a touchdown. Eason will continue to grow with each and every game and truly looks as if he will be one of the SEC's elite playmakers.


Negatives

Inability to Force Turnovers:

The Bulldogs have done a great job this season in forcing turnovers each and every game, but that did not hold true today. Although they did not lose the turnover battle, The Bulldogs have relied on being able to get takeaways and with that element not working for them in this game; it played a large part in their struggles.


Run Game:

The Bulldogs rely heavily on their running game and how their running backs go is often how the rest of the team goes. In today's game, The Bulldogs running corps struggled to get anything going and it had a profound effect on the outcome of the game. The Bulldogs inability to control the line of scrimmage played a role in their running deficiencies and in turn played a role in the overall outcome of the game. The Bulldogs will have to consistently establish the run if they want to win games and being held to 75 yards rushing was a big factor in the Bulldogs loss.


All Special Teams without Blankenship:

Blankenship had a great day but every other aspect of the Bulldogs special teams struggled mightily. Marshall Long was inconsistent with his punts and although he had a few punts that pinned the Commodores deep in their own territory, he also had some punts that were less than ideal and gave the opposition better field position than they should have had. The Bulldogs kick coverage also had a very bad day, when they gave up a 95-yard kick off return, and this notion continued their trend of being one of the worst kick coverage units in the country. The kick and punt return units also had some key mistakes, which included two muffed punts by Isaiah McKenzie, who recovered both muffs, and Reggie Davis catching a punt on his own two yard line and stepping out of bounds. The Bulldogs still have a ton of work to do on special teams.


The main thing that the Bulldogs need to work on is having more consistently good play and they need to play their best game as a whole unit rather than having some pieces working and some pieces making mistakes. The Bulldogs can still finish out strong but they have to address these issues sooner rather than later.