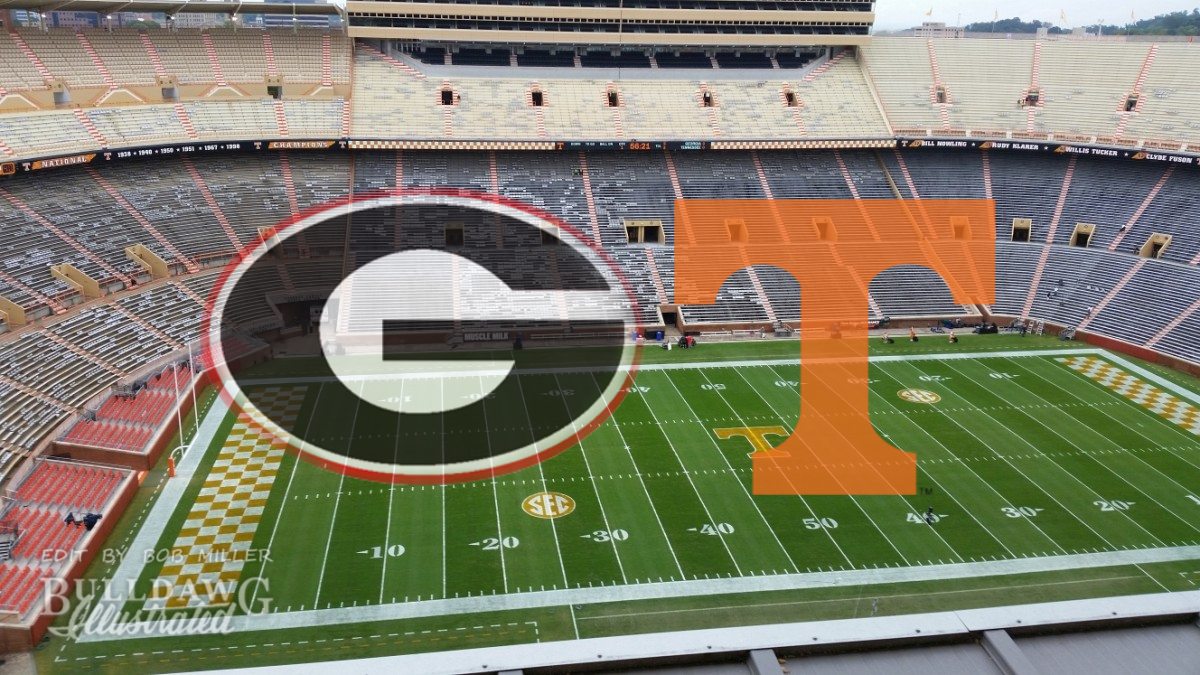 Well, there shouldn't be any surprises — by either team — when Georgia and Tennessee tee it up Saturday night at Neyland Stadium in Knoxville.
That's because of the great familiarity the Bulldog and Volunteer coaching staffs both have with each other.
The two head coaches, Kirby Smart and Jeremy Pruitt, spent six years working together on Nick Saban's staff at Alabama and the Tennessee staff has no less than six former Georgia assistant coaches now working under Pruitt, the former defensive coordinator for the Bulldogs.
That number, of course, includes Vols offensive coordinator Jim Chaney, who was in that same role in Athens this time last year.
So certainly, both staffs know each other's schemes, tendencies and so on, meaning any surprises Smart and Pruitt might dial-up would really have to be out of the ordinary to catch the staff on the opposing sideline off guard.
That means this particular football game will come down to blocking and tackling and simply, pure execution … the determining factors in nearly every game played today regardless of how well one coach knows the other's mindset when it comes to play-calling.
It's no secret that Pruitt's second Tennessee football team has been a most disappointing one thus far in 2019, especially to the Volunteer fan base which has watched the Vols beat only Chattanooga while losing shockingly to little Georgia State in the season opener, to Brigham Young in overtime and then getting blown out by Florida 34-3 weekend before last down in the Swamp.
So the Big Orange Nation is groping for any positive it can find as the season moves toward the midway point. And with an unbeaten, 3rd-ranked Georgia team coming to town Saturday night and the Volunteers being tagged a 25-point underdog in this game, positives are pretty hard to find upon the Hill in Knoxville.
The Bulldogs, of course, are going to Neyland with a 4-0 season worksheet and are coming off the down-to-the-wire 23-17 win over the then 7th-ranked Notre Dame Fighting Irish, which was followed by Georgia's first of two open dates this season. Smart's Dawgs will be looking to push their SEC mark to 2-0, having won at Vanderbilt 30-6 back in the Aug. 31 season opener.
And there's a reason Georgia is coming in as more than a three-touchdown favorite against the Vols. The Bulldogs simply have more talented football players — an outstanding mixture of five and four-star prep standouts — than does Tennessee. While Pruitt is simply attempting to rebuild his team into a contender in the SEC East, Smart has already steered the Bulldogs back into the upper echelon of college football in his four years at the UGA helm.
Mind you, this doesn't mean the current Volunteers are lacking outstanding talent. Tennessee wide receivers Jauan Jennings and Marquez Callaway can play for anybody, as can 6-4, 257-pound tight end Dominick Wood-Anderson. Ty Chandler is also a very capable running back. And defensively, such names as linebacker Daniel Bituli and strong safety Nigel Warrior, who was highly recruited by Georgia, are capable of disrupting opposing offenses.
But Tennessee doesn't possess nearly enough talent to pull off what would be a truly monumental upset of Georgia. The Bulldogs' Jake Fromm and D'Andre Swift-led offense, after being held in check at times by a tough Notre Dame defensive unit, should put up big numbers both running and passing against the Vols Saturday evening. And the ever-improving Georgia defense should, in turn, be able to slam the door on the UT offensive attack.
I predicted Georgia-Notre Dame to be a close one, tabbing the Dawgs to win by 10. And of course, the game turned out even closer than that with the Bulldogs prevailing by six points before that record crowd of 93,246 at Dooley Field at Sanford Stadium.
This one Saturday night … not so close. Georgia rolls big over the Volunteers, say by 48-13, thus gaining momentum for consecutive SEC home games with South Carolina and Kentucky.