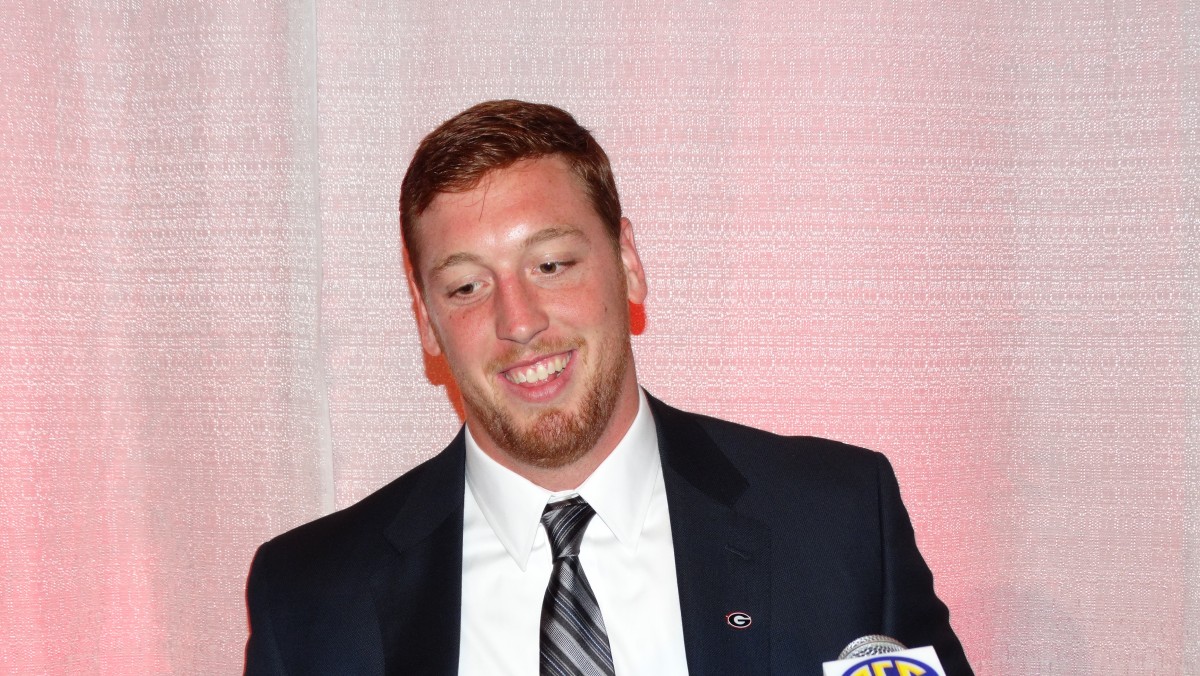 [su_spacer size="20″] HOOVER, Ala. – Georgia senior left tackle John Theus is the leader of a Bulldog offensive front that returns four starters from the 2014 team that led the SEC in rushing (257 yards per game) and scoring (41.3 points per game).[su_spacer size="20″]
Talking with Theus here Thursday morning as the UGA contingent arrived for its turn at SEC Media Days, you get the impression that the 6-6, 313-pound Jacksonville native thinks the upcoming 2015 O-line could be even better.
Georgia returns Theus and also senior Kolton Houston at tackles and junior all-star candidate Greg Pyke and junior Brandon Kublanow at the guard slots. The only question mark lies at the all-important center position where three year starter David Andrews moved on to the NFL. In spring practice Kublanow worked at the center spot along with promising rising sophomore Isaiah Wynn and senior Hunter Long.
"All three of them are working really hard," said Theus. "They know Coach (Rob) Sale will put the best five out there to play. And even though we've got the best five we've got to have some depth as well, in case of an injury or somebody's not performing. So they're all working hard and I expect all of them to play at some point in the season. I have faith and confidence in all of them."
Theus, definitely an All-SEC and All-American candidate this season, says the Bulldogs' O-linemen have bonded even closer together in the players-only summer workouts.
"The offensive line, we're a close group of guys," he said. "We all hang out together and have our lockers together. As a group I think we've really tackled this summer and worked hard. Even when we have the player practices, we've worked on the fundamentals and the little things Coach Sale wants us to do. I think we've really made some strides.
As an offensive lineman you have a chip on your shoulder and no matter who's back there you want to dominate," Theus said. "We have great running backs and I think everybody knows we're going to give them the ball. We know that and every team we play knows that so we take each game and try to dominate each game, each play, no matter who's back there."
New transfer quarterback Greyson Lambert, by way of Wayne County High School and the University of Virginia, has been on campus only a few days after graduating from Virginia but is already taking reps with incumbent quarterbacks Brice Ramsey and Faton Bauta. What has Theus seen out of Lambert thus far?
"First time I met him, I shook his hand and he has lineman-sized hands," replied Theus. "He's a good kid and has been out there working with the other quarterbacks and they're all doing a great job. He has the confidence and ability to play so it's all up to the coaches at this point."
Theus was asked if it's unusual for the quarterbacks competing so fiercely for the starting assignment and yet, being buddy-buddy and hanging around together off the field, like has been seen from said Ramsey and Bauta.
"Honestly, it's not weird at all," Theus said. "Even when me and Kolton (Houston) were competing for the right tackle job, on the outside even my family and friends were saying, 'Do you hate that guy?' I said, no, the kid's my best friend, I love him. And it's the same way with those guys (quarterbacks). They feel that way and I feel that way toward them. I support both of them and think they're great players. But I don't think the competition gets to us on a personal relationship standpoint."
Theus said, observing the defense this summer, he's really been impressed with a couple of incoming freshman, 311-pound defensive lineman Trenton Thompson and ultra-fast linebacker Roquan Smith.
"I know out there watching stuff on the defensive side of the ball, I've seen Trent Thompson and Roquan Smith and those guys and they're good players and I know they will be able to help us," he said. "I'll be gone after this year but I know they'll become really good players. You can just physically see Trent and he's a big old boy but he's not there just crazy bull rushing using all his size. He's got some football IQ about him, some technique and I've been impressed with a freshman doing that. And with Roquan, just the way he runs … (Alec) Ogletree was able to run sideline to sideline and Roquan has the same kind of ability to do that."
Everyone knows it's been a full 10 years since Mark Richt's team has captured an SEC championship and, of course, Richt is still chasing his first national championship at UGA.
"I can say every year my goal is to win the SEC East, win the SEC championship and that's the goal every year," responded Theus. "As for myself, I've been fortunate to be on winning teams my whole life and winning championships is what I want to do. Part of the reason I came back, I want to win a championship and I know everybody has that in mind when they're working this summer and I think we've got the talent to do it and now it's just up to us to execute."
And with college athletics on the verge of receiving Cost-of-Attendance stipends, how does John Theus expect to spend his extra money?
"I really haven't decided yet," he said, smiling. "My parents try to work on me saving and I need to start doing that. My brother (senior long snapper Nathan) is the better one at that. He had to save for an engagement ring here recently, so he's good at that. I'm just happy to have a little extra money in my pocket, honestly."