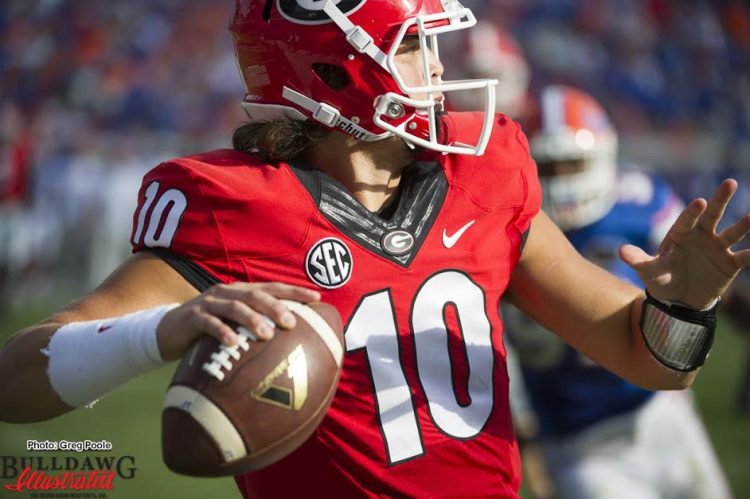 The Georgia Bulldogs are starting to play their best football in the later portion of this season and would love to finish the season strong against Louisiana-Lafayette and Georgia Tech.



The Bulldogs upcoming game against the Louisiana-Lafayette Ragin' Cajuns has the makings of a trap game and they will have to not overlook this opponent if they hope to win out.


The Bulldogs must do these three things, in my opinion, to defeat their opponent this upcoming Saturday.


3.Contain Anthony Jennings

Anthony Jennings has experience playing in the SEC, as a former quarterback at LSU, and his ability to both run and pass make him a huge threat to the Bulldogs defense. Jennings has definitely improved as a passer since his time at LSU and this makes him one of the Ragin' Cajuns most dangerous playmakers. If the Bulldogs can get pressure on Jennings and force him out of his comfort zone, then they should have yet another outstanding defensive performance.


2.Cut Jacob Eason Loose

The Ragin' Cajuns have the 67th ranked passing defense and 10th ranked rushing defense which will give the Bulldogs added reason to let Eason air it out against Louisiana-Lafayette. Eason is continuing to grow more and more comfortable with each snap and this is the sort of game where the Bulldogs may have to put their trust in the young quarterback.


1.Don't Get Overhyped by the Black Jerseys

The Bulldogs will be wearing black jerseys for the first time since the Bulldogs tough loss in 2008 against the Alabama Crimson Tide, a game which Kirby Smart was a coach for against the Bulldogs. Smart does not want to use the black jerseys as a gimmick and although it should get the team more pumped than usual, they cannot let these jerseys get them so overwhelmed that they do not play smart football. I believe the Bulldogs addition of the black jerseys to each season is a great idea, but they cannot let these jerseys be a distraction.


The Bulldogs should improve to 7-4 this weekend but these three keys will be important for this young Georgia team.