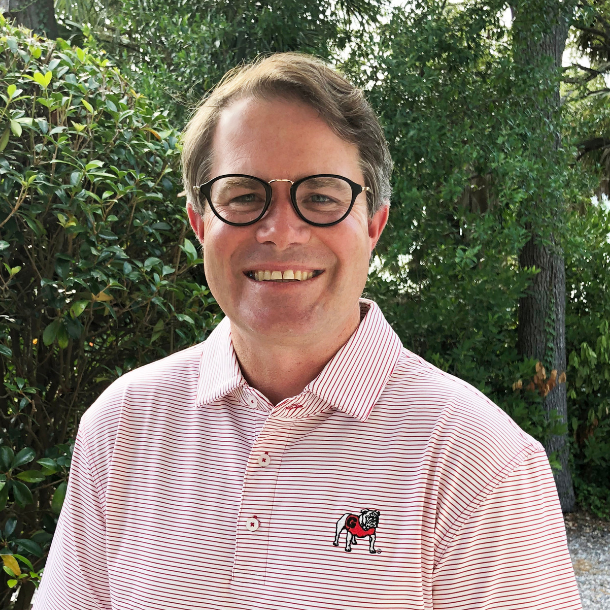 On June 14, I sat down for lunch with Barrett McLanahan, Clay Watkins, and Vance Leavy at Royal Peasant in Five Points to learn more about the sports marketing industry. Barrett, Clay, and I are all upcoming seniors at Georgia and share a common interest in sports marketing, so we all came to Vance for advice about the field.
Barrett, an Athens native, is a financial planning major and is currently interning for Classic City Collective. Barrett summarized what Classic City Collective is doing to support Georgia's athletics teams in the new world of name, image and likeness (NIL), which allows student-athletes to earn money off their names for the first time in NCAA history.
"Classic City Collective is here to promote and support student athletes at the University of Georgia on and off the field," Barrett said. "We strive to show the fans how great each individual is outside of their accomplishments on the field, and we look to help grow and support them as they build their own brand for themselves."
An NIL collective is essentially a way for college athletes to build a brand for themselves and make money off their "name, image, and likeness." Classic City Collective is different from many NIL collectives because they are actually sponsored by UGA. In fact, they are the only NIL collective that is currently sponsored by UGA.
Within Classic City Collective, there is a group called the 21 Club. As many Georgia fans know, 21 is a very significant number. The Bulldogs have 21 athletic programs; their first Heisman trophy winner, Frank Sinkwich, and one of the best basketball players in UGA's history, Dominique Wilkins, both wore No. 21 jerseys; and 2021 was the year Georgia won its first national championship in football in four decades.
To become a part of the 21 Club, members are asked to donate $21 or more monthly. This gives members access to Classic City Collective merchandise, access to autographed memorabilia auctions, and admittance to live events throughout the year.
If fans are not interested in the 21 Club, they can also make a one-time donation to support their favorite athletes. Classic City Collective also partners with the DGD Fund, which is an organization founded by five UGA football players that donate to five charities. The founders of the fund are Payne Walker, Stetson Bennett, Owen Condon, John Staton, and John Fitzpatrick. Their chosen charities are Happy Feat, The Boys and Girls Clubs of America, The ALS Association, Mental Health and Suicide Awareness, and American Brain Tumor Association. Their goal is to inspire other college athletes to use their platform to give back to their community.
After wrapping up talk about Classic City Collective, we talked football and sports marketing. Being Georgia fans, we discussed the national championship and how we are dreaming that the Bulldogs can pull it off again. We talked about how Alabama fans will never give us the credit that we deserve and how we all enjoy UGA being known as an underdog.
Then, we discussed sports marketing. Clay Watkins, from St. Simons Island, is a sports marketing major and asked some questions about Bulldawg Illustrated. He wanted to know how the magazine has become what it is today. Vance told us how the magazine started and discussed how important it is to them to be able to relate to their audience and provide other news other than just sports.
Vance said that what has made the magazine successful is not only the sports section of the magazine, but also the lifestyle portion of the magazine. As every Georgia student knows, a huge part of Athens is the community. Athens is so much more than just football, and it is important to also showcase this. Readers will open the magazine and more than likely see a familiar face in the magazine which helps them be able to relate to the content of the magazine.
Clay summarized his main takeaways from Vance's advice. "Some of the notable things I took away was the style of writing that Bulldawg Illustrated intentionally uses. They keep readers engaged by writing short articles about a variety of topics relating to Georgia football and Georgia culture," Clay said. "I also respect that Bulldawg Illustrated continues to pride themselves on continuing to print paper copies of their magazines and distribute them across Georgia. Today's age is extremely digital, and I think Bulldawg Illustrated does a great job using Instagram and Twitter to adapt to modern times, but also by keeping their magazine the way it's always been. They're not deviating from their roots."
As an advertising student, I also gained helpful advice from Vance. Like Clay, I find it impressive that Bulldawg Illustrated has such a large following on their social media accounts while still keeping up with their magazine sales. I like how Bulldawg Illustrated advertises businesses in their magazine and also highlights different aspects of the companies on their social media. It shows that they don't just care about advertisement sales but also want to help various businesses around Athens grow.