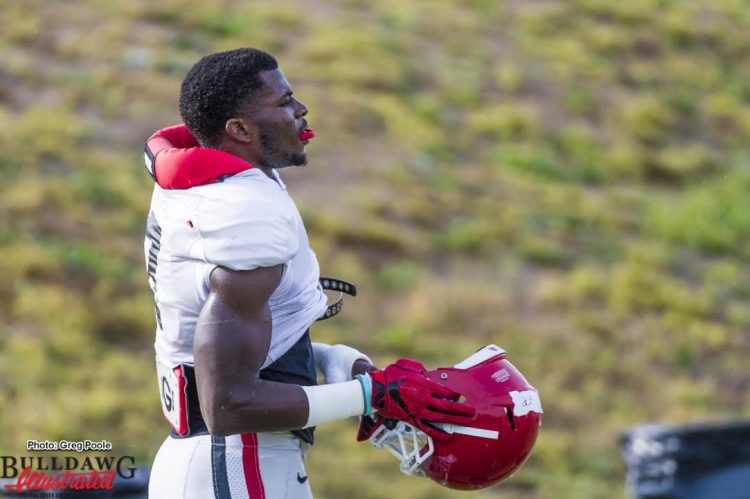 There was a calm tone at the Bulldogs Wednesday practice and that could be a huge positive for the team as they prepare for the Gators.



This calm tone could point to the Bulldogs players and coaches being comfortable and more confident with their gameplan for the Gators.


These are my three takeaways from the Bulldogs practice on Wednesday.


3. No major injuries

I did not notice any significant players missing from the Bulldogs practice today and that is definitely a positive going into the Bulldogs rivalry game against the Gators. Going into this game completely healthy would give the Bulldogs a huge boost in potentially walking out of Jacksonville with a win.


2. Blankenship Kicking with Confidence

I observed the Bulldogs kicker Rodrigo Blankenship for a good portion of practice and he seemed to be hitting the ball well and made all of the field goals that I saw him kick.


Blankenship kicking the ball well gives the Bulldogs confidence in the option of kicking field goals, which is an option that they have not had in earlier games this year.


1. Baker Boys Making Waves

The two Bakers on the Bulldogs football team are offensive lineman Kendall Baker and defensive back Deandre Baker.


Starting with offensive lineman Kendall Baker, he seemed to be taking some reps with the first team at left tackle in practice on Wednesday.


Although this does not point to Baker being the new starter, it could mean that he has opened up some competition for the starting spot and that battle could progress until the end of the season.


I still hold the belief that Tyler Catalina will be the Bulldogs starter at left tackle but Baker taking some first team reps is an interesting development indeed.


As for the Bulldogs defensive back Deandre Baker, he was also taking first team reps with the Bulldogs defense and this should point to him being able to start in the team's game against the Gators.


His availability was in question in the earlier portions of this week, but seeing him take first team reps is a huge positive for the Bulldogs defense.


The Bulldogs will need all hands on deck and will need to play their best and most complete game if they wish to end their two-year loss streak against the Gators.