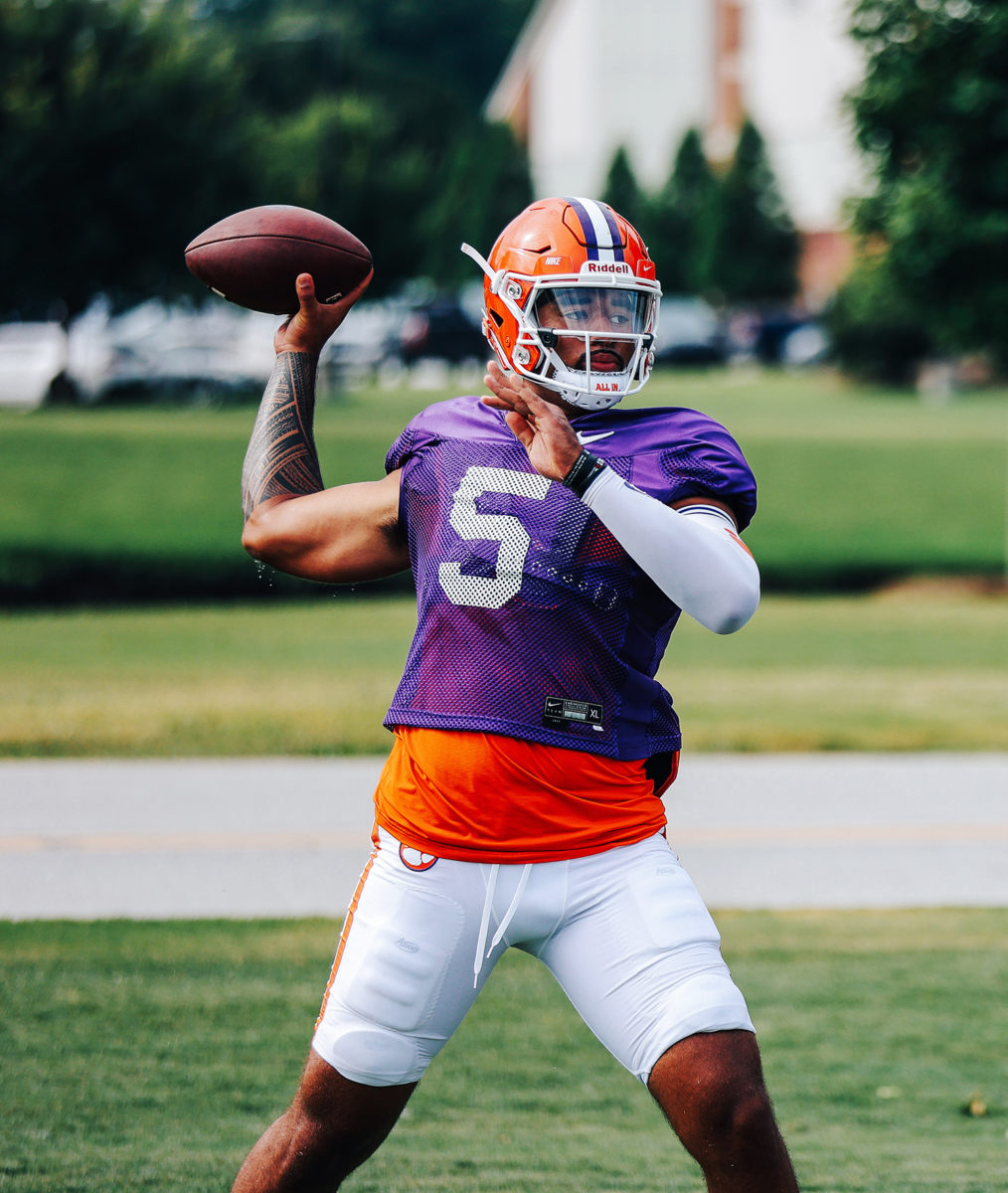 D.J. UIAGALELEI (QB #5) – The Tigers now enter the post-Trevor Lawrence era with D.J. Uiagalelei ready to take the reins at quarterback, who is 6-foot-4, 250 pound so tackling him will not be an easy task. Uiagalelei started two games last year for Clemson when Lawrence was out due to COVID and played well. If Georgia is to win this game, limiting big plays from Uiagalelei needs to be priority number one.
DABO SWINNEY/BRETT VENABLES – Besides Nick Saban, there is not a more esteemed coach in college football than Dabo Swinney. Swinney has consistently coached his team through big games and it has led to multiple championships now at Clemson. All eyes will also be on Tigers defensive coordinator Brett Venables, who is often regarded as the top coordinator in the county. If he wanted to be a head coach, he would be. The matchup between his defense and Monken's offense should be fascinating.
JUSTYN ROSS (WR #8) – Ross missed all of the 2020 season following surgery. Now healthy, Ross poses a big threat on the perimeter as a receiver. As a freshman in 2018, he led the Tigers with 1,000 yards and was a huge reason they won the national championship that year. Don't be surprised if Derion Kendrick is tasked with facing Ross for most of the game.
BRADEN GALLOWAY (TE #88) – Galloway is another athletic, big, pass catcher who could give Georgia's secondary problems. He does not have any eye-popping stats or numbers yet, but with a lot of the Tigers offensive contributors now in the NFL, he will have to make up for that. He scored two touchdowns in Clemson's matchup against Miami last year.
BRYAN BRESEE (DT #11) – Bresee is what a football coach dreams of as a defensive tackle. He was one of the top recruits in the class of 2020 and was named ACC Defensive Rookie of the Year last season. With all of the shuffling that Georgia has had to do on the offensive line, Bresee is a player that JT Daniels and company will have to have their eyes on at all times.
ANDREW BOOTH JR. (DB #23) – Everyone has talked about Georgia's receiving group, but who will be facing Burton, Kearis Jackson and the rest of the guys in week one? Clemson's Andrew Booth Jr. is a senior from Dacula, Georgia, who totaled 30 tackles and two interceptions last year. The Tigers will need him to have a stellar performance to help stop Georgia's air attack.