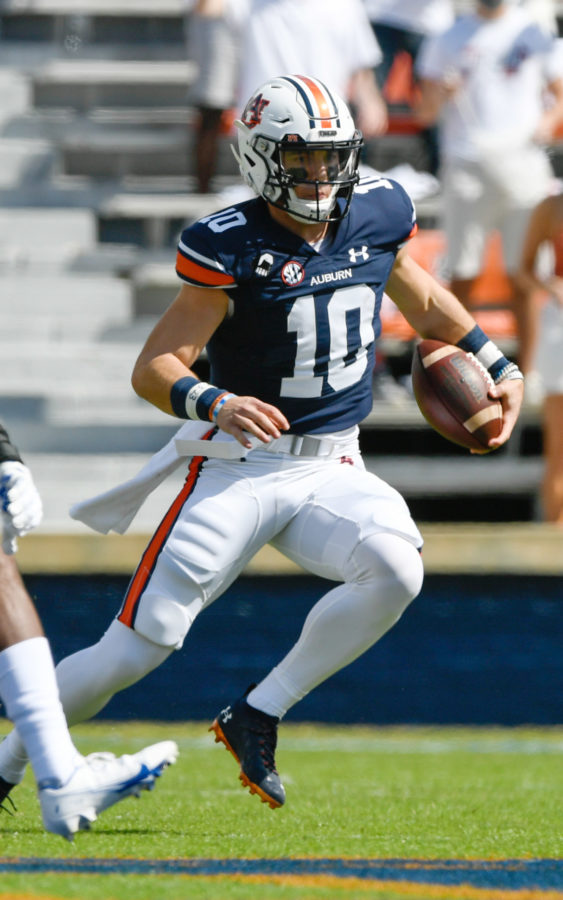 Bo Nix (QB, #2)
Auburn sophomore quarterback Bo Nix had a great freshman season. Some of those highlights included leading a comeback in the season opener against Oregon, and helping the Tigers upset Alabama, which ultimately knocked them out of the CFB Playoff. The expectations are high coming into year two as he looks to mesh with first-year offensive coordinator Chad Morris. The Pinson, Alabama native threw for 2,542 yards and 16 touchdowns last year, but look for those numbers to increase in 2020 as Morris likes to spread the field out through the air. Nix also has some wheels, too. He rushed for 313 yards and seven scores last year as well. In fact, he scored the first rushing touchdown last year against Georgia's defense. He could be dangerous if the Bulldogs apply to much pressure, so it will be interesting to see how he looks in a new offense
Seth Williams (WR, #18)
Williams is one of the most explosive receivers in the SEC, and had an incredible 2019. He hauled in 59 passes for 830 yards and nine scores. Look for him to be a deep threat and a problem for the Georgia secondary in week two. It seemed like Georgia couldn't cover him last year as he caught 13 passes for 121 yards. The 6-foot-3, 211-pound receiver has the strength and speed to burst off the line. Plus, his size helps have an advantage on a smaller corner or safety in 50/50 ball situations. Williams made several athletic plays last season, and will look to do so again in 2020.
D.J. Williams (RB, #3)
With JaTarvious Whitlow out of the picture, now it is time for Williams to be Auburn's top rusher. The 5-foot-10, 185-pound back had a productive freshman year in 2019 rushing for 400 yards and two scores. He was the team's second leading rusher behind Whitlow and ahead of Kam Martin. Williams hopes to be a little bit more productive as he only averaged 4.8 yards per carry last year. He has all the tools to be great, including a thick build and great lateral ability. He isn't a speedster, but more a player that can run defenders over with contact. Eyes will surely be on him as Georgia looks to not give him a lot of wiggle room inside the tackles. mountain to climb to do so.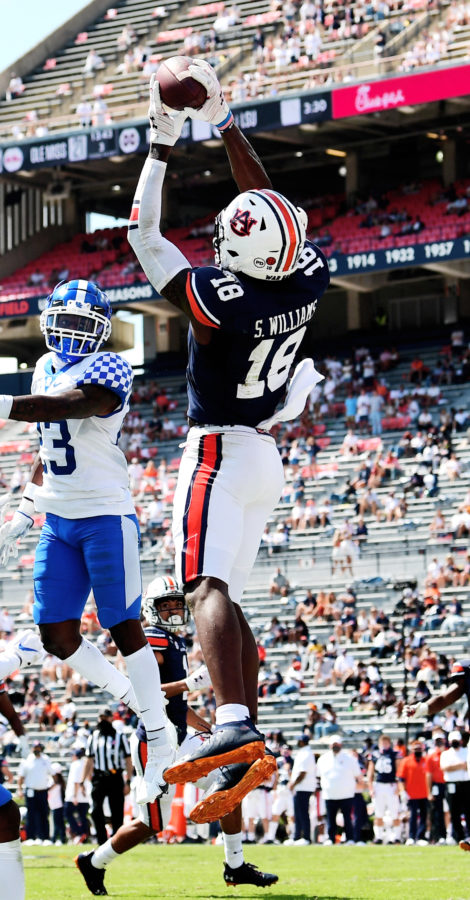 Chad Morris (Offensive Coordinator)
Morris is a 28-year coaching veteran, having spent the last 10 years as one of the top offensive minds in college football helping three programs in the top-10 in the FBS in scoring.The Dallas native served as the head coach at Arkansas (2018-19) and SMU (2015-17) after four seasons at Clemson as the offensive coordinator. Before all that, Morris spent 16 years coaching high school football in Texas. In 2010, he landed a job at Tulsa as the associate head coach and offensive coordinator. He's known for his high-explosive offenses and likes to pass the ball a ton. In his second year at Clemson, he helped Tajd Boyd win ACC Player of the Year as the offense set records for total yards per game (512.7), and points per game (41.0), ranking sixth in the nation in scoring and ninth in the nation in total offense.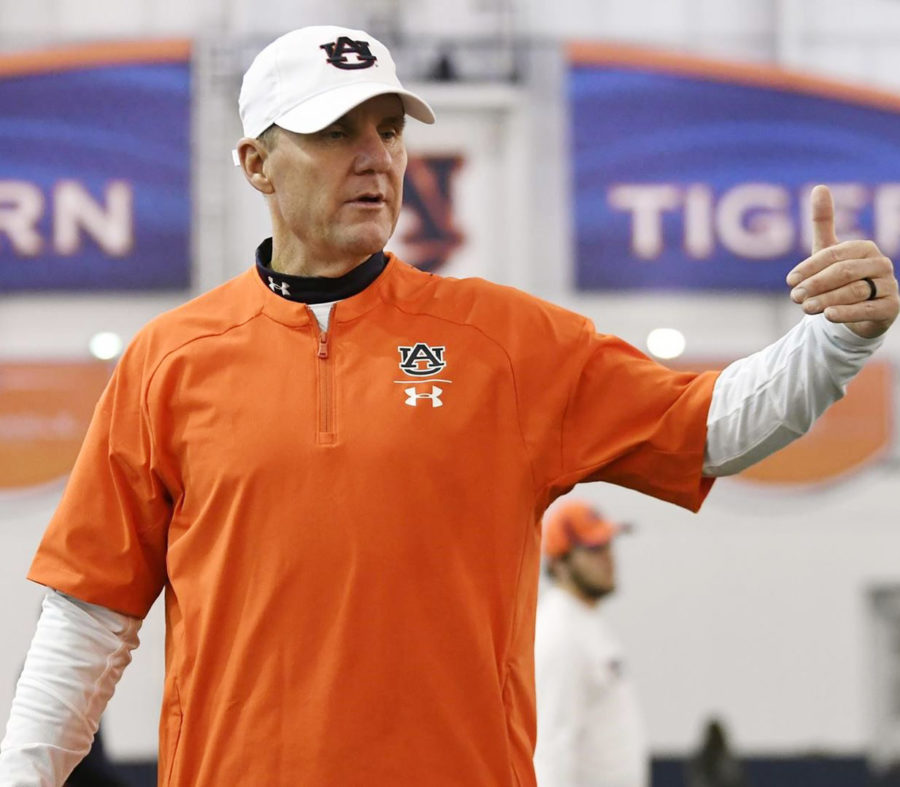 Markaviest "Big Cat" Bryant (DE, #1)
The 6-foot-5, 250-pound defensive end is one of the most talented at his position in the SEC. Out of high school, Bryant was one of the most sought out recruits ever from Cordele, Georgia. He hasn't reached his full potential yet as a Tiger, and this year could be his year. Bryant only has 39 career tackles as a Tiger in three years. Last season, he had 8.5 tackles for loss of 47 yards and that could increase this season. He's fast off the ball and he can maul through opposing offensive linemen with his exceptional strength. Look for him to be a problem against Georgia's offensive line on Saturday.
K.J. Britt (LB, #33)
Britt had an incredible year as a first-year starter in 2019. He finished third on the team in total tackles, third in sacks and second in tackles for loss. He will be the leader of the Auburn defense this season, and for good reason. He was named First-Team All-SEC last season and could repeat that again this year. The Oxford, Alabama native has a progressive career at Auburn, because it seems like he's gotten better each year. Georgia's blockers will have to find a way to keep him gobbled up if they want to run the ball successfully against the Tigers. His speed and strength separates him from the rest of the Tigers' linebackers.