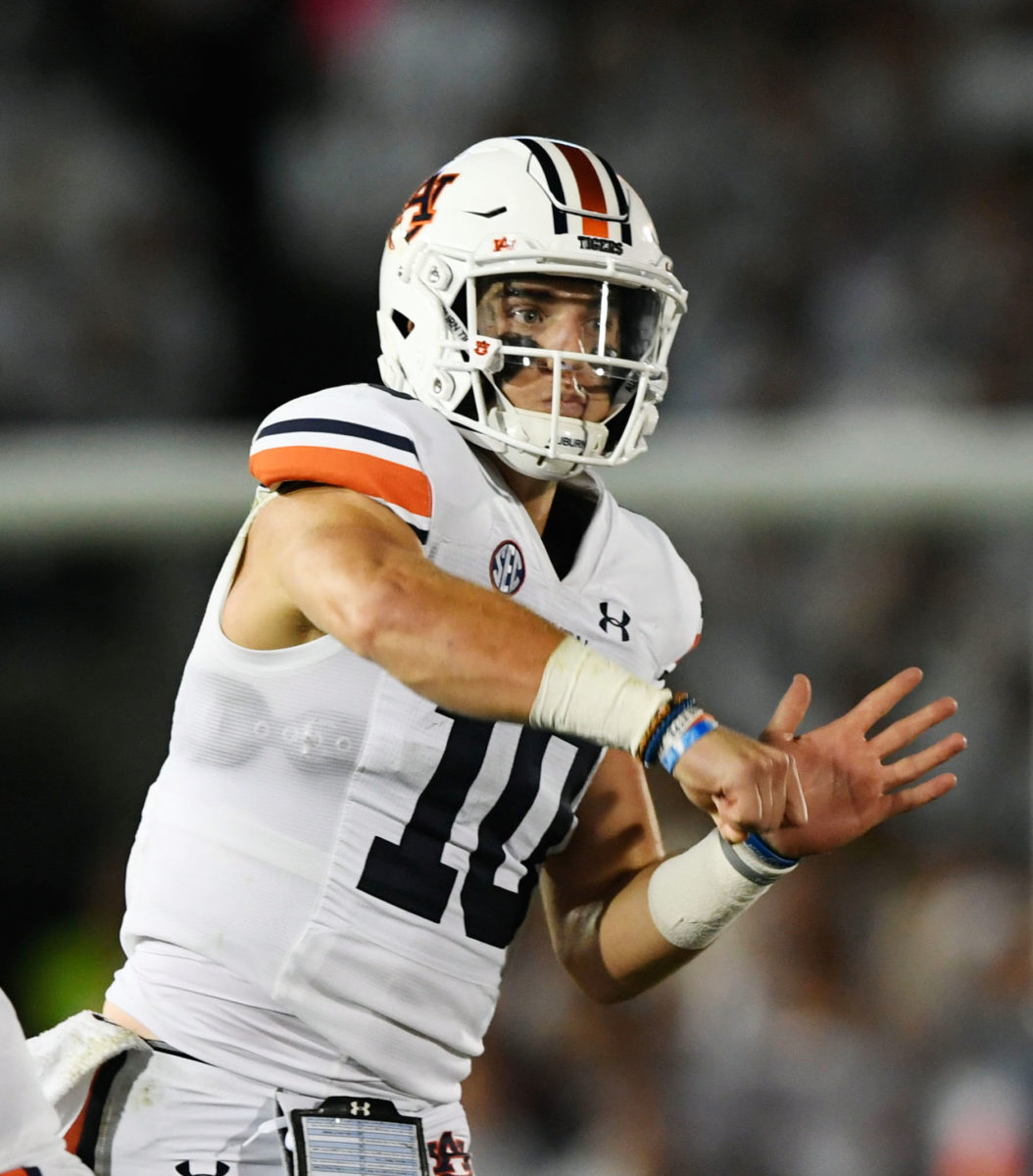 BRYAN HARSIN – Harsin is in his first season as head coach of the Tigers. Some thought it was a head-scratching move to bring a coach from Boise State to recruit in the SEC, but it does seem Harsin wants to change the culture at Auburn. The Tigers have played hard all year, even when facing adversity against Georgia State and Penn State. The test against Georgia will be by far Harsin's hardest of his young Auburn career, let's see how he approaches it.
BO NIX (QB #10) – Nix was benched in Auburn's narrow win over Georgia State and his future as a starter was uncertain. However, Nix showed tremendous poise to come back on Saturday and lead Auburn to its first win in "Death Valley" against LSU since 1999. He's a playmaker that can scramble all over the field and use his athleticism to his advantage. He's also been turnover-prone in his Auburn career, so he'll have to avoid that if the Tigers want to have a chance against Georgia.
TANK BIGSBY (RB #4) – Bigsby, a Georgia product, is probably Auburn's best player. He's a powerful runner that was heavily recruited by Dell McGee to come to Georgia. He's Auburn's leading rusher with 449 yards on the year. If Auburn wants to have a chance in this game, they'll need Bigsby to break some big runs against the Bulldogs' defense that has not given up many big plays, especially on the ground.
DEMETRIS ROBERTSON (WR #0) – Could this be a revenge game for Demetris Robertson? It never quite worked out in Athens for the former Georgia receiver, but Robertson was well-liked and seemed to work hard while he was at Georgia. This year for Auburn he has a team-high two receiving touchdowns. Robertson's speed will always be a threat and Georgia defensive backs probably know that better than anyone.
ANDERS CARLSON (K #26) – Carlson has been solid this year, making 10 of his 13 field goal attempts this season. He did miss one on Saturday against LSU and then had another one blocked later. Georgia's defense is as stingy as they come so if Auburn does have field goal opportunities, they will need Carlson to convert.
ZAKOBY MCCLAIN (LB #9) – McClain can fly all over the field and leads Auburn's defense. He's tied for the team-high in tackles with 35 on the year and was a big reason for the Tigers come from behind win against LSU. Now, he'll have to help stop Georgia's offense that's coming off of a season high in rushing yards.