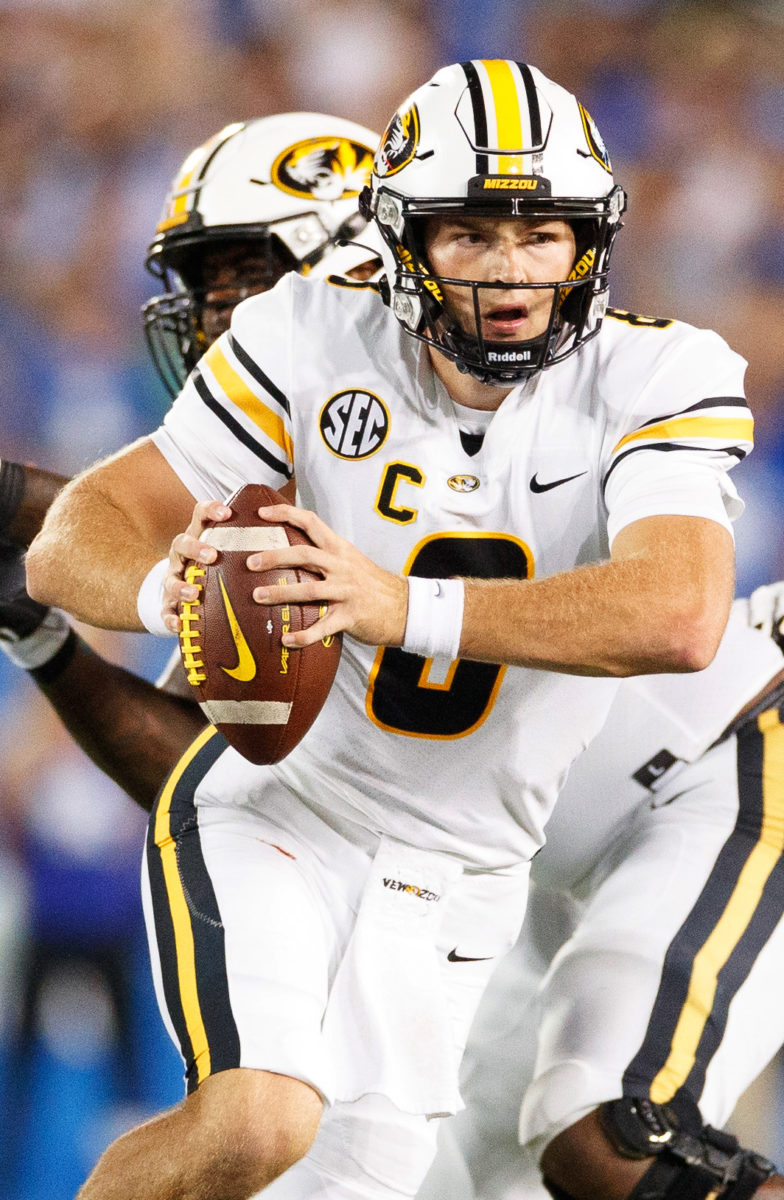 ELI DRINKWITZ – Drinkwitz is in his second year as head coach of the Tigers. After an impressive 5-5 first year, Missouri has regressed in Drinkwitz's second season. The Tigers have struggled mightily on defense this year and will have as tough of a task as they have had all season facing Georgia in Athens. After a fight with Vanderbilt, Drinkwitz will have to find a way to inspire his squad to play close to Georgia's level. On the positive side, he landed five-star receiver Luther Burden over Kirby Smart.
CONNOR BAZELAK (QB #8) – Bazelak won SEC Co-Freshman of the year last year in Missouri's impressive season. He's got the physical tools that a coach wants in a quarterback at 6-foot-3 and 212 pounds. However, he's not very mobile and that could be a liability against a Georgia defense that has gotten to the quarterback frequently this year. He's fourth in the SEC in passing yards, so Georgia should not underestimate him. He's also second in the SEC in interceptions so the Bulldogs could force multiple turnovers again this week.
TYLER BADIE (RB #1) – Badie will give Georgia's second-ranked rush defense a test on Saturday. He leads the SEC in rushing yards with 809 on the season and is tied for first in the SEC with 11 rushing touchdowns. He will also be used as a receiving threat for the Tigers and with the pressure Georgia's defensive line creates, don't be surprised if Missouri gives him close to 25 touches in this game.
KEKE CHISM (WR #6) – Chism brings experience as a graduate student in the SEC. He's 6-foot-5 so he's a physical possession receiver. Georgia's secondary struggled earlier in the season with bigger receivers on the perimeter but has had success shutting down some of the SEC's best receivers like Wan'Dale Robinson and Treylon Burks since then. Chism will have to have a big game if the Tigers want to have a shot in this matchup.
BLAZE ALLDREDGE (LB #25) – Alldredge is in his first year at Missouri after coming from Rice as a graduate transfer. He's been arguably Missouri's best defender so far this season. He leads the team with four sacks and eight tackles for loss. It won't be easy getting past Georgia's offensive line but Alldredge has the potential to impact the game.
MARTEZ MANUEL (LB #3) – Manuel is a Columbia, Missouri native and is the only player for the Tigers that has more tackles than Alldredge. He has the ability to drop into coverage too and will have to lead a Mizzou defense that has not had much success in recent weeks.