[su_spacer size="20″]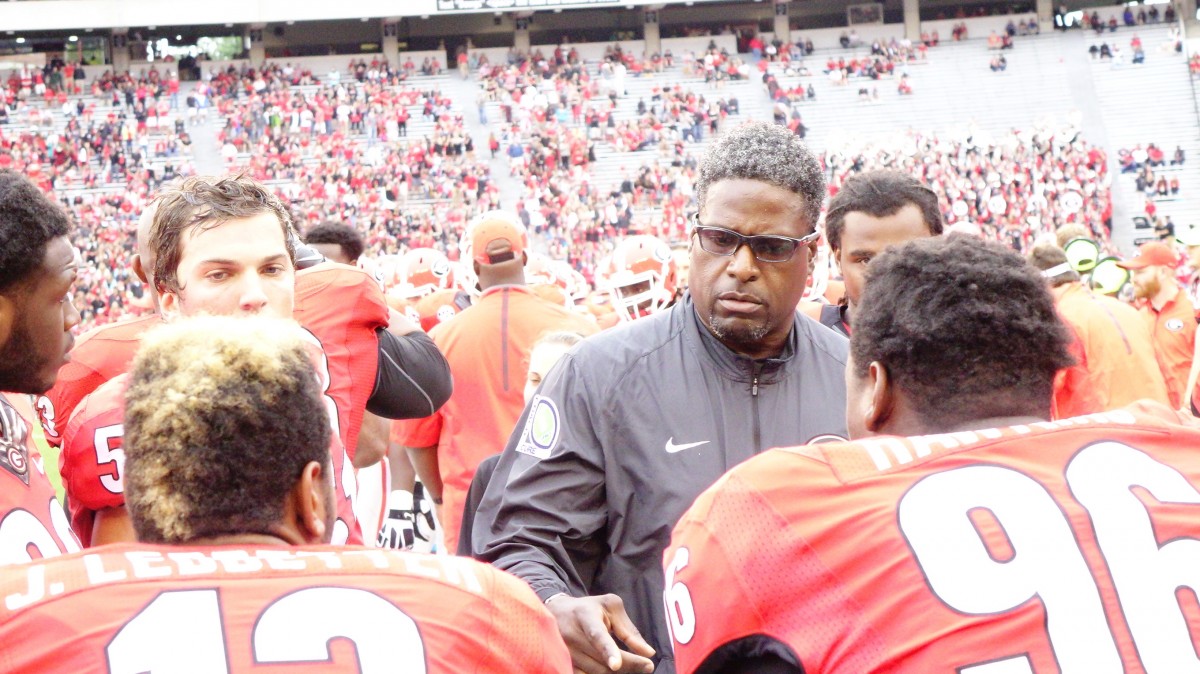 [su_spacer size="40″] "Yea, Alabama, drown 'em Tide ……."
[su_spacer size="20″] That's the opening words of the Alabama fight song and it will be the Crimson Tide's "Million Dollar Band" that will be marching between the hedges of Sanford Stadium next weekend.
[su_spacer size="20″]
But unlike Saturday's game when Southern University's "Human Jukebox" band was more widely acclaimed than the Jaguars' football team itself, Nick Saban's Alabama team will be the featured visiting attraction when the Crimson Tide (3-1) moves against unbeaten Georgia (4-0) in a contest with huge SEC and national ramifications.
And the Bulldogs will enter the 3:30 battle (CBS) after Saturday's 48-6 tune-up waltz over FCS member Southern in a game Georgia led by only 20-6 at the halftime break.
After the Bulldogs' powerful running game was limited to just 35 yards over the first two quarters by a pumped Jaguars defense and Nick Chubb was checked to only 31 yards, Georgia's offensive front began blocking the Jaguars early in the third quarter and the Bulldogs exploded for four touchdowns before the period had ended, pushing the margin to the eventual 42-point victory.
"I challenged our line at halftime," said head coach Mark Richt. "Our backs were slamming into trash. There was no space. We weren't controlling the line like we're used to. Once we got space for the backs, good things happened. The whole key was when the line took over."
Chubb  rumbled for 100 additional yards in the third alone, thus capping a 131-yards rushing day on 15    carries (8.7 avg.). He had touchdown runs of 9 and 49 yards in that period, going to the sidelines for good after  his long TD jaunt with still 5:44 left in the quarter. Chubb also had a 24-yard catch for a touchdown.  He has rushed for more than 100 yards in 12 games in a row, which is one shy of Herschel Walker's mark of 13 that bridged the 1980-81 seasons and included the Sugar Bowl to cap a perfect season. Talented sophomore Sony Michel also continued to find the end zone with a stirring 58-yard scoring run in the third quarter and finished with 75 yards on just six carries, also scoring on a 7-yard run.
"It is truly an honor to be mentioned with him," said the modest Chubb. "Herschel Walker – that's what you hear about when you think Georgia football."
Chubb again credited his offensive line for his second-half outburst.
"Coming into the half, they were like 'how many do you need Nick?' and I was like 'ya'll care more about it than I do.' When somebody said I only needed 25 yards they started saying 'let's get it, let's get it,' and I said ok, let's go."
Continuing his pin-point accuracy, Greyson Lambert finished the contest 9-of-10 for 146 yards including the 24-yard scoring pass to Chubb in the opening period and a 23-yard touchdown pass to Malcolm Mitchell in the third quarter outburst. Lambert pushed his school record to 22 consecutive completions after competing his final 20 straight to end the South Carolina game. Sophomore backup Brice Ramsey, entering the game in the second quarter, went on to drill 11-of-14 passes for 125 yards, and junior Faton Bauta also saw his first game action, directing the Bulldogs in the final few minutes.
"I haven't really done anything differently," said Lambert, when asked what has been the difference in his torrid passing performance since the Vanderbilt game. "I have just kept playing. Bad things are going to happen and good things are going to happen. You have to keep playing and put those things behind you."
Mitchell barely missed his second consecutive 100-yard receiving game, snaring five passes for 96 yards including the 23-yard TD reception.
Georgia's other points came on 47 and 25-yard field goals by Marshall Morgan and Morgan's six PAT kicks.
Defensively, the Bulldogs limited the Jaguars to one touchdown and 184 yards total offense with the majority of that coming in the first  half. Safety Quincy Mauger, linebacker Tim Kimbrough and freshman lineman Trent Thompson led the balanced effort with five tackles each with Thompson recording all of his stops in the second half when the Georgia coaches emptied the bench. Sophomore cornerback Malkom Parrish rendered the single biggest play, blocking a Jaguar punt in the opening quarter, which led to Lambert's 24-yard touchdown pass to Chubb two plays later.
Richt said the Jaguars indeed came to play this soggy afternoon.
"They had a really good (touchdown) drive," he said. "They moved the ball well and they had a fourth-down conversion on their scoring drive. They're a good football team. They average 270 passing and 170 rushing. They're a very balanced group. They did their thing. I was impressed with them."
Richt was happy the Georgia staff could play a lot of people in the win.
"Everybody works hard and wants the opportunity to play," he said. "When you get a chance to play a lot of guys, it's good for morale and it's good for experience. I'm glad we got the game in position to do that. It'll be fun watching the tape."
The win was Richt's 140th career victory at Georgia, which ties him for ninth all-time in the SEC with former Bulldogs coach Wally Butts.
"Coach Butts was a great coach and his legacy lives on with 'Wally's Boys,' a great group of Bulldogs that played for Coach Butts, loved him and appreciated all that he did," said Richt.
So now, the 4-0 Bulldogs can finally turn their full attention to the Alabama Crimson Tide, which will come to Sanford Stadium next Saturday on the rebound from their SEC loss to Ole Miss last weekend.
"We'll find out what we did wrong, correct it and get better at what we do," Richt said. "We have so much to get better on and it's a task we take very seriously. Our goal is to get better on a daily basis. It sounds boring, but that's football. Football is a game of repetition. If you continuously rep it well at practice,
hopefully you'll execute it well in a game."
[su_spacer size="40"]