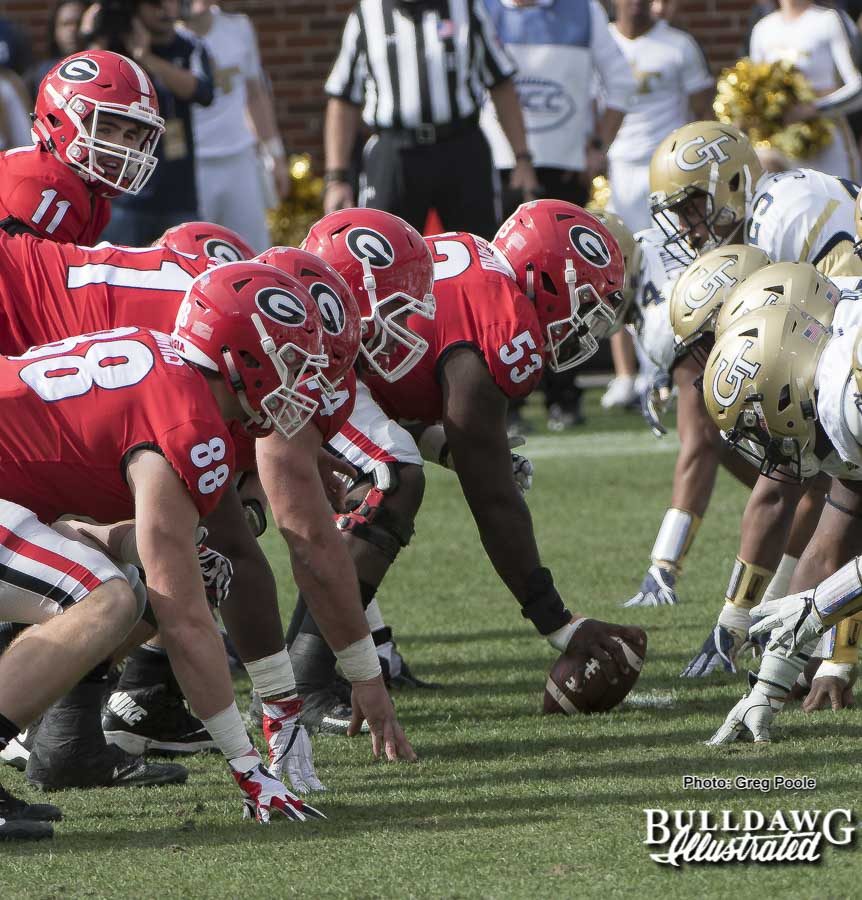 With the recent scheduling of several non-traditional, Power Five opponents in the near future, many Georgia fans think that in-state rival Georgia Tech will be taken off the schedule.
Georgia head coach Kirby Smart respectfully put those rumors to rest on Monday.
"I think this is one of the most traditional rivalries in all of college football. And I don't know that our scheduling is going to change the fact that — it's not going to move the proximity of their university and ours," Smart said during his weekly Monday press conference. "We're always going to have interstate rivals, whether it's through recruiting, whether it's through recruiting students, whether it's through anything. So I think the history and tradition is there that this game is always going to be a big factor."
When Smart played at Georgia, he was 3-1 against Georgia Tech, and as a coach he is 2-1 against them.
It's no doubt that Georgia has dominated the series as of late. Since 1991, the Bulldogs are 22-6 against the Yellow Jackets. The last time Georgia lost to Georgia Tech was 2001 at home during Smart's first year in Athens. In a recent press conference, he described the loss as a bad taste, and that he needed to do better.
Since that loss, the last two years Georgia has outscored the Yellow Jackets 83-28, and Georgia also leads the all-time series 67-45-1. Even though the Bulldogs have dominated the last three decades, Smart doesn't think the rivalry has lost its' importance.
"I think because of the conferences and because of the importance of winning your conference, that may have diminished some in regards to over the time," Smart said. "But the game, the rivalry is usually based on wins and losses and who is winning those games. Georgia has so many rivalries that you can't say one's more important than the other. You don't think it's important, then lose it and then it will be really important. And I know the importance of this game and I know the significance it has to so many of our fans, especially the crowd that may be older that traditionally Georgia Tech was a national powerhouse year in, year out. It means so much to them."
Following the game with Georgia Tech, Georgia will play the No. 1 ranked LSU Tigers in the SEC Championship. Yesterday, Smart's main focus wasn't on the Tigers but was on the Yellow Jackets, and he stresses to his players that their focus is the same.
"The challenge is about the rivalry. So when you think about this game, records are thrown out," Smart said. "None of that matters. They finished Thursday. This is a huge opportunity and stage for them. We acknowledge that. A lot of our kids will be playing in front of their home crowd where they're from, their community because of so many kids being from the Atlanta area. That's the focus and that's the concentration, and our guys understand that."
"We have a mature team and we said the other day that the most important step is the next step. Georgia Tech is the next step. And they've got a football team that's peaking at the right time. Played a really good game Thursday night. So we've got to go out and play a good football game."
Smart then recalled the last time he played against Georgia Tech as a player.
"The memory I have is probably the worst. It's what you always do; you don't remember the positives sometimes, you remember the bad. It was my last home game at Sanford Stadium and lost on a game-winning field goal with Joe Hamilton's drive."
Hopefully, that bad taste from 1998 and 2016 don't haunt Smart this year either as his team faces the Yellow Jackets on Saturday at 12 p.m. on CBS.
Here is the video from Smart's presser: