We continue our analysis of the Top 25 Dawgs withthe reveal of players 15 – 11 in Part 3.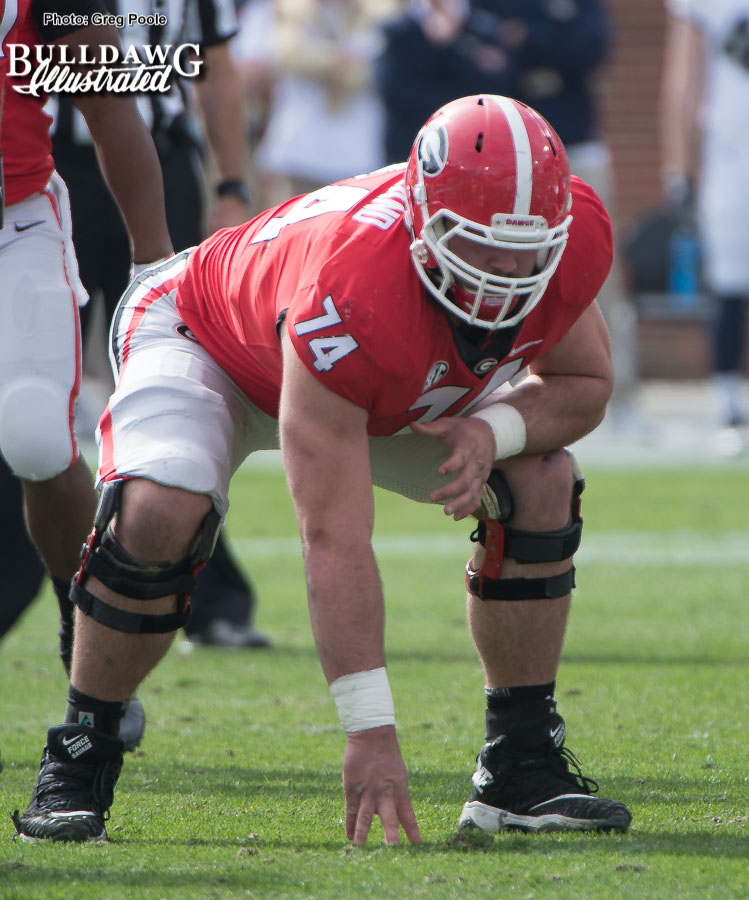 #15 – Mark Webb – CB (So.)
Webb comes in at #15 on this list largely based on his potential and praise from the coaches.  The former 4-star WR recruit who was switched to defensive back has shown great aptitude for the position with exceptional ball skills and physicality.  Throughout the spring Coach Smart raved about his tackling ability.  His minor knee injury was a setback but with Webb expected to be 100% healthy for fall practice it would be a surprise not to see him earn a starting role at either the star or cornerback position opposite Baker.
#14 – Ben Cleveland – OG (So.)
When Georgia moved Ben Cleveland into the starting lineup after the debacle at Auburn the Georgia offensive immediately elevated their game to a new level. The man they call "Big Country" is a mauler at the point of attack who dominated in the run game and improved each week as a pass blocker.  2018 is an opportunity for Cleveland to become a dominate ALL-SEC caliber player. You can't teach his kind of size and strength and with another year working with the conditioning staff on his flexibility will work wonders.  If the UGA offensive line is going to dominate as many expect, Cleveland will play a big role.
#13 – Zamir "Zeus" White – RB (Fr.)
Based on raw, God given talent, there is nobody on the roster as gifted as the man they call Zeus.  I was fortunate enough to watch Zeus play in person on several occasions in high school and this young man is out of this world.  People love to make comparisons and I have tried but I can't find one to do this young man justice.  There will never be another Herschel but if this young man is fully recovered from his ACL tear he is going to start making his own legend quickly.
#12 – Lamont Galliard – C (Sr.)
Galliard is the leader of an offensive line with the potential to be the most dominant unit in America.  When Galliard came to Athens as a 4-star recruit he was projected to be run stuffing nose tackle and under Sam Pittman he has become one of the best centers in the SEC.  Galliard works extremely hard at his craft and there is no doubt he will be even better in 2018.  He is the glue that holds this talented line together.
#11 – Jonathan Ledbetter – DE (Sr.)
The unquestioned vocal leader for the Georgia Bulldogs defense, Ledbetter emerged as a big-time leader in 2017.  He has no problem expressing himself, getting after his teammates and when he speaks they listen.  In 2018 the hopes are Ledbetter's level of play on the field rises to the level of his leadership.  He was a solid football player last season but he has potential to be so much more. His ability to hold up at the point of attack against the run and rush the passer is unique to the Bulldogs.
Stay tuned for Top Dawgs 10 – 6 tomorrow!