We continue our analysis of the Top 25 Dawgs withthe reveal of players 10 – 6 in Part 4.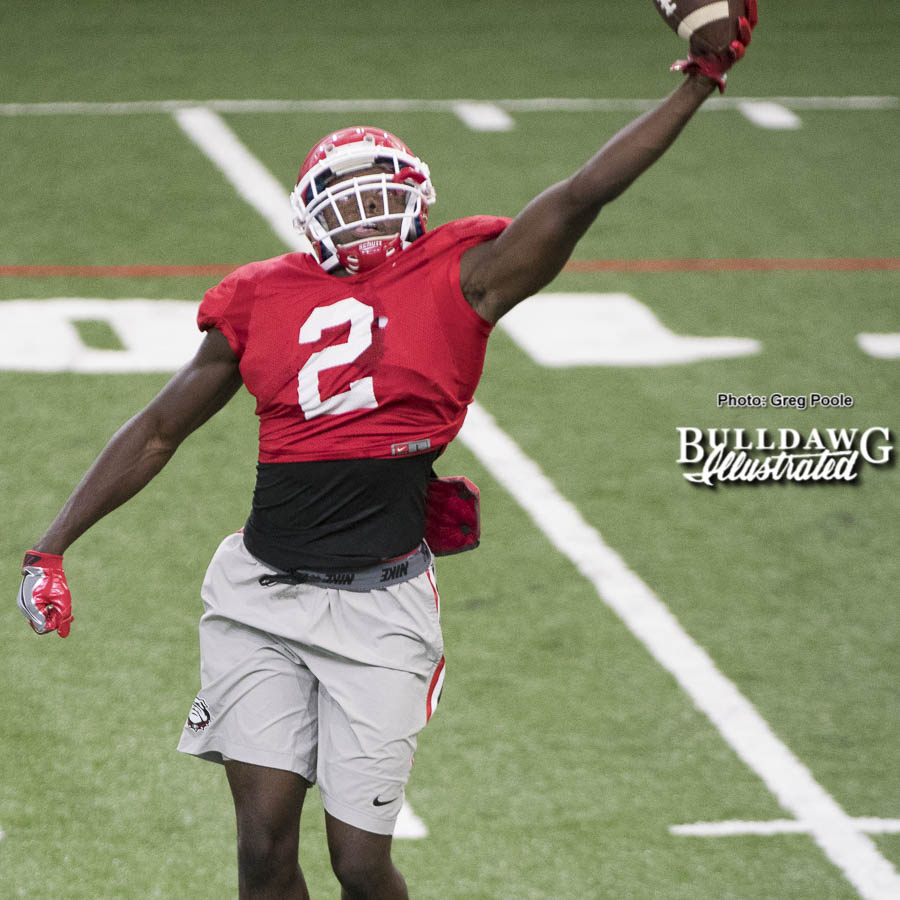 #10 – Justin Fields – QB (Fr.)
You may see this name and think to yourself that this is a little bit too high for Fields with all of the other talented players on the Georgia roster. I couldn't disagree more.  In fact, I feel this might be too low. Fields is the prototype for the modern quarterback and he has the work ethic and intelligence of a Jake Fromm. While it is highly unlikely he wins the job over Fromm, Fields is going to play a major role for this team.  He is too special to keep off the field and his legs could be a major reason the Dawgs return to the playoffs in 2018.
#9 – Terry Godwin – WR (Sr.)
The former 5-star recruit came to Athens with tremendous hype and in 2017 he began to live up to his potential.  His work with Scott Sinclair in the weight room has been huge as he can now fight through press man coverage.  He also has to be ecstatic to finally have the same quarterback for the second season in a row.  With his consistent route running and terrific hands, Jake Fromm will be looking his way early and often and this could be his best season yet.
#8 – D'Andre Walker – OLB (Sr.)
After three long years of waiting D'Andre Walker finally has the opportunity to feature for the Bulldogs at outside linebacker.  He is an explosive pass rusher who has worked very hard in the weight room while in Athens to add mass to his frame and round out his game. He made tremendous strides against the run in 2017 and will be asked to continue to make strides in that area in 2018. His most important job will still be to get after the quarterback and in the ideal world he would hit double digit sacks as a senior.
#7 – Richard LeCounte, III – S (So.)
Kirby Smart does not call out a player unless he believes that player has the potential to do special things when fully engaged.  LeCounte is the perfect case study as Kirby called him out several times throughout spring practice.  The speed, explosiveness, instincts and fearlessness are all there in spades.  However, this summer will be huge for LeCounte to delve into the playbook and during fall practice it will be even more important for him to emerge as a leader. His performance could be a difference maker between this defense being good and potentially great.
#6 – Tyler Clark – DT (Jr.)
Clark burst onto the scene in 2017 as the Georgia Bulldogs most consistent and most productive defensive lineman.  At 6'4 305 pounds he does an excellent job anticipating the snap, exploding upfield and getting penetration.  He is a deceptively good athlete who will only get better with the added strength of another offseason with Scott Sinclair & Co.  The area where Georgia is hoping Clark can elevate his game the most is with his ability to finish plays better than last season.
Stay tuned for Top Dawgs 5 – 1 tomorrow!