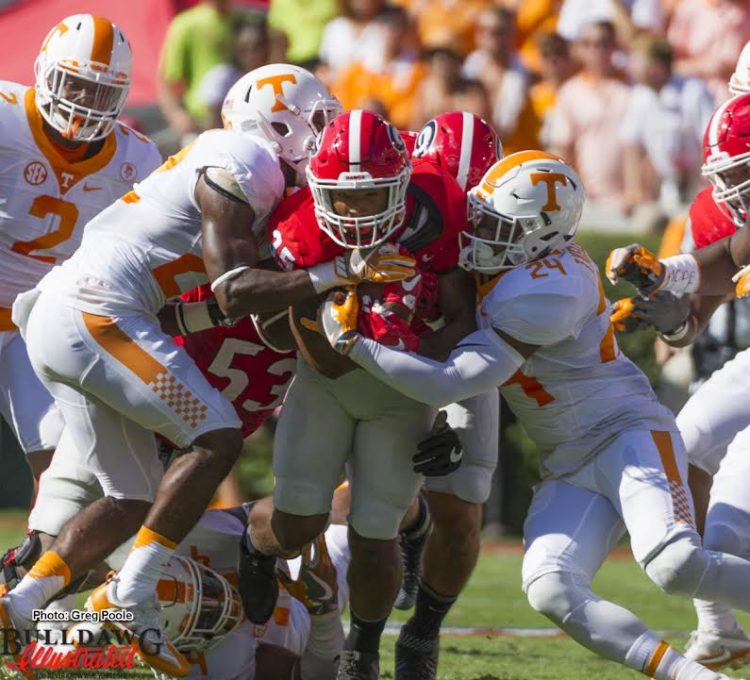 There was no doubt heading into this season that the Georgia Bulldogs were going to be relying heavily upon true freshmen.  Now, almost a halfway through the season you can make some judgments on the top freshmen contributors this season.  Below are my thoughts on the Top 8 true freshmen Dawgs thus far in 2016.
#8 – Michail Carter – DT – Carter's role on this seasons Bulldog team is to play physical at the point of attack and not get pushed off the ball.  That is a lot to ask of a true freshmen facing a lot of grown men but Carter has done well.  Though he only has two tackles on the season he has made an impact with his physical play at the line of scrimmage.
#7 – Tyler Clark – DT – Yet another true freshmen defensive tackle, Clark has been relied upon on the interior of the Bulldogs defensive line.  The least heralded of the defensive tackles, Clark has 6 tackles on the season and has shown the ability to play with great leverage.
#6 – Riley Ridley – WR – While Ridley only has two catches for 59 yards, he has shown his ability to be an impact player.  The route he ran on the sideline against Tennessee for the go-ahead TD was absolutely perfect and he showed the presence of mind to watch the ball the who way into his hands.  As his thumb continues to heal, Ridley will become even more of an impact player.
#5 – Julian Rochester – DT – As the only early enrollee of the Bulldogs heralded trio of defensive tackles, there was a lot expected of Rochester.  The mammoth young man has not disappointed thus far with 12 tackles on the season and his physical play at the line of scrimmage.  Rochester has reminded me a great deal of a young Marcus Stroud.
#4 – Isaac Nauta – TE – Nauta had the breakout game against the Volunteers that we were all hoping to see from him.  Nauta is big, strong and has great speed for a player his size.  He is going to be an impact player for the remainder of the season and will likely grow into a dominant force along with Eason.
#3 – David Marshall – DE – Marshall is an impact player that has ALL-SEC type potential before his days are done in Athens and you are seeing flashes of that ability as a true freshmen.  He is powerfully built and has the combination of frame and athleticism to be elite.  With 9 tackles and 1 sack on the season thus far, I expect the sack numbers to rise over the last seven weeks of the season.
#2 – Brian Herrien – RB – Herrien has without question been the biggest surprisefor the Bulldogs in the Class of 2016.  At 6'0 210, Herrien arrived at UGA late and many expected to be headed for a redshirt season but the 18-year old has surpassed all expectations carrying the ball 41 times for 258 yards and 3 TD's.  He runs angry, with excellent patience, vision and balance.  He also has shown the ability to run through tackles and quickly accelerate to top speed.  With a full offseason in the strength program it wouldn't be a shock to see Herrien atop the depth chart in 2017 if Chubb and Michel both declare early for the NFL.
#1 – Jacob Eason – QB – A lot of people expected huge things from Eason as a true freshmen, but in my mind he has surpassed all expectations.  It was a monumental jump for Eason to make from playing HS football in Washington to playing in the SEC.  He has been playing behind an offensive line that has been inconsistent with their pass blocking, receivers that have struggled to catch the ball and create separation.  Eason is only going to get better as the season continues and make the Bulldog offense that much more explosive.  He has the potential to exceed even the highest expectations.