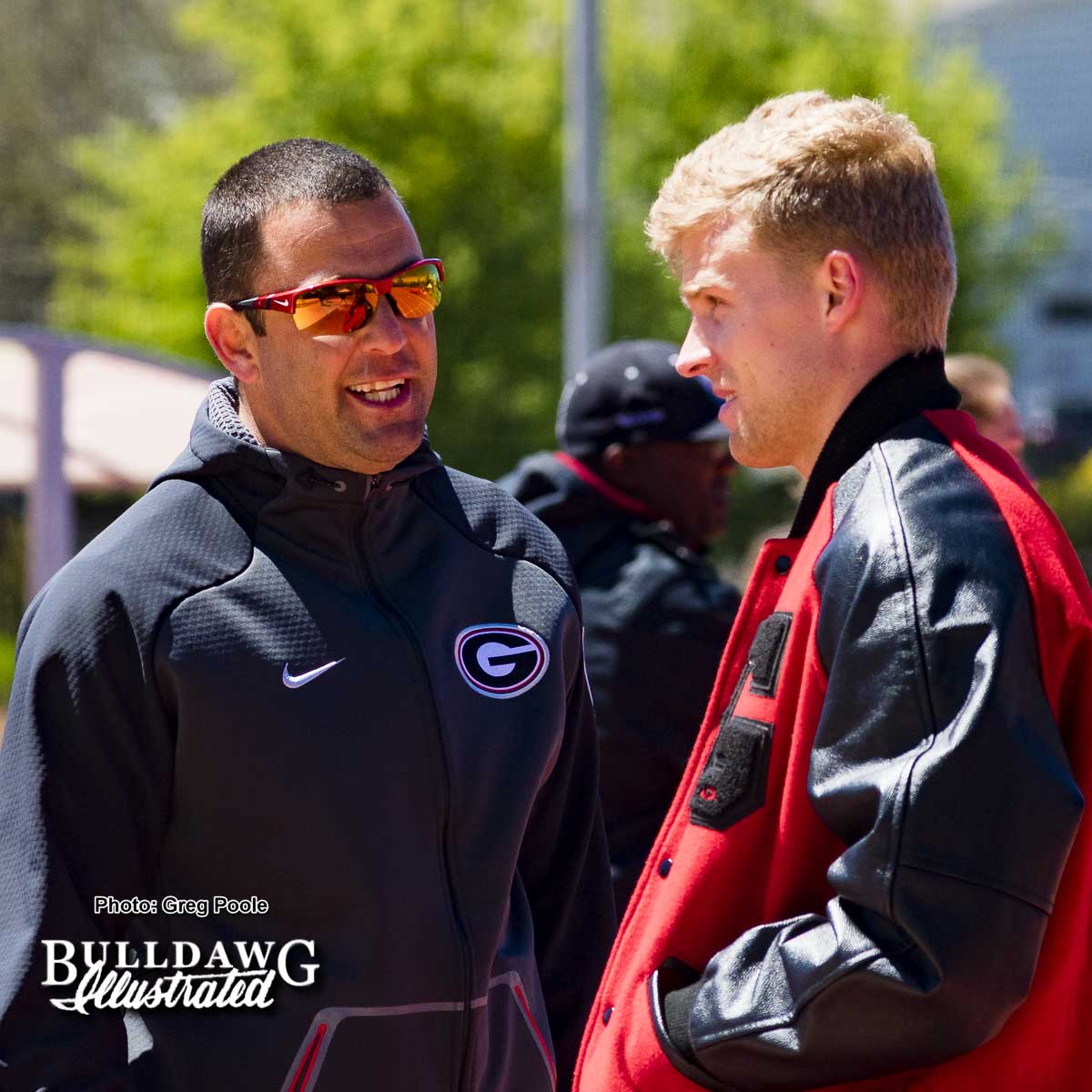 COLLEGE STATION, Texas — The fourth-ranked Georgia women and fifth-ranked Bulldog men traveled to College Station, Texas, on Thursday in preparation for the Southeastern Conference Indoor Championships at Texas A&M's Gilliam Indoor Track Stadium scheduled for Saturday and Sunday.  
When Do The Bulldogs Start On Saturday?: Sophomore Louisa Grauvogel will start the meet in the pentathlon on Saturday at 12 p.m. ET and senior Karl Saluri, and freshman Johannes Erm will begin the first event of the heptathlon minutes after the pentathlon start at 12:15 p.m.  The open events begin on Saturday at 4 p.m. with junior Denzel Comenentia (weight), senior Emily Savage (pole vault) and junior Michael Nicholls (60-meter hurdle prelims) lining up for the Bulldogs.
Where To Catch The SEC Championships: For the first time, the final day of the SEC Indoor Championships will be televised live on the SEC Network beginning at 6 p.m. on Sunday.  Live streaming of the competition will air on SECN+ (http://gado.gs/8i1) on Saturday starting at 3:55 p.m.  The broadcast talent includes Dwight Stones, Larry Rawson, Jill Montgomery and John Anderson.
Live Results: For results throughout the weekend, please visit: http://gado.gs/8jf
Kyprianou's Comments: "Finally, we have arrived at the postseason, which is the true competitors' favorite part of the season," said third-year head coach Petros Kyprianou.  "Everything we have done so far is to prepare us for these next two major championships.  Even though our team is geared more towards the NCAA scoring system, SECs is a major championship where we always try to get as many individual champions as we can.  A meet like this sharpens our elite crew's strengths and baptizes the young studs in fire!
"As we try to get healthier, our goal is to create opportunities to succeed at the (NCAA Championships. The SEC Championships serve as a world-class meet for our student-athletes.  Everyone is excited to throw ourselves in this exciting meet that will be televised live on Sunday for the first time.  Track and field doesn't bring money but does bring tremendous excitement and winning an event at the SEC Championships is the epitome of world-class athleticism and perseverance.
"Georgia is on the rise, and we have to convince the traditional track and field powers that we are here to stay and give them our best shot.  There are some amazing teams out there with some of the best coaches in the world, and 90 percent of them are in the SEC.  This makes it a no-brainer for the true competitors on our team to go out there and showcase their talent.  It is our student-athletes' time to shine, and we will be there to support them all the way through.  Go Dawgs!"
Who Is Ranked In The SEC?: A total of 18 SEC men and women's track and field programs are included in the latest U.S. Track & Field, and Cross Country Coaches Association (USTFCCCA) national rankings released Monday.  A nation-leading eight SEC men's teams are ranked with no other conference having more than four.  Florida is No. 2, Arkansas No. 3, Georgia No. 5, Texas A&M No. 7, Alabama No. 8, Kentucky No. 11, South Carolina No. 23 and Auburn No. 25.
A nation-best 10 SEC women's teams are ranked in the top-25, and no other conference has more than five.  Arkansas is No. 1, Kentucky is No. 3, Georgia No. 4, LSU No. 6, Texas A&M No. 7, Florida No. 8, Missouri No. 12, Tennessee No. 14, Alabama No. 17 and Mississippi State No. 24.
A Glimpse At The 2017 SEC Championships: Ranked no lower than fourth indoors nationally in every poll since 2015, the Lady Bulldogs are aiming to improve on their fourth-place SEC indoor finish in 2017 as they had three SEC individual champions (Keturah Orji – triple jump, Mady Fagan – high jump, Kendell Williams – pentathlon). Rocketing to second in an early 2018 season USTFCCCA national ranking, which is the top indoor ranking in UGA history, the Georgia men finished sixth at SECs last year with Darius Carbin (high jump), Comenentia (shot put) and Devon Williams (heptathlon) winning crowns.
This marks the start of the postseason for Georgia.  The Bulldogs have sent individuals to six regular season meets, including three at Clemson.  Following this weekend, the Bulldogs will recover and train through next weekend before the NCAA Indoor Championships arrive back in College Station on March 9-10.
Who Is Ranked Where Going Into SECs?: Currently, there are 24 Georgia student-athletes (12 men, 12 women) who are ranked in the SEC's top eight spots, which scores at the conference and national meets.  Junior Keenon Laine (high jump) and Comenentia (shot put) have the league's top marks coming into the meet while Orji (triple jump) and junior Kate Hall (long jump) are also No. 1 on the SEC performance lists headed into the weekend.  Orji and Hall are also the national leaders in their events.
What Bulldogs Are Competing?: For the Lady Bulldogs, Tara Davis, Micaiah Ransby, Aliyah Johnson, Fagan, Savage, Grauvogel, Hall, Orji, Amber Tanner, Lynna Irby, Anna Machovec, Halle McClintock, Jessica Drop, Hailey Branch, Grace Tavani and Addy Lippitt traveled for SECs.
On the men's side, Carbin, Laine, Comenentia, Michael Hans, Ryne Bevan, Nicholls, Antonios Merlos, Cejhae Greene, Kendal Williams, Jon Moses, Henry Dwyer, Saluri, Erm, Austin Sprague, Eric Westog, Bryan Kamau and Jeramey Hampton will line up for Georgia.
Did You Know?: Keturah Orji was named the 2018 SEC Indoor Women's Scholar-Athlete of the Year this week after already earning the honor during the 2016 outdoor season.  Orji boasts a 3.96 GPA in Financial Planning. That that but Jack no