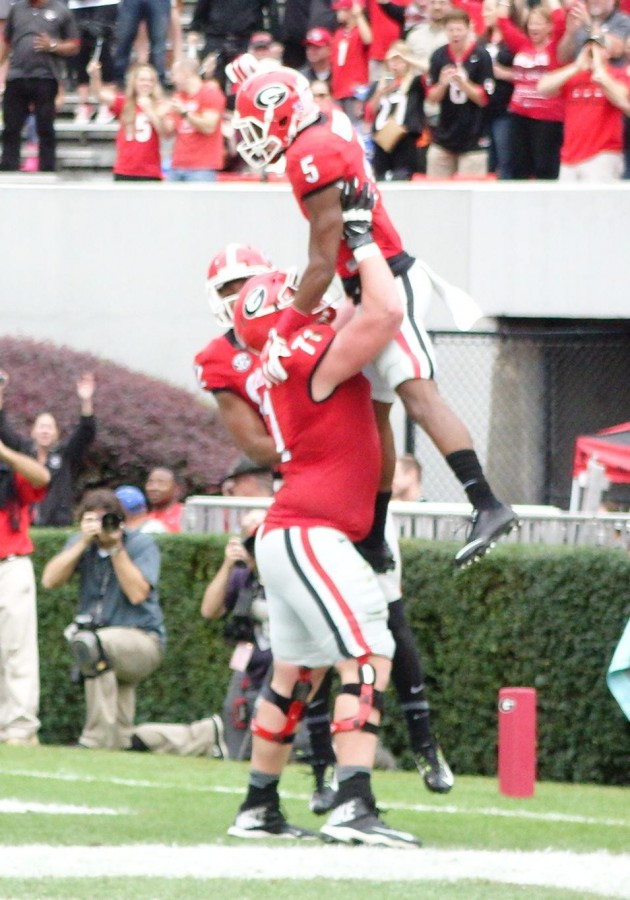 [su_spacer size="20″]
The author, Trip Garbin, is an eight-year-old third-grader from Bishop GA.
[su_spacer size="20″]
Although there have been only five Georgia vs. Georgia Southern meetings, the game seems like an old instate rivalry. Georgia has won all five games by a decent margin, so maybe Georgia Southern is looking for revenge. Georgia, on the other side, is wanting to pound 'em. How I think of this rivalry is that each school has an excellent history, an outstanding campus and community, not to mention fantastic players and coaches. Georgia hopes to make the rivalry six games to none.

[su_spacer size="40″]
When playing Georgia Southern, Georgia will need to focus on its special teams, especially the turnovers on special teams, like the muffed punts and fumbles they had against Florida and Kentucky. Recently, Terry Godwin has added returning punts to his duties. Another recent change is Brice Ramsey taking over the starting punting job and is surprising a lot of people. Ramsey has a 45-yard punting average and is good enough to get the job done.
[su_spacer size="40″]
On offense, Greyson Lambert has struggled this season, yet I think he's making better progress. He has a 63.4 completion percentage. Now with the running game, powerhouse Sony Michel, who has attempted 152 rushes for almost 800 yards, is maybe hoping to get to the 1,000-yard mark by the end of the regular season. If the offensive line can give him one or two steps, Sony can get some big-time yardage.
[su_spacer size="40″]
But, the key to the game is Georgia trying to stop Georgia Southern's unique option offense. With the option, the halfbacks and fullbacks need to be attacked by the front seven, especially linebackers Lorenzo Carter, Leonard Floyd, Jake Ganus, and Tim Kimbrough. Also, they need to stop the quarterback. We haven't done well against running quarterbacks, like Joshua Dobbs from Tennessee or Justin Thomas from Georgia Tech last year. So, it won't be easy stopping the offense of the Eagles. And, the defensive line will have to close gaps so Georgia Southern won't make explosive plays. I think the defense will do a great job.
My prediction: Georgia 38, Georgia Southern 20 (and GO DAWGS).
[su_spacer size="120″]