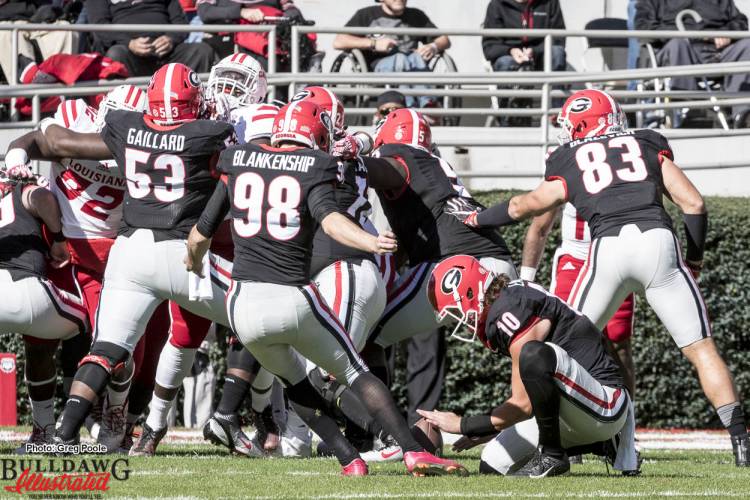 Freshmen Isaac Nauta and Rodrigo Blankenship both had stellar first years and their efforts earned them a spot on the Football Writers Association of America 2016 Freshman All-America team.
Both tight end Isaac Nauta and kicker Rodrigo Blankenship showed flashes of the potential that they have and proved to be effective players in their respective positions.
Kicker Rodrigo Blankenship did not earn the kicking job immediately, but after the Bulldogs kicking struggles continued, he was given the opportunity at the job. Blankenship struggled at first, but as the season progressed he began to gain more confidence and with confidence came consistency.
Blankenship went 14 for 18 in his attempted field goals and in the game against Kentucky he went a perfect 4/4, which played a pivotal role in the Bulldogs win. Blankenship was also named to the SEC special teams player of the week for his performance in this game. With 3 years of eligibility left, Blankenship has the potential to be one of the best kickers in the nation.
Tight end Isaac Nauta earned playing time much sooner than Blankenship and he showed that he had the skills to be a formidable SEC tight end. Nauta started in five games and found playing time in all of the Bulldogs contests. Nauta had fierce competition for playing time at his position, but he consistently showed his outstanding playmaking ability and that made him deserving of playing time.
With 29 receptions, 361 receiving yards, and 3 touchdowns, Nauta finished the year third on the team in the areas of receptions and receiving yards and second in touchdowns. He also was fifth in the SEC in touchdowns and receiving yards and sixth in receptions. This was a stellar season for the freshman tight end in one of the toughest conferences in college football and he should be relied upon more next season.
The Bulldogs are fortunate to have two superb freshmen on their and will rely on them more next season as they continue to grow and develop.