For each of Georgia's home games, the UGA Bookstore presents a former Bulldog player or coach to meet and greet with fans and to sign autographs and books. For today's homecoming game versus Missouri, the Bookstore is presenting former Bulldog running back Garrison Hearst and former Georgia head coach and UGA Athletic Director Vince Dooley.


Both Garrison Hearst and Vince Dooley will be available at the UGA Bookstore before the Georgia-Missouri game starting at 4:30 p.m. ET. Hearst will be available till 6:00 p.m. ET and Dooley till 6:30 p.m.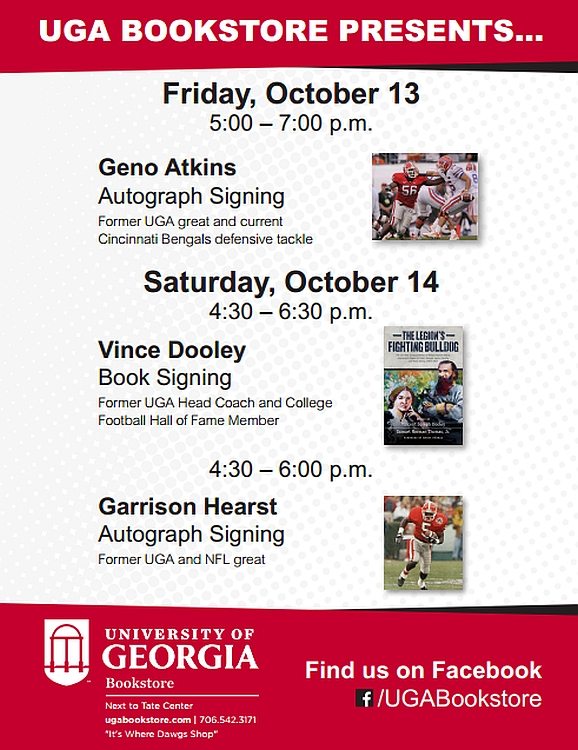 Also, don't forget that if this is your first time attending an SEC game this year or a home game at Sanford Stadium, the SEC has a new Clear Bag Policy in place. You can purchase approved clear bags at the UGA Bookstore. For more on the SEC's new Clear Bag Policy:




Kick off time for today's Georgia-Missouri game is set for 7:30 p.m. ET and the Dawg Walk is scheduled for 5:15 p.m. ET. Gates at Sanford Stadium will open for guests at 5:30 p.m. ET. Also of note, the SEC Nation crew is in Athens for this weekend for the game and are set up on the Richard B. Russell Building Special Collections Libraries lawn.

---
GAME DAY INFO & TIMELINE
Match-up: (1-4) #17 Missouri vs. (6-0) #4 Georgia
Date: Saturday, October 14, 2017
Location: Athens, GA, Sanford Stadium
SEC Nation: 10:00 a.m. ET
Pregame Broadcast begins at 3:30 p.m. ET
Dawg Walk scheduled for 5:15 p.m. ET
Gates open approximately at 5:30 p.m. ET
Kickoff at 7:30 p.m. ET
---