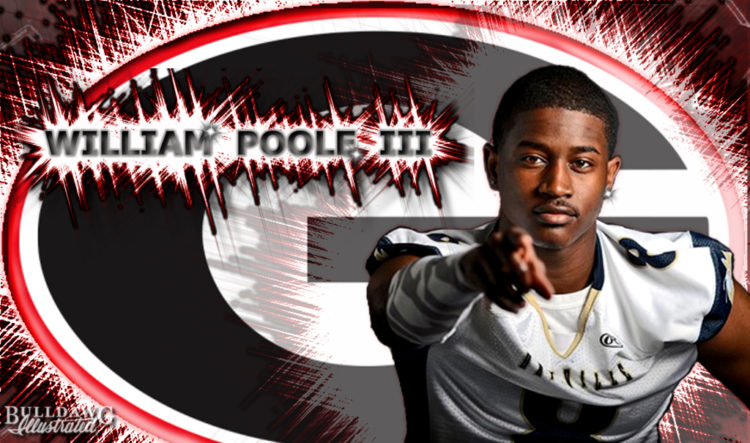 William Poole became the Bulldogs fifth commitment and a huge recruiting victory over a huge SEC rival.


Poole is a four-star cornerback from Hapeville Charter Academy in Georgia and he gave Kirby Smart yet another huge in-state commit. Poole was highly recruited and Alabama and Florida gave the Bulldogs a tough time in earning his commitment. He committed to the Bulldogs on G-day, which is Georgia's annual spring game.


After his commitment, he did what his fellow Bulldog commits were doing; he began to recruit other to join the fold at the University of Georgia. Poole has been a strong recruiter for the Bulldogs and this alone made him a huge steal from the likes of the Crimson Tide or Gators.


Poole's selflessness and team-first mentality have been especially on display as of late in his recruitment of fellow defensive back Jamyest Williams, who is currently committed to the University of South Carolina.


On social media, Poole reached out to Williams telling him that he could wear the No. 1 at Georgia, which was both players high school number, if he came there and that he would just get another number. Poole's reasoning for offering such a gesture was that he wants to do whatever he can for the team and helping them become great. This was an outstanding gesture by Poole and it just may help the Bulldogs lock down another elite in-state player. However, Poole is not only a great recruiter but also an elite defender that should find his way in the Bulldogs secondary sooner rather than later.


Poole was an Under-Armour All-American and during that competition, he showed gradual improvement from the beginning to the end. This is very promising for the Bulldogs coaching staff because this showing displays that he can be effective against even the best competition.


Poole is the only true corner in this class for the Bulldogs and he is definitely a good one. He definitely should find the field in some capacity in his freshman year, but if not, then he should definitely make an impact sooner rather than later.